Specialized M2
This is my second build since joining the retrobike crew! I've owned this M2 from new in 1993 and have more or less rode it everyday! The bike has had lots of changes over the years but I thought I would take it back to sort of original spec with a few changes. I love the ride of the M2 and would recommend it to anyone and this bike will always stay in my collection. The bike originally came with 7 speed LX groupset and grey umma gumma's and grey perforated specialized saddle. I've gone with an 8 speed LX groupset this time plus a later wheelset. The frame did have quite alot of scratches but I bought a paint pen from halfords and touched it up in a few places. I think all in all its come together quite nicely.
A few pic's of earlier builds.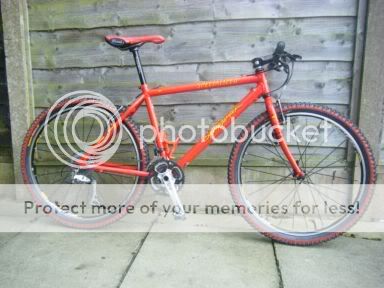 New pic's , hope you like it !!
Spec :
M2 frame with Direct drive forks
Silver king 1" headset
Control Tech stem
Specialized handlebar
LX 8 speed groupset
Onza chill pills
Flite saddle
Look spd's
Specialized pro control tyres
Mavic 238 rims
Thomson seatpost , soon to be changed to a Control tech post
Retrobike sticker of course!