Thought I'd start a thread with my skates in - I know there's one or two skaters on the site.
"I'm the Top Skate Dog, you cannot question my ways..."
"He doesn't even call it skating, he calls it the brotherhood of the wheel!?"
"Roll to the goal..."
These are my latest build, bought initially just as the boots, the other bits - soulplates and frames were something of an iterative process:-
They're a pair of Deshi Spizer boots, USD (ex Deshi) carbon soulplates, and a pair of Powerslide Cell II UFS FSK frames.
I seem to have been skating on / building / buying freeskate / powerblade type skates in recent years. Although inline is a relatively recent, although strictly speaking retro (just, as my first pair of inlines was bought in 97...). I first started skating on ice, on hockey skates around '81. First pair of skates I had were a quite traditional pair of leather hockey skates, with an all metal blade / frame, bought from a local sports shop around 81 / 82 for a birthday present. I want to think they cost the princely sum of £25.
They weren't the coolest skates, ever - most kids were rocking plastic hinged skates, with plastic frames - most popular during all the time I skated on ice, proved to be Bauer Turbos - cool, in their mediocrity. I never owned a pair, and although it's been fashionable to relive those times by buying them these days, so far, it's not been an itch I've had to scratch.
A year or two later, I got some newer skates, that were quite trendy at the time, not least of all, because you could get them in different colours - Spogo Speed Pros - available in racecar red, go-faster blue, mellow yellow, and Ford-model-T black. I got black. Now this is an odd thing - they were truly trendy for a couple of years, really - but they weren't expensive at all, they were quite cheap, really - I think they were £20 new. I still have them in the garage (when I moved house a few years back, my parents practically insisted I get all the things that they'd been saving for posterity) so at some point I'll take some pics of my ice hockey skates from truly BITD and update the thread.
I bought one other pair of hockey skates, BITD, that are more like the ice hockey skates I have now, at least visually - although I didn't keep them that long, I swapped them for a pair of skates (that I've still got in the garage) that were my unicorn skates BITD - but never get your unicorn, it always disappoints, and these did, really (Lange Laser 3s).
Fast forward a few years, and I'd not skated on anything for quite some time. I'd seen the kids with these new fangled inline skates that they were jumping all over things, or on things, or off things. Wasn't truly sure, really. But in my late 20s, I decided to splurge on some inline skates, and maybe fill a little free time with it. Bought some Roces Chapter 3:22s - they were relatively expensive, and classed as aggressive skates, really - although, the only real difference back in those days, compared with normal inlines, was a bit of bolt-on metal and plastic, and smaller wheels to differentiate different types of inline skates. I think they cost me something like £180-£200 - bought them mail order. Most fashionable - but perhaps a bit overkill for somebody new to it all, were Roces Majestic 12s - think they were around £250 at the time.
To me, it didn't make sense to be spending a lot of money on something that I was new to, when I might not really like it any more. For a couple of reasons, that turned out to be solid logic. These are they:-
They came with a heel brake - but before I'd even turned a wheel in them, I'd decided not to bother with that malarkey - in the words of the Dude "That aggression just will not stand, man...". It was easy on ice - just slide / hockey stop. No problems, right? Wrong! Skating on inlines did take quite a bit of getting used to, compared with previously having skated on ice. You didn't slide when you wanted, and did slide when you didn't.
Fortunately, my Roces Chapter 3:22 had rockerable axles (rockering is where the position of the wheels / axles varies in order to assist various things). Initially achieved by inline skate frames having special axle / washer arrangements, such that you could vary the position of each wheel as was your want. On skates without such features of the frames, you could largely do the same thing by using slightly smaller wheels. The point of it, is, well consider the blade on an ice hockey skate - given how they curve, somewhat at each end, to achieve the same on inlines, people tend to make either the front, or front and back wheels either slightly higher, or smaller, so that it's really the two wheels in the middle mostly in contact with the surface. This is done to aid maneuverability, at the expense of stability at speed. So speed skates running 100s, or 5 wheel frames, won't rocker at all - they'll all run their wheels flat.
Fitness / rec skates probably won't run any rocker, either. Aggressive skates tend to do the reverse, to either ease stability on ramps / pipes, or help with grinds. Hockey skaters tend to use hi-lo frames, and their wheels probably naturally wear into a rocker. Slalom / freestyler skaters tend to go with a full / banana rocker, though. Me spending years skating on ice hockey skates has largely meant I can't get along without skating with rocker - so that's the way I've always rolled. And for some reason, I've always gravitated towards boots more in the aggressive mold, than anything else, since that also seems to be rather similar, visually, to the skates that I used BITD. Skates like my current ice hockey skates weren't really typical back then.
Problem is, I'm too old and creaky to be jumping around and onto rails. And small wheels suck. Fortunately, my original Roces Chapter 3:22 allowed bigger wheels to be installed (aggressive skates use small, hard wheels, typically 50-ish mm in diameter. Rec / fitness skates 70-80, freestyle / slalom 76-84, and speed big as the frames can handle, and often 5 wheels. So I could put 76mm wheels in my Roces and also rocker them, they then became much nicer for me to skate in. Even so, it was rather sporadic, really, I'd go through periods of skating reasonably regularly, then not for a while.
Around 2000, I decided I'd buy some new inlines - just like many with a hobby, the idea of spending a fair amount, on the premise that it will commit and invigorate you to doing it more, eh... So I bought some Salomon ST90s - pretty expensive as skates were, then, about the best aggressive skates of their time, and truly awesome things - heat molded liners / socks, lace-lock "eyelets", heel shock-absorver. I spent a bit of time on them, but because of my prediliction for buying aggressive skates, I was stuck with these awful small wheels again. The ST90s were rather none compromised in terms of the frame - you could go slightly bigger in wheels (60mm at a push, but that was about it, really).
Not long after, Salomon and other prominent aggressive skate makes, decided to standardise on a type of frame fitment that was universal - so any aggressive frame, any boot - and given that aggressive skaters would often go through frames like nobody's business, given jumps and grinds, this was quite a revolutionary idea. People could mix and match as they liked. It was called UFS - Universal Frame System. And really only aggressive skates made use of it.
Salomon pioneered other lines of skates, in subsequent years, that used the standard - freeskates and kind-of fitness skates. Salomons FSK range because, largely, the choice of skate for freestyle / freeskate / slalom, until Seba, Rollerblade, and to a less degree, Roces got in on that.
So you could get a frame that would run bigger wheels, and bolt them to your aggressive boot, and have the best mix of heavy, bombproof, hot and sweaty - and frames with wheels allowing you to skate for longer and further in more comfort.
Only Salomon, really, made use of this to provide compatibility with other types of skates / frames - all the other makes largely just stuck with it for aggressive skates. And in fairness, it's stuck to present day. Around 2006, though, and Salomon left the inline skate business.
Had I bought my Salomon ST90s a year later, they would have embraced this new standard of UFS, but mine didn't - so for years, I just used them occasionally and my aging Roces got as much if not more use. Towards the late 2000s, I found out others had converted pre-UFS Salomons to be able to run UFS, and then started using Salomon's FSK frames on them. It needed some modification, and man's best friend - power tools - <John Major voice>Oh yes!</John Major voice>, a UFS / soulplate kit, and a UFS frame. I actually think they'd look that bit more distinctive were the frames more the cerise colour they look in the earlier pics - but that must have been an artifact of the way the pics were taken - rather boringly, they are deep red. Cue some modifications, and a 'la:-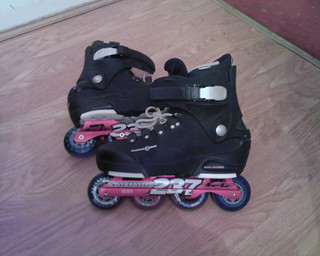 Suddenly new life had be given to my Salomons - and to this day, I've never been more at home on skates than these. Prior to rebuiding them like this, my Roces had travelled the world with me, now my Salomons did.
In the intervening years I have bought other skates, probably of most interest is these:-
Powerslide Cell II FSK freeskates - of primary note is their use of UFS frames. Also worth noting, the very close resemblance to Salomon's Deemax range (some would be unkind, and same blatant copy, but oh no, not me - no sirree bob - you may well think that... but I couldn't possibly comment...):-
(those aren't my Deemax skates, there - actually, I've never owned any Salomon FSK models - just the frames, they're just there to illustrate the similarities in Powerslide's first Cell IIs)
Of relevance, here - Powerslide are probably the single, biggest company in inline, now - and have swallowed up other brands and / or picked up their designs. If you compare their original Cell IIs (mine are 2005), the boot design is almost identical. The frame is UFS, like the Deemax, however, it's their own incarnation - in some ways better (easily allows bigger wheels, comes with 84mm wheels, stock), and each axle has rocker washers so each wheel can be rockered in 4 planes. The downside - a lot of freestyle / slalom skaters have said the original Cell II didn't provide as good ankle support as more dedicated slalom skates, and that their EA / extruded aluminium frame was weak. I've never had a problem with mine - although it does have to be said, Salomon's EA (extruded aluminium) FSK frames are truly excellent and a thing of beauty in terms of robustness above and beyond their aesthetic beauty. Although Salomon didn't make things easy with wheel choice on them (they tend towards having some pseudo hi-lo thing going on).
I have another NOS pair of them in a box, too, as some online skate shop was selling them on clearance, last year. Although good to skate in, and wickedly fast, again, they're not quite the same as my Salomon ST90s / FSK 237 hybrids.