Still playing with pressures, need an accurate gauge that goes low enough, front tyre may have been too firm
Have read a few reports of how just a couple of psi on fat tyres makes a huge difference on the ride. I would have thought it would have mattered less due to the larger volume but apparently not.
I use the Venhill gauge on my Motorbikes, very accurate and reads in 1 psi increments.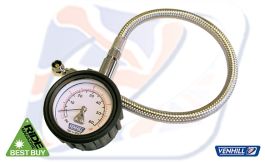 Please note: Accuracy tolerance +/- 1.2 to 1.8psi
www.venhill.co.uk