I think you know when you've hit retrobike maturity when you become completely obsessed by unicorns; those bikes you never thought you'd see let alone own and ride. The 97 Caldera was one of those and I'm still in awe I'm fortunate to own a piece of Kona history very few folks will have the pleasure of enjoying.
Within this unicorn category and in part completely down to retrobike and wider community of fanatics that we are, there are bikes that we never even knew about that suddenly resonate with us. There's a story you might pick up and delve into or an archive picture from MBUK that you'd forgotten about. Before you know it, you're off and away scouring the world for one that you can get your hands on.
Then there's just a case of the planets aligning, and you have to clap the universe for being in the right place in the right time.
It's with that firmly in mind that I'm over the moon to share this, a genuine ex-team Kona Explosif 1997. And yes, like the 97 Caldera there's a heap of history behind this, the whole reason they exist and who's this could be. Once more we've got conflicting views and stories from those who were there at the time and those that have heard about them since. There's new leads to follow-up which I hope will provide more insight into this wicked, wicked frame.
There's also the small matter of building it up. This is going to be a slow burn because I know it's going to hurt the wallet. And brain hurts with the combination of trying to keep it period, trying to respect the pedigree it has (my skills are pitiful to what this is capable of) and trying to spec it as a rider: as all my bikes are. We don't have wall hangers in my garage.
So for now, here she is after a thoroughly good degrease and clean. Big thanks to Brian (H1v9a8c
for making me super-happy and selling it and to Pip for his support, advise and knowledge. Let the epic thread begin!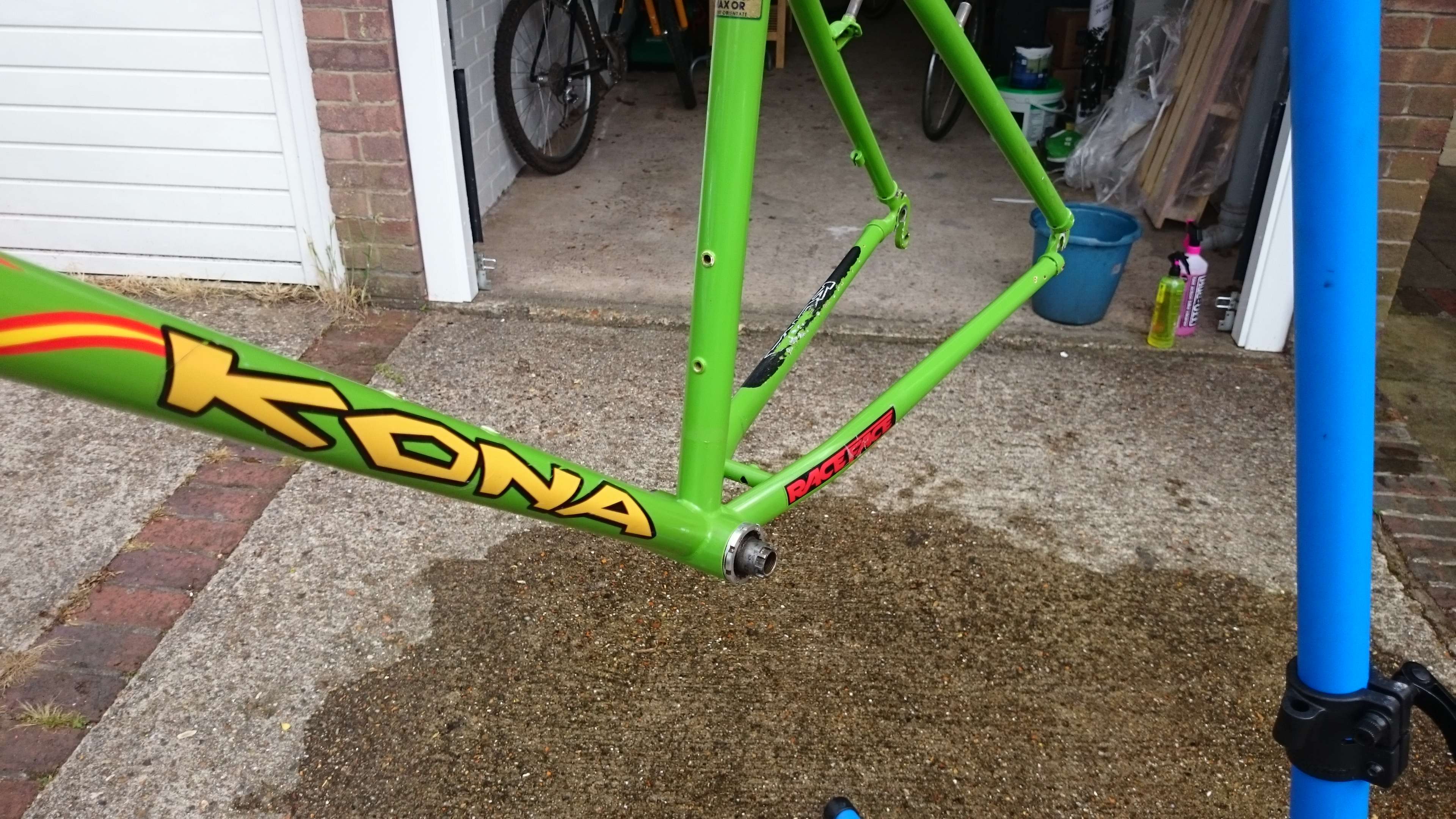 It would be remiss of me not to post the ultimate unicorn and inspiration ;-) The unatainnable, Roland Green Hei Hei Hot: