Bought this frame last year as was looking for a retro Kona that actually fit me, so I could ride it further than the pub.
Stumbled across it on eBay/here, put in a cheeky (possibly drunken) offer, and buuger me, it got accepted
Pics below from seller's ad.
I'd previously bought 2 or 3 bikes / frames that I needed to sort, so this one, shamefully, didn't even really get unwrapped for months!
I wasn't sure at first how the I wanted the build to go. Was thinking of slapping a suspension fork on it for a bit, but the geometry didn't have a bouncy fork in it's periphery when it fell out of the designers mind. So, No Al. Bad Al. No. This was to be the 3rd rigid bike in my fleet. Even though I've been wanting to build a retro hardtail for many moons, this wasn't to be he.
I set about looking for a fork. It's a 22" frame (or is it 21"? I forget) So has a positively colossal headtube.
I wanted to get something with the right A-C, which was about 395mm? I forget.
Finding a suitable period correct P2 wasn't something I fancied / could be arsed trying and it has a disc mount (NAUGHTY!) on this frame. Sooooo...
After some Googles, I found that Mr Surly does a suitable fork. The "Straggler Disc" fork, would suit my requirements.
Then I stumbled across another fork the same(ish?) length, that the chaps at Condor in fancy London put on their touring bikes. A Tange disc fork. I liked the cut of it's jib. This Explosif is made from lovely Tange Prestige Concept tubing and the Tange decal looked pretty cool on the pic, so I went ahead and ordered.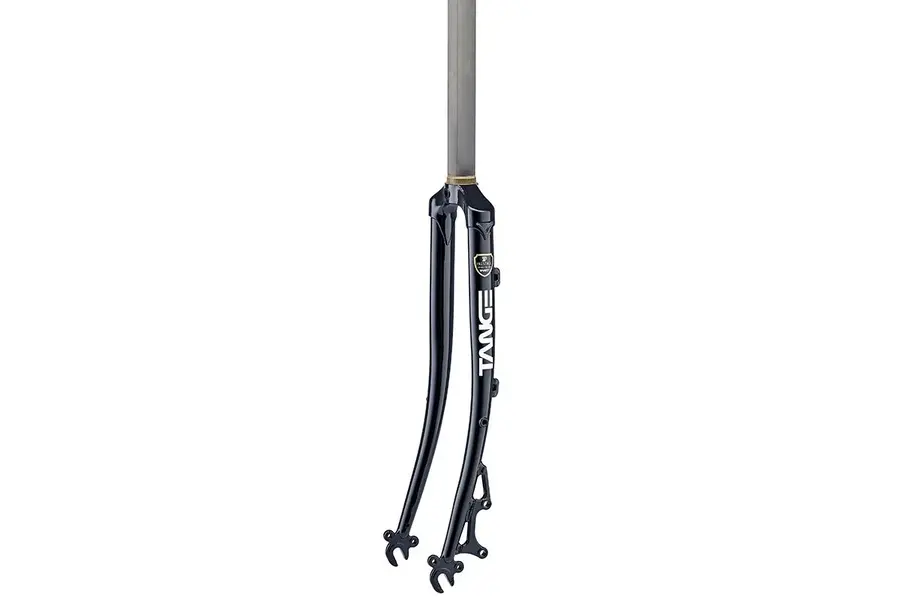 So, with this fork, the intent of this bike had definitely shifted.
I'd realised that I'd now be building something that's definitely more road / light off-road focussed.
I've had a couple of curly handlebar'd bikes in the past... The first was a Croix de Fer, but I couldn't get on with the position on that at all (short headtube for big frame), so it got sold pretty quickly. A few years later I had a Stigmata (V2) but although it was comfy(ish), I hardly rode it. I have back problems so drop bars just don't seem to work.
Should I really go all out with this and build a "monster cross" (I dislike the term) MTB with curly bars?
No.... I don't think I will. I've not put all of my eggs in that basket, but I've got a bunch of parts bin stuff that I'll use.
Last but not least, I'd wondered about getting some slightly larger wheels in this old beastie. I've had some 19mm internal tubeless 27.5" rims knocking around for ages, so it was just a case of finding some disc hubs... Nothing came up in budget, but then my buddy was clearing his kit out and asked if I could use his thoroughly well used Pro2 Evo/Flow wheelset for anything... I gave him some magic beans and they were mine.
I was thinking I might rebuild, as the flow were possibly too wide, but then my boss asked if anyone could use these brand new with road plus tyres he had no use for.... Yes please!
The flow rims are a few generations old, so only about 23mm internal! Tyres are 47c I think.
It took me a while, but I've finally managed to get the frame, fork tyres and wheels together. I had to dig 4 bikes out the shed to get to the frame. Just so I could check to see it's going to work.
They ruddy well fit quite nicely! I need to re-tape the front wheel, as it goes down straight away, but I'm excited now!
Parts I'll probably build it with... Mainly parts bin kit and anything I don't have, like hydro brakes will be obtained on the cheap.
Gears:
10s MTB groupset SLX/Deore/XT/Hope 40t
Cranks:
Middleburn or White Industries (Sugino)
Brakes:
Shimano hydro discs or Avid BB5.
Bar/Stem
Raceface Ride 70mm (maybe)
Some suitable flat/risers.
Post/Saddle
Carbon post came with frame
Maybe Spesh road saddle from parts bin.