Welcome to the latest in Retrobike's 20 questions series. This month the spotlight falls on
Charlie Kelly
(aka
Repack Rider
), a man who genuinely needs no introduction.
Retrobike:
Hi Charlie, how's life? What'cha up to?
Charlie Kelly:
I have a
piano moving company
. My daughter is about to start her second year at the University of Oregon, and I am still married to my first wife, named Mary. I work a lot, and most weeks I can only get out on the bike on Sunday, so I try to make it count. Fortunately I have some great places to ride.
RB:
Ok, many will know you from the early days of MBUK. How did that MBUK connection come about back in the late eighties? Through FTF?
CK:
I don't remember how I got started with MBUK, but I was friends with John Stevenson and Tym Manley. I know I have copies of the photocopied MBUK that preceded the slick version. I wasn't too hard to find in those days. In the '80s I had the advantage of being the only functionally literate mountain biker. Now I understand there are three more. I was writing for several US mags as well as the Flyer, and I was friends of Richard Grant and Richard Ballantine, two English cyclists who were the among first in England to understand the concept.
RB:
Early on, important question…what's your favourite (music) album of all time?
CK:
Since I spent a long time as a roadie for the somewhat obscure Sons of Champlin, it would be treason if I didn't cite one of theirs. "Loosen Up Naturally," 1969.
RB:
'Fat Tyre Flyer' – your publication and the only mountain bike magazine until 1985, is still the best Mag title I have heard of to date. You reportedly loved doing it, any dreams of a re-launch? Surely there's space on the shelf as the other titles grow ever more similar. ?
CK:
A magazine is a life sentence, and I have already paid my debt to society. I don't think the cycling experience itself changes much from year to year, even though the equipment does, and writing for the major publications I found that there was about a three-year cycle and the same articles would repeat, because the mags are for new riders. There are lots of products for mountain bkes, but I'm into people, not widgets, and I think "bike reviews" are bunch of...what is that word you chaps use...BOLLOCKS. Did I use it correctly?
Click for
RB:
Just like every group ride, there's always a faffer, a tinkerer, a nutjob hooligan, a dark horse endurance type, a demon climber, an incessant moaner…..go on, tell us which Klunker got what title?
CK:
I don't want to know what a "faffer" is, and I'm pretty sure I don't swing that way, but that's a pretty large group you have identified there. Gary Fisher is a "tinkerer." One evening he sat with an Xacto knife and trimmed the knobs on a Uniroyal tyre for a more aggressive tread, the weighed the shavings to see how much weight he had taken off. Fred Wolf was the nutjob. We decided to use a time trial downhill format because he would ride you off a cliff if you tried to pass him, so mass start was out if he was involved. I'm the dark horse endurance guy. Guys like Gary have 0% body fat, and they "bonk" if they don't eat constantly on a ride. I have never had that problem. When I traveled with the band, my partner and I once drove from New York to San Francisco, about 3000 miles, in 63 hours, in the winter time. Climber would be Joe Breeze or Gary. Let me say this while I'm thinking about it. Gary Fisher was the best mountain biker in the world before anyone cared. In the informal racing scene before NORBA, there was no one who could touch him. "Incessant moaner" is a pejorative, so I won't saddle anyone with it.
RB:
Tell us something not a lot of people know about you?
CK:
I flunked out of college, and as a result I served in the US Army during the sixties, before taking up with a SF rock band. My photograph hangs on the wall of my old high school as a distinguished alumnus. Four other members of my class were so honored, and none of the "distinguished alumni" from my class graduated college. (The other four were two musicians and a pair of twins who were professional ice skaters.)
RB:
Normally I'd ask, 'should it come back', but instead I am honoured to ask, did you foresee purple anodising coming in the first place?
CK:
I didn't see purple coming, but I had a bike with every alloy surface gold anodized, including spoke nipples. I have partied very hearty with Jeff Ringle, who pioneered the trend, possibly right after one of those parties.
RB:
The RB Cake-O-Meter jury is split on what your poison is…but seeing as it's me asking, I've pegged you as a flapjack kind of a chap…so, reveal,… what's your favourite cake?
CK:
On a Sunday morning when I have the leisure, waffles with 100% maple syrup, about $2 per fluid ounce. I make killer waffles. My wife is the dessert queen, and recently sold several cakes to a friend for a party.
RB:
I think it was Einstein that said it gave him faith in humanity whenever he saw someone ride by on a bicycle. I have to agree (except when it's the local underclass doing a runner from the filth on a stolen one). How does it make you feel, seeing someone on a type of bike that you literally had a hand in inventing?
CK:
Intellectually it is easy to identify a linear process that led inexorably to what we now call the mountain bike, and I had a hand in all that. Emotionally it is impossible to accept that I had anything to do with something so overwhelmingly huge and that has affected so many people. Very few people get to change the world, and few of those who do, actually improve it. I didn't set out to do that, I just got up every day and did what seemed to be appropriate. I'm the luckiest person in the world, because I was standing where a lot of forces focused at an interesting time, and those forces, not any genius on my part, led to where we are now.
RB:
Desert Island Discs scenario…one luxury, a)Bike? b) Guitar? c) Corkscrew?
CK:
Guitar. And lots of spare strings. How far can you ride on a desert island, and who is there to drink with?
RB:
Is your garage a retrobiker's Aladdin's cave full of classic designs and prototypes we'd all love to browse through or just a mower, hosepipe and a Honda Civic?
CK:
I don't even work on my own bikes. The guys at the LBS fight over my machinery, and I am well taken care of. What I do have is every scrap of paper published about mountain biking until about 1990. This collection fills five or six file cabinets and a couple of dozen loose-leaf binders. plus a pile of boxes with every international MTB mag published up until then. After 1990 it became impossible to keep up, or to find enough storage space.
RB:
Do you have a favourite mountain bike to date?
CK:
I can't complain about the Gary Fisher 29er Hifi Gary set me up with about a year ago. Very sweet bike, the best climber I have ever ridden. Having ridden in an era before the bicycle brake was invented, I'm a big fan of hydraulic discs.
RB:
And the best bike paintjob/ colour you've ever seen?
CK:
You guys spend a lot of time thinking about stuff I don't think about. Whatever paint is on a bike is okay with me. When I was in a position to do things like that, I had a red Ritchey with all gold ano, and brass-plated bars.
RB:
Do you still ride them hills? Does 'the gang' still get together and ride?
CK:
I have a new gang I ride with, but I ride every chance I get. Gary moved across the Golden Gate Bridge, so now he has to put the bike on a car to go for a ride with me. On Thanksgiving Day, last Thursday in November, I see everyone I have ever known who rides.
RB:
Favourite place you've ridden so far in all the world?
CK:
Wherever I'm riding RIGHT NOW.
RB:
When you see freeriders and downhillers doing their ever more daft manoeuvres, do you think, "wow, gnarly hucking dude? – Touch me – owww!". Or, "Oi chap, I bloody did that before you were in nappies, on a bike made for the 1940's postman / teenager, when the term risk assessment meant tying your shoelaces in a double bow before you set off down Mt Tam" Pah!
CK:
I don't say anything, because they think a guy that old probably doesn't have a clue about what they are doing. After all, how good is anyone going to get at a sport they took up at the age of thirty, v. kids who started at age six on incredible equipment?
RB:
What do you think about the state of the mountain bike scene in general? How you imagined it might become? Better? Worse?
CK:
I don't put a lot of thought into it. I'm just amazed at the micro-diversity of the equipment. I can't see any philosophical difference between "all mountain" and "cross-country," and even though I don't ride a DH bike, my XC bike is the best downhill machine I have ever ridden.
RB:
What are you most proud of having been involved with in the world of cycling?
CK:
It wouldn't be my road racing, so I'll go with whatever my contributions are to the mountain bike.
RB:
Klunkerz seems to have been received in that soul surfing film kind of a way. Kind of like an 'Endless Summer II', should there be a 'Klunkerz 2'
CK:
I want to do a docudrama treatment like "Lords of Dogtown." Billy had to work with whatever footage was available, but if you could use actors and stunt riders, you could tell the story more completely. I want Tommy Chong to portray me.
RB:
What does tomorrow hold?
CK:
If I knew, I would invest in it. I'm going to get up, look around, and make a decision based on what I see and how I feel.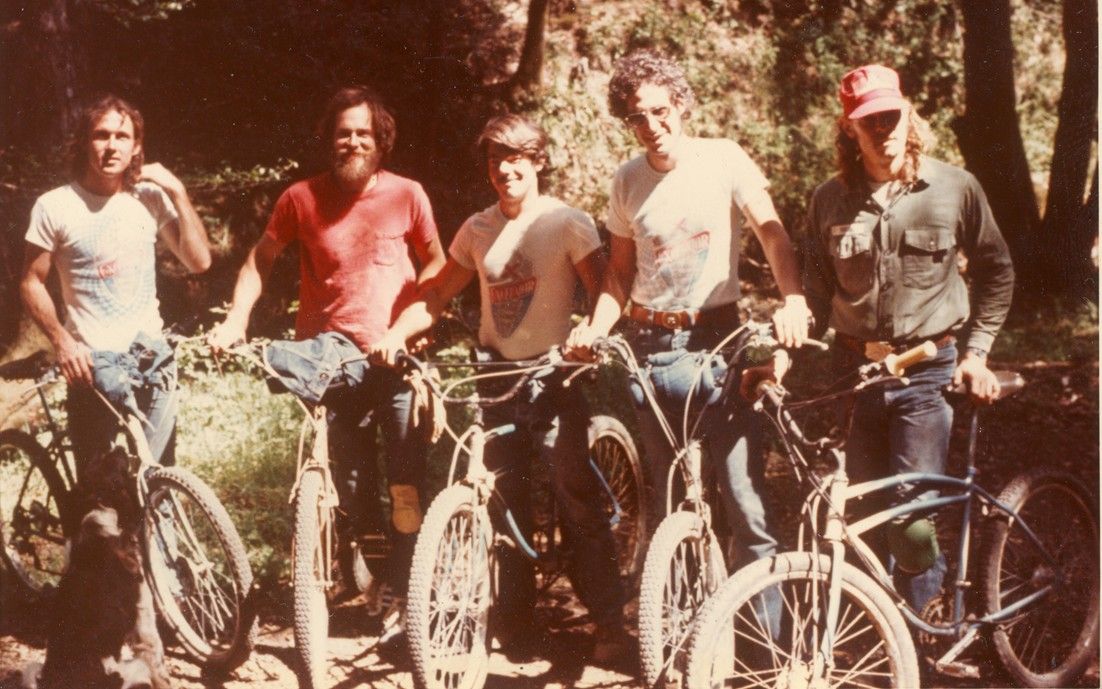 Five proud owners after a Repack event (circia 1977), Alan Bonds, Benny Heinricks, Ross Parkerson, Jim Stern, and Charlie Kelly
​