Retrobike Rider
Gold Trader
PoTM Winner
Since I built this to ride, here's a build thread in a single post rather than a thread updated
"as and when a single component arrives in the post"
. Now don't get me wrong I do enjoy a good 15+ page plus build running over many months as you're along for the ride and therefore somehow feel connected to it.
If you get to the end and don't like it PM Mike Muz as he's to blame…..
if you do like it and wish to comment feel free to post.
My general interest in MTB harks from the 1990-1994 era but occasionally something comes along that stands out from the crowd, One such design that I had to have / try out was an early 1996 Orange X1 granted it looks like it feel out of the ugly tree and in the process hit every branch on the way down, but for various reasons some bikes just make you turn your head….
Anyway fast forward to last years Mountain Mayhem and Mikey Muz rocks up on this very Green and Red 97 Scott Endorphin, not my preferred colour choice but never the less a bike that stands out from the crowd for its unique design but this one has a lot more grace and purpose about it than an X1.
Mikes even sported the worlds most cut down bars I've ever seen so narrow in fact it looked more like it belonged to London cycle courier.
So heres Mike's Endorphin "Kermit
"
At first glance the design harks back to the days of Elevated Chain Stays but with the advent of Carbon Fibre the chassis is a monocoque design and the material allows it to also be a "soft tail" with (allegedly) about 3/4 inch of flex on offer via the chain stays….18+ years down the line I'll take their word for it rather than testing this out for myself.
This one came to me out of the blue via a post on here by (Thierry) aka thnos and just happened to be a large, After a good going over with Peeks metal polish and then T-Cut the haze that had built up over the yellow which some might call "Patina" was gone and the yellow popped once again, okay it has a few chips and some scuffs most noticeable from chain slap to the rear stay, but otherwise it was in great shape…. And VERY yellow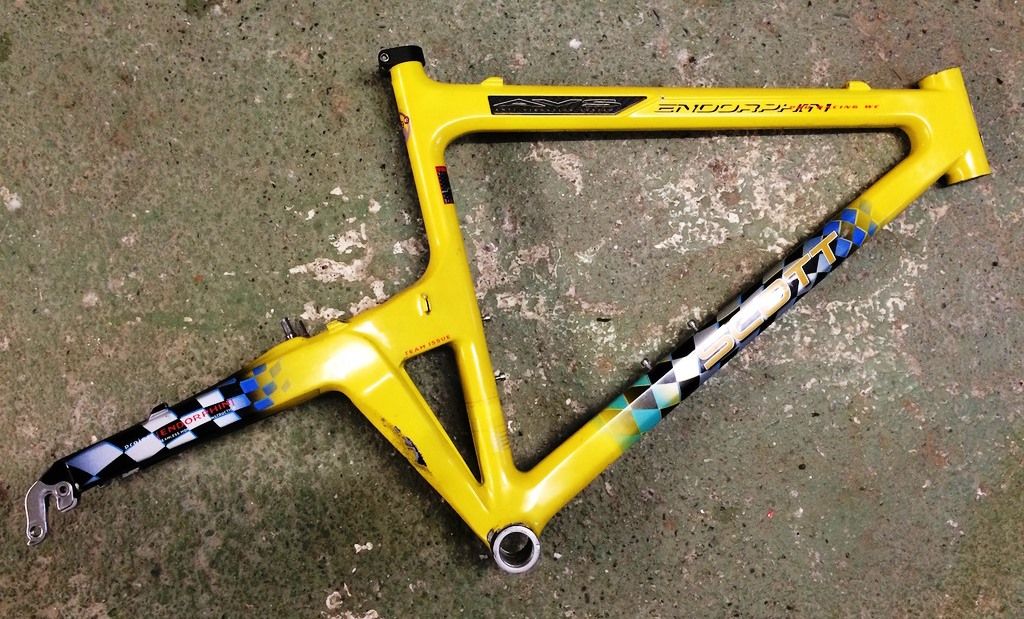 Since the design first hit the showrooms in 1996 and aside from variations to the colourways there appears to be no discernible design changes so I'm not entirely sure on the age, however it lent itself well for the M950 components that I had left over / chose not to us on my Schwinn FS project. Whilst most of the parts were NOS it was built with the sole intension of being ridden ….a lot, hence why a most of the picture show it with slicks and lights, I know at some point this fellas gonna go pop on me with all the certainty of a period Yeti ARC/Funk or Manitou would if ridden, But since its not in the same league as any of the latter I'm going to enjoy it until such time as it gives up, and then I guess I'll walk home.. and the parts will be found a new home, until then and with the summer just round the corner there's more than a few miles to be covered and Mountain Mayhem to enter.
Some builds seem to fight you all the way, but this one was un eventful until the front mech of all things proved a challenge, a low band M950/951 wouldn't fit due to the mech's swing hitting one of the support arms for the elevated stays, The only option was to source a high band standing hence the much later XTR slightly tatty offering, Thankfully it kind of blends in if you don't look too close.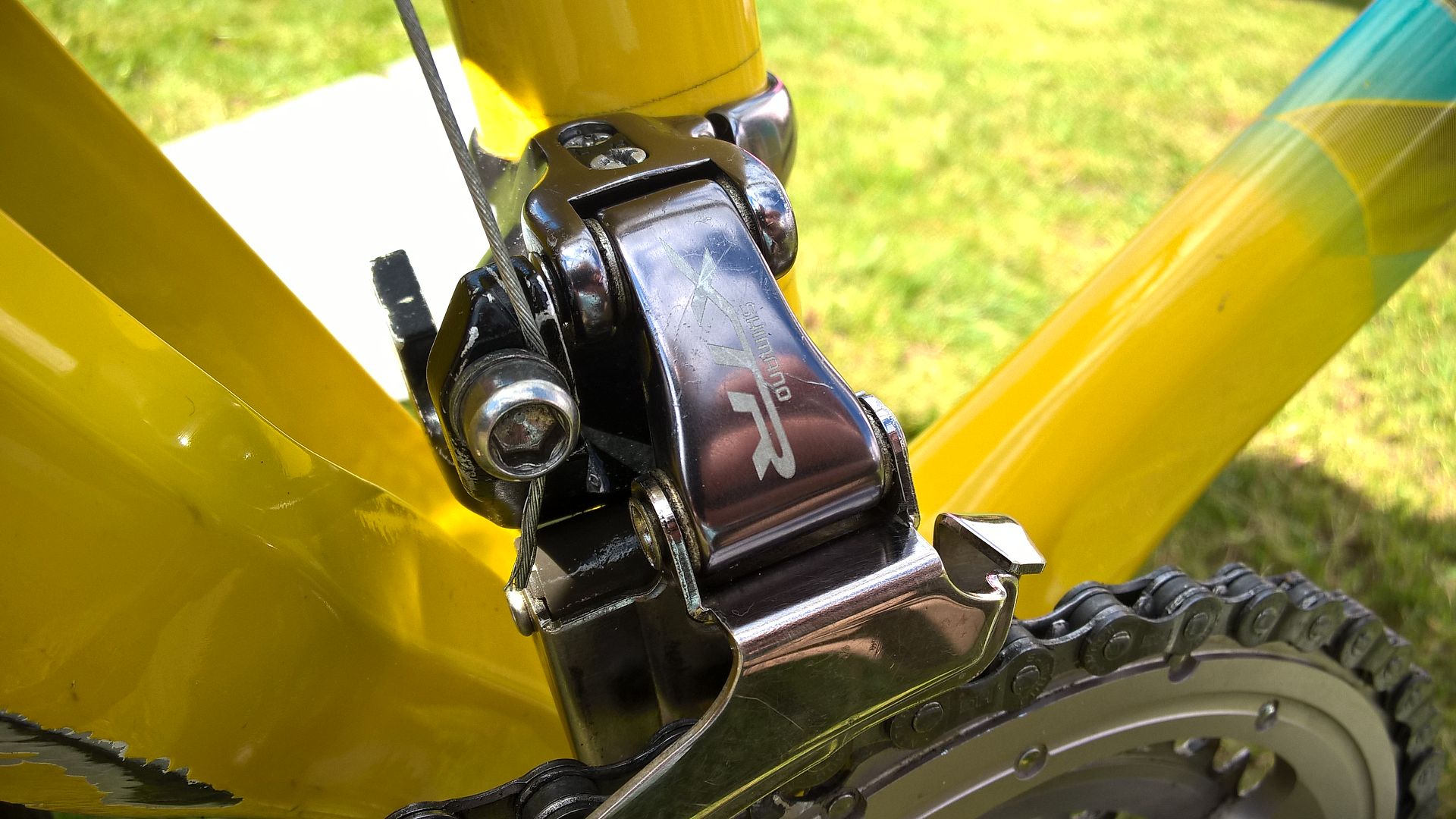 Since I have a severe lack dexterity on my left hand (never mess with power tools otherwise sudden involuntary amputation my occur) all my bikes are set up for the rear brake lever to be operated by right-hand so nobody think about pinching it and going for a crafty ride. Now I love Canti's (they just look right) however at last year's Mountain Mayhem I entered a steep decent too fast and I couldn't slow my decent in the damp conditions in time for the pending corner, other riders informed me "your f**king mad" and in the resulting quest for extra stopping power I lost control of the handlebars and careered round the corner and ran out off the trail, so since I'm going back this year for more, extra stopping power is a must.
Being a carbon fibre frame it naturally followed that I had to have a Carbon fibre bar and since I've had this NOS fella for years with nothing suitable to hang it on it, suddenly it found a home for the HS33's. The weave in the bar is a work of art in itself
Up front the Rond forks (Quake) are a little different as they have Magura brakes built into them in a configuration akin to what Pace did with their forks BITD when canti's and later on V brakes ruled the roost, and looks neat
I've never used hydraulic brakes before and whilst Magura HS33 can't be considered the last word in speed tamers, I've heard all sorts of stories over the years of them braking or bending rear stays, so I'm hoping they at least offer greater off road stopping power for less lever force than a cantilever system. So having HS33's up front it naturally followed that I went the same route for the rear.
Although this frame is perhaps, in very lose terms a design classic of the 90's its not unique enough to get too precious about so I've modified the cable guides with a very fine Swiss needle file in order to accommodate a Hydraulic line and maintain its ascetic's, to keep things balanced the two gear cables are shielded in black tubing.
The rear stays meet the seat tube at such an angle that the Hydraulic line needed some persuasion to conform and resulted in me resorting to a cable tie in order to take the strain off the hose joint.
The Raceface XYZ Seatpost was originally on my F2 Pace but since that's still part way through a makeover and the post was to new and "out of keeping" with a 92/93 frame it was in need of a new home and suits the build well.
There could only ever be one choice for a saddle !
Not sure on Tyres yet, most likely stick with the Michelins but owing to more than a few Sunday morning shake down rides with Gloucester Cycling club of late its currently wearing slicks, and evening road rides still demand lights, however I might opt for the re-issue Smoke/Dart combination for an "Off Road" outing and keeps the period Michelins for something else.
Until it goes off road its staying shod with slicks as it makes a good training bike even if the slicks do make it look like its been castrated !
And Yes you can pull some amazing skids in this set up
Spud©