What if BITD?...................
(The purists might want to avert their eyes….)
Way back in 1987 a chap by the name of Roger Tushingham had recently started to sell a range of Mountain bikes branded as 'Tushingham', (later the bikes would be Tushingham B.52, (Tushingham being the brand, and perhaps the bike model is the B.52? - No one seems to have the definitive answer on this).
Original brochure front cover
He decided after a bit of thought to support and sponsor a Brand Team rider on one of his bikes. It would let the fledgling Mountain bike scene see there was a good bike to be had at a reasonable cost from a British brand, and as a bonus, if the 'Mountain bike scene didn't work out then the Tushingham Brand/Surfing scene would have had a bit of free advertising.
At the time he was also marketing a custom-built option through the then famous (in cycling circles) Dave Yates, the 'Tushingham Works Replica', a lovely Tange Prestige tubed, Master Craftsman built bike to your very own specifications and pocket depth.
After giving it some thought he surmised that most people just getting in to the Mountain biking scene were not going to rush out or be able to buy a custom built frame set from the outset, and the sensible option would be to use one of his existing Tushingham B.52 bikes that were affordable to all and to 'tart it up a little' for the coming racing season…..
Original colour brochure.
Rodger looked around at was easily available to him in the UK from other bike shops/dealers and set about planning a promotional Team Race bike for his new young star-to-be for the 1989 season.
He knew his supplying factory was in the process of changing from a Chain stay brake mounting arrangement to a Seat stay brake mounting point, and so he made sure he used one of the newer frame sets.
Tushingham Frames Chain stay and Seat stay U-brake mountings.
Off came the reasonable Biodegradable plastic Exage Mountain M450 Groupset, reflectors, spoke protector, heavy cast stem, bars, wheels and hubs etc. until he was left with a naked frameset.
Biodegradable Exage....
Rodger decided that he wanted to run a U-brake up-front to match the rear and provide a sense of balance and improve the aesthetics of the bike, so off went the forks to Dave Yates…(in this case Kevin Winters lol) for modification to U-brake brake-bosses.
Once the frame and forks were reunited thoughts turned to rebuilding…..what should he put on it, nothing screams "Look at me" more than stealthy, sexy black…he thought!
On went some 'black bling' in the form of the full current M730 XT groupset, lightweight black anodised Araya RM20 rims, Panaracer tyres, some UK produced Odyssey components, a Prestige bar, the latest 'Dropper post' and finally after looking at what Muddy Fox were doing……a bit of subtle advertising to help the Neon Orange and White bike stand out in the crowd….
It may well have looked like this, Orange may never have happened…….
The Tushingham Works Team Bike – The B.52 XT
In all seriousness, it is simply intended as a respectful nod to Rodger Tushingham, the bike that he rode with the dual U-brakes (Now in the Orange collection) and a look at the possible direction that Tushingham as a brand could have gone…….
As we know Roger decided to concentrate on the Sailing aspect of his business and it was left to a chap (Lester Noble) that worked for Roger to see the potential and carry-on where Roger left of..and in 1989 out of the back of a Ford Sierra pops a single Orange and White Tushingham B.52 now with new decals and branded as 'Orange'………….the rest is history…
No build thread to speak of, the frame and forks were re-finished at the same time as its sister which is an early fully lugged Tushingham frame (Prior to the B.52 decals being applied) with a Chain stay U-brake. That build thread is over here -
viewtopic.php?f=6&t=383526&hilit=tushingham
The plan for this one was always to throw a gentle twist at it, keeping it period, looking like a realistic factory build and looking a little different to its sister.
For the purist, everything on it can be re-used elsewhere and the frameset can be returned to a stock Tushingham B.52 with Exage (if you can find any) without issue.
The original plan was to include a Portage strap on the frame, the existing frame fixings did not allow for that to work very effectively, so a semi-rigid frame bag was tried and rejected, leaving only the twin bottle mounts.
I sourced an Odyssey Pro Steer Front Wheel Stabilizer to compliment the Steerer Stem, however the fit wasn't good and it didn't add anything other than weight to the bike – that will get used on something else.
The wheel disc took a good while to find, lots of ruined ones turned up which I considered possibly repairing, then this one turned up on one of the 'Socials', swiftly purchased I threw it on the Tushingham for a couple of photos before getting to work on it.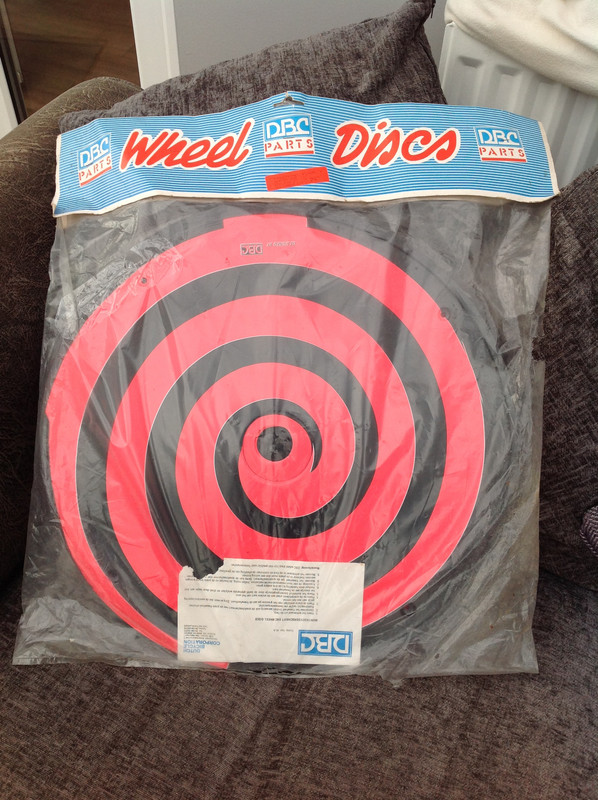 On the Tushingham before it was modified...
The issues then started trying to get some form of branding onto them. A large head badge was first choice and I had these produced, unfortunately rectangles and compound curves don't gel too well.
There were issues with the positioning of potential decals due to the pre-moulded fixing/valve holes in the discs.
The Tushingham logo can't be curved around the circumference as it is essentially a single graphic and not a series of letters. The option of airbrushing the entire headtube badge was considered and rejected on a number of reasons. So, I was left with what is in place now, the logos are not decals, they have been masked and sprayed (not by me). I think it looks 'factory' and stock, the main selling point is, it makes a fab noise, so much so I've not had to install a bell on the bike.
Impressions………..It's bloody noisy…………you hear it long before you see it LOL……
Thanks to those of you who sold me parts for the build and special thanks to Kevin Winters who painted the frames and discs – Kevin was one of the original builders contracted by Lester Noble to build the very first Orange's, before they were sourced from the Far East – Top bloke!
Some additional photos, as I know some folks like these sort of detail shots.
Parts list for those that read such things….
Frame: Tange Triple Butted Tubes
Fork: Tange Triple Butted Tube – Spinner dated 1988
Headset: Shimano HP-M730 NOS
Stem: Odyssey Pro Steer System Stem
Handlebar: Tange Prestige NOS
Grips: Mountain Grab-on 1 (Re-manufactured)
Barends: Nope
Brakes: Shimano BR-M733 U-II Brake Front and Rear NOS
Brake Pads: Shimano BR-M733 Power Pad Low-Profile Brake Shoes NOS
Brake Cables: Shimano XT Cable 2mm NOS
Cantilever cable hangers: Nope
Brake Levers: Shimano BL-M733 (2-Finger) NOS
Shifters: Shimano SL-M732 Shifting Lever 7 Speed SIS NOS
Front Derailleur: Shimano FD-M732
Rear Derailleur: Shimano RD-M732 SGS 7 Speed SIS
Derailleur Cables: Shimano XT NOS
Cassette: Shimano XT CS-M730 Hyperglide
Chain: Shimano narrow 7 speed HG chain.
Cranks: Shimano XT FC-M730 Black Finish High Performance Biopace Triple
Crank Bolts: Shimano.
Chainrings: Shimano XT Biopace-HP
Chainring bolts: Shimano
Bottom Bracket: Shimano modern one until I fing a good XT one.
Pedals: VP 3308, VP Toe clips & Straps (Black)
Hub Skewers: XT M730 QR Skewers NOS.
Rims: Araya RM20 Black anodised NOS
Hubs: Shimano FH-M732-QR, Front Hub Shimano HB-M730-F QR NOS
Spokes: Stainless Steel.
Tyres: Panaracer Timbuk II Front & Rear NOS
Tubes: Whatever was in the stash….needs a 60mm valve, apparently there is a shortage of inner tubes in Europe at the moment (May 2020)
Saddle: Selle Italia Turbo (Re-manufactured)
Seatpost: A nasty branded one, powder coated as XT doesn't come in 28.6 flavour…
Seatpost Binder: Shimano SQ-M730 NOS with Angel-Breeze Hite-Rite (Black) NOS
Aero-Disc? DBC Parts, Wheel Discs NOS
Weight: Don't know yet..not light....……
On with the next project……….the
mythical
'Hand Built in the UK' Wishbone Stay Orange Clockwork…..
Anyone have, or ever seen an Orange disc?
Question to the collective……….
I have a third late frame/forks Tushingham B.52 in the pile, I'm considering re-finishing this as a replica first generation Orange MTB, i.e. simply a rebranded Tushingham frameset with Orange decals. There are several folks here and elsewhere who have told me their first Orange's were rebranded Tushinghams, available before the hand-built Oranges from the likes of Dave Yates, Kevin Winters and Paul Donohugh and the eventual wishbone stayed Far East sourced bikes.
Thoughts? Yah or Nay………
Andy