A brief back ground to my longest running build.
Soon after I joined this forum I stumbled across a thread reporting that a bike shop in central London had a Pace RC500 with original RC150 monster DH forks and hope bulb rear hub on display in the window.
At this time my old Marin was my only bike, although I had long ago fallen in love with the square tube Pace frames. Roll on 2 years and I had managed to get a hold of 2 of my very own, the
RC100
and the
RC200
, but still the occasionally re-reported sighting of the NOS RC500 haunted me.
It became mine through a bizarre twist of fate. In November 2008 I was made redundant and landed a reasonable payoff. The first thing I did was secure further work which happened to be in central London. February 2009, the day before I was due to start my new job, I did a dummy run of my commute from Oxford. After working out my timings for the run I pootled around a little and headed for On Your Bike at London bridge. Had a slight haggle with the staff, the end result being me man handling the NOS frame Fork & hub through the underground and back on the train to Oxfordshire.
Over the next few months I collected parts and attempted a first build, but I hit difficulties in sourcing parts and getting other components to fit. Coupled with other time sinks and life changes such as moving from my own 2 bed apartment to a double room in London, the project started to drag. I made it my retro new years resolution for 2010 to get it finished.
Build Inspirations.
Being sold as a frame set only the build plan was fairly free and open. However there are a number of influencing images, texts & Google searches that I gained ideas from. It is not 100% period correct, however I like to think of it as period sympathetic.
For example, the frame is a F1 revision, but I used some parts that were not available until the slightly later F2 revision.
Magazine reviews:
The good people of
www.retrobike.co.uk
came forward with 2 articles on the RC500, the first a period review (Page
1
,
2
,
3
,
4
,
5
) of the F1 frame. The second was a much later retrospective article (Page
1
,
2
,
3
,
4
) looking at a RC500 F2 owned by the author of the article.
Images:
Although not a common frame by any stretch of the imagination (reportedly 20 made) I was pleasantly surprised to find a number of good images of built up bikes that helped inspire my build plans.
Info from Pace:
Using the
Wayback Machine
, I was able to check out the Pace website dating from 2000 sadly being unable to go back as far as 1998. From this I was able to grab a copy of the 2000 Pace catalogue, which featured the RC500 F2, RC150 fork and RC46 stem.
The finished build.
Although I had previously posted a thread on my first build, due to the difficulties that were presented I was unable to complete it. Many but not all of the components will be recognisable from this
thread
. The big difference being that they now work together and the bike is rideable.
Specification:
(Click on part for detailed image.)
FRAME SET: Pace RC-500 F1 W/Fox Vanilla RX Shock
FORK:
Pace RC-150 Monster
BAR:
X-Lite G-force
(Also Have Azonic Double Wall available)
STEM:
Pace RC-46
HEADSET: FSA Orbit II
GRIPS: Oury
LEVERS: Hope
SHIFTER: Shimano Deore LX
RIMS: Mavic 521 (Also have HED DH rims waiting to be built onto Hope Bulbs)
HUBS: Hope Bulb (5 bolt)
BRAKES: Hope M4
FORK HOSE GUIDE: M-Part
CRANKS:
Race Face Turbine LP
CRANK CAPS: X-Lite
RING: Middleburn
MECH:
EGS Upcage
BLOCK: Shimano 105
CHAIN: Shimano HG93
PEDAL:
Shimano M545
POST: Control Tech
SADDLE: SDG Vuelta Comp (Also have a NOS Tioga DH Sofa saddle available)
The Photo's
The finished article, in guise 1. (Guise 2 featuring HED rims to follow shortly)
Oh the last image was my inspiration for the photo shoot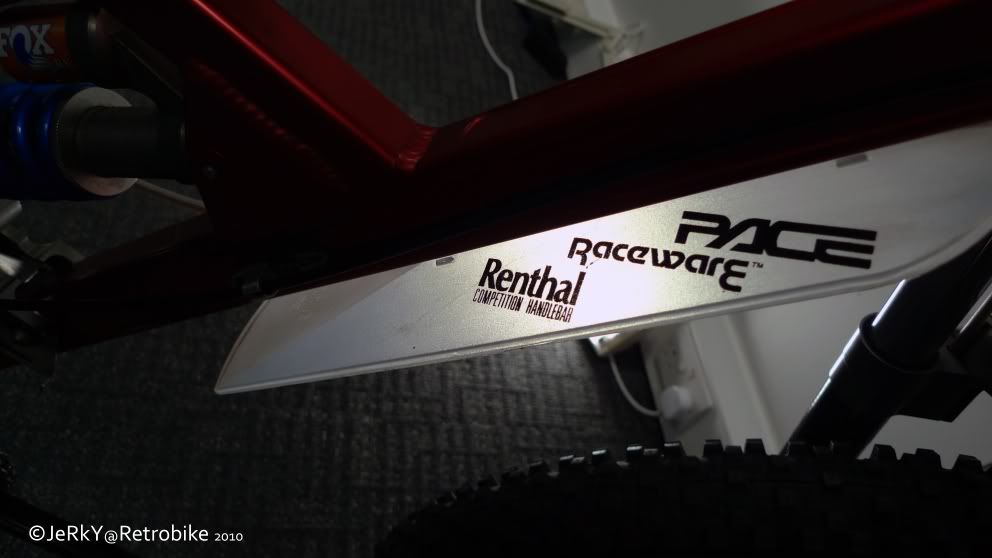 I'd swap the RC500 for the ride in the last image
Thank you to the good people of Retrobike who have contributed information parts and comments during this build.