Hi there,
As a quick introduction, I've been reading the forums for a few weeks and now need some assistance! I never intended to become a retrobiker but time has moved on and my bikes have stayed the same over the years and now I think they can be called retro!
This is my DBR, which I picked up as a frame only around 2004 when I left uni, it had laid abandoned in the bike shed for the whole year I was parking my (retro) Univega there. I cleaned it and removed a layer of MBUK stickers to reveal a slightly corroded DBR stickered frame. It now gets used as my city bike run around.
6 years later I'm still riding it as seen in these pics: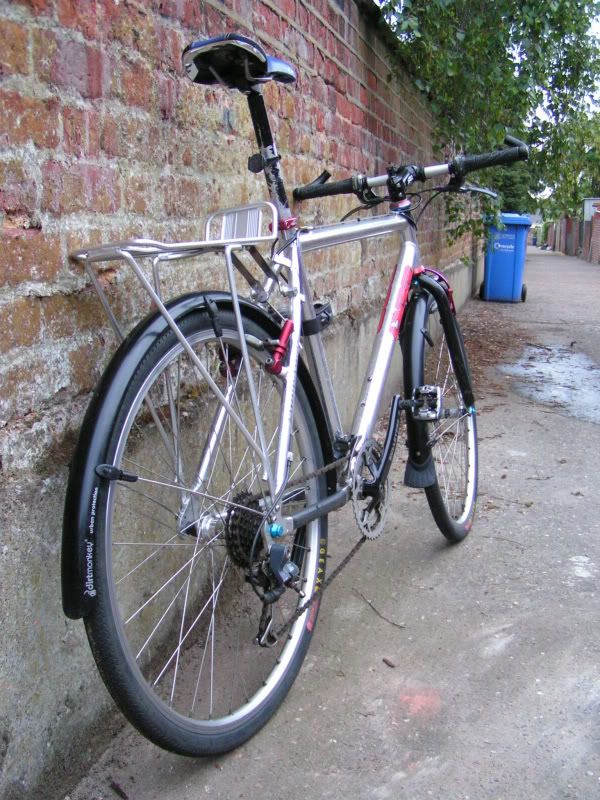 The rear rack is an addition for the day as I've been carrying panniers on the Norwich 50/100 cycle ride.
I'd guess the frame is about 1995 due to the canti hanger, but I've never seen another like it. The down tube has DBR stickers both sides, there is a Diamondback head tube sticker, Diamondback stickers on the seat stays and '7005 Butted' sticker on the seat tube. No other identifying marks, and the componentry has all been fitted by myself, forks are Spinner and recovered from another Diamondback so offer no clue as to the bike's model.
Frame number is stickered and reads CYC0020439.
Can anyone offer a clue? Even positive age identification would be handy and I know there are some Diamondback experts here.
Cheers and hope you like the photos!