A few years ago a guy I know indicated that he might want to part ways with one his Salsa Ala Carte frames. I've admired the bike for a number of years, so I instantly messaged him that I'd be willing to give it a new home.
It took a few months, but he eventually decided to sell it to me.
This is how it looked:
Shortly after building it up I entered a more or less local CX race, where the original owner of this very frame parked right in front of me. When he exclaimed 'That's my bike!' I was quite perplexed but then we got talking.
He bought the frame in 1998 via a bike shop in Munich and immediatly took it to Florian Wiessmann to have the dropouts converted to singlespeed.
He rode the bike round Munich and in the Alps for a number of years, entered the SSWC in 2004 and eventually sold the frame on ebay around 2006 or 2007.
The then winner of that auction was the guy I bought it from.
After smoking him in the beginning of the race he eventually caught me in the last lap...the course was rather flat and favoured multiple gears...
The frame oozed coolness beyond anything I had ever owned before, so I was pretty much in love with it.
Unfortunately I kept hitting my feet on the front wheel. Over time I grew tired of that and so my affection towards that frame got tainted. I still have the frame, but I promised the guy I got it from to sell it back to him.
While on the hunt for an older Brodie frame I stumbled upon a 2002 Brodie Kinetic frame.
It was cheap (€40) and the seller (first owner) did not want to ship it. So I had a friend pick it up, to send it over to me.
The original owner still had the fork the bike came with and sold it to me for very reasonable €60.
A good chunk of the parts from the Salsa were directly transferred to the Brodie Kinetic.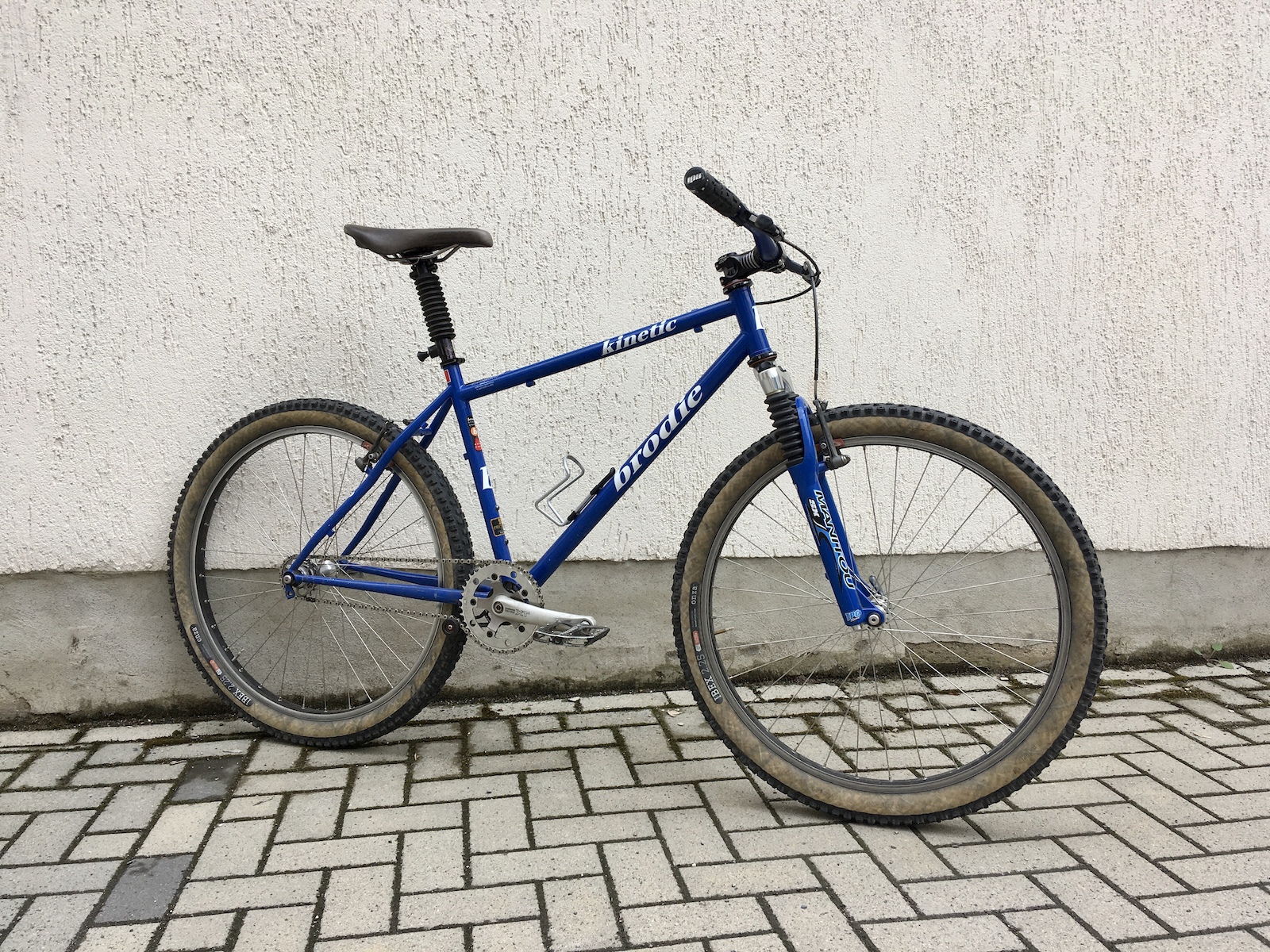 It rides great and the forks do their job ok. Unfortunately they rattle like hell...
The headset (WTB Momentum) was bought from across the Atlantic and was missing an O-Ring. I managed to find a shop in the Netherlands that is selling adequate replacements. I've got a bag of them now...
In case anybody needs the proper designation, let me know.
The chain tensioner is bolted to an adapter plate that is held in place by a 73mm BB in the 68mm BB shell, in case anybody is wondering. Works great.
I'll post the specs later.