Retrobike Rider
Gold Trader
This is it.. this is the bike I have been longing for for the past 20 years! Since mine was ruthlessly taken from me by a pair of drug-crazed thieves I have hankered after a mint 1991 Beast of the Beast
And now I finally have one thanks to a very nice man in the Netherlands. This frame came up for sale on here a couple of weeks ago and I pounced! I pounced I tell you like a lion on a wildebeest! It arrived on Friday and once I unleashed the Beast from the box I could instantly see that it was a minter! OK there are tell tale signs of light usage but it is clear that this Cannondale has been loved and cherished like a member of the family. I proceeded to give it a deep clean, T-Cut and Autoglym and it really has come up like new! Annoyingly the driveside Pepperoni sticker has taken a bit of a beating and there is some suck on the chainstay but these are minor defects. There were one or two tiny chips to the paintwork but these have been cunningly concealed with bright orange modelling paint (this is possibly the easiest paint job to touch up).. aluminum oxidization.. negligible
The more observant of you will notice that I have a link to the same model Cannondale in my sig.. this one I have retired. It will be looked after by a large busted nursie in a home on the seafront in Eastbourne.
So the story begins.. the story of my unicorn!
1991 Catalgue
My original 18" back in 1991 purchased from Evans in Croydon:
Just before its first outing for a ride over the Severn Bridge (nice jacket :mrgreen
Somewhere on Dartmoor July 1991 (even summers back then were sometimes shite)
My 20" UnIcOrN: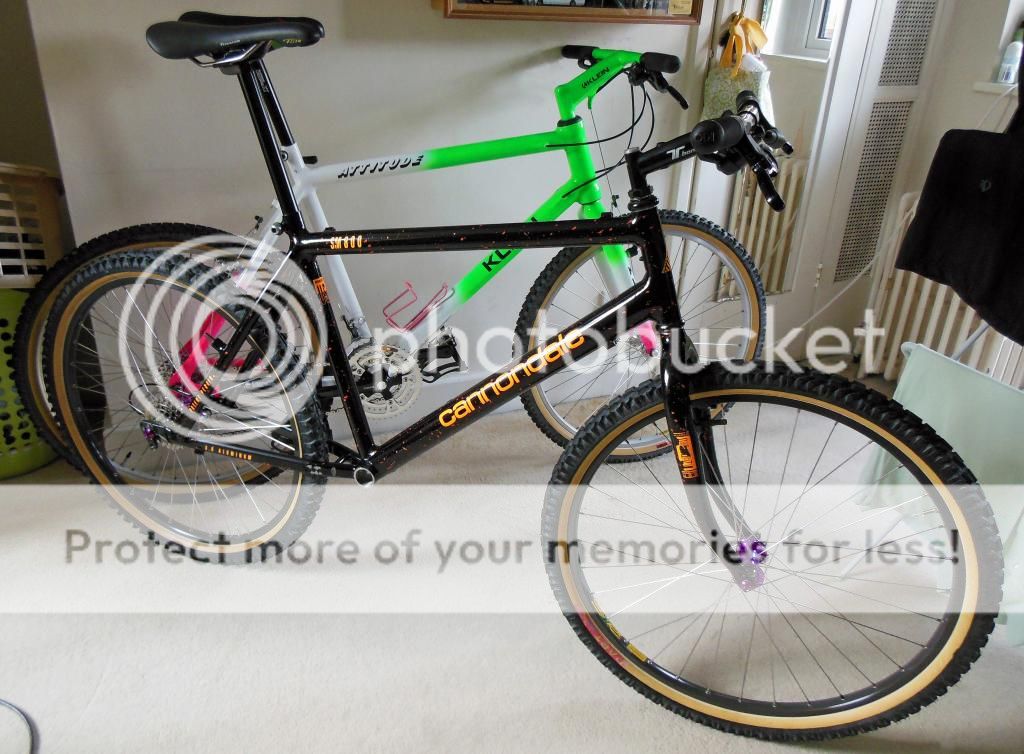 Apologies for the duff picture, I quickly took it this evening as I was keen to share my Beast with the world. So far I have build it to the stage where I can stand it up.. wheelset is a NOS M231/Ringle setup, post is a new Kalloy one, seat NOS Flite Ti, stem & bars NOS Tioga Tange Prestige, grips ODI Attack and shifters/levers NOS M092. Future plans are to fit an
XT BB, XT cranks that I want to polish to mirror shine, new HG90 chain, Tioga Surefoot 6 pedals, XT cables and Ritchey Logic brakes
.
Unfortunately I have limited time on my hands to finish it off but please stay tuned for further updates.
Cheers,
Craig