In 1981 the FullPro-L was Koga Miyata's top of the line model. Shimano's aerodynamic Dura-Ace AX was new and the FullPro-L got the full Dura-Ace AX groupset. The frame also had aerodynamic influences. The blades were drop shaped and of course there are the necessary braze ons for the AX groupset. Braze ons for the aero shifters on top the donwtube and braze ons on the rear of the seattube for the special front mech. The cable routing is ready for the AX rear mech and doesn't allow the use of a conventional rear mech. The tubing is still round (Tange #1). A full drop shape tubing frame was one year away (the 1982 FullPro-A).
I got hands on a FullPro-L 15 years ago. It was in decent shape and part of the build was original. Back than vintage roadbikes were considered old and worthless. There was no serious market for them. I think I bought the FullPro-L for 50-100 euro. I disassembled the bike and some bits ended up on other bikes. The frame I put in a box and I stored it away. That was 15 years ago.
Sometimes I wondered how it would be with the frame. The conditions were I stored the frame were not perfect. Today I decided to clean out the shed to be able to reach the box. Years ago I read about a story of a lost Bugatti they fished from the bottom of a Swiss lake. This felt a bit like that. What would I encounter after 15 years? A rustbucket or a decent frame.
The box is open >>>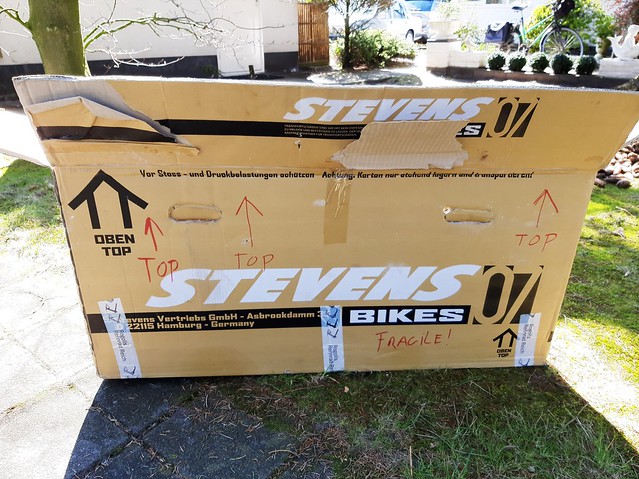 I took the frame out. First impression was good. I started cleaning the frame with a tooth brush and WD-40. While doing that I took below pic.
I am pleasantly surprised with the shape. It is okay. Some rust, but not much. It will never be a mint FullPro-L, but these frames you won't find at every corner, so a FullPro-L in whatever shape is nice. Next thing I will do is giving the paint a treath with a cleaning compound. I am looking forward to what result I will end up with.