Short History
I started on a Pacer 'Garry Lee', like this one but in blue :
When I decided I liked skating, I saved up and bought the bits to build myself a classic shaped 87 Santa Cruz Jeff Grosso 'toy box' edition like this :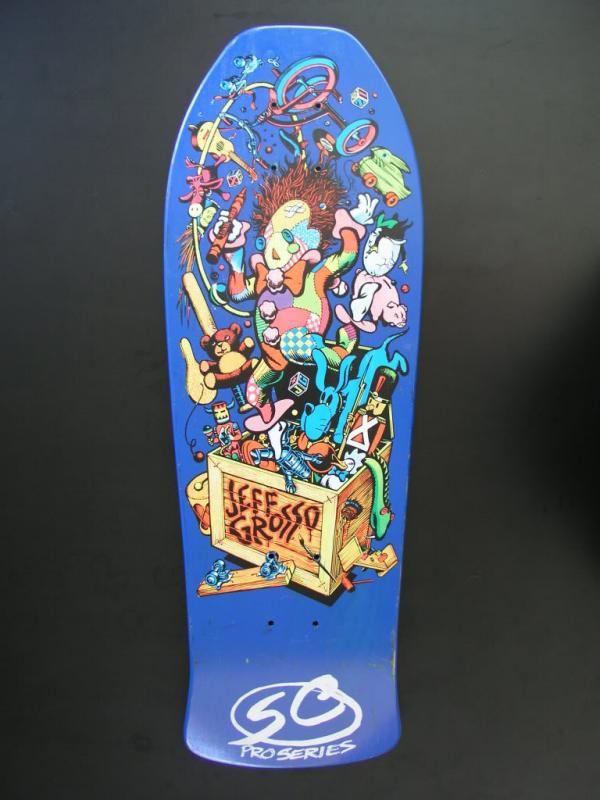 But in black (not mine) :
I built it up very tastefully ...
Neon green grip tape (full coverage).
Neon pink Santa Cruz Cell Block III.
Neon pink front riser.
Neon pink grab rails.
Neon pink Powel tail protector (long gone).
Neon pink nose protector.
Neon green Gullwing Phoenix trucks.
Neon yellow (now faded) Santa Cruz Bullets (66mm 92a).
NSK bearings.
Ally sex bolts.
Rat Nuts truck hardwear.
I skated street and a bit of ramp, did neither very well
but really enjoyed myself
The deck got pretty scratched up so (stupidly, now I know the prices people will pay for them
), I sanded it down and varnished it ...
When the Bear Valley came along (1990) the board got stuck in dad's garage to be used by my sister and her mates (three at once) and for moving heavy stuff around the garage.
It stayed in the garage until recently, I wanted it to film my GF's dance classes with the GoPro's and use it for panning shots down the room - I soon found it needed a bit of a refurb
WD