The rest of the kit was going to be blue ano to match the BB and to add a splash of colour
RC130 Bars
blue hope hubs with the engraved hope skewers and 8 speed cassette - having had compact rings since my first XC expert equipped clockwork there was no way I was going back to Standard - especially with my inner weight weenie watching.
Silver Rc45 stem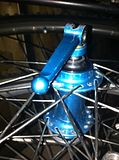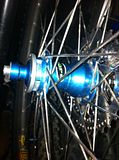 Then came the moment that caused a big swerve on the journey - a rare chance to give me a full British chainset with the appearance and outing on eBay (thanks guys) of a Goldtec Ti Cassette and rings attached to some of the nicest Middleburn RS3's I'd seen. Pure Ti retro porn! Loving the ramps on the middle chainring - that's not something you see much of on aftermarket rings. Oddly enough they were the from same guy who sold me the Quarz rear mech a do few months earlier who was selling off his collection.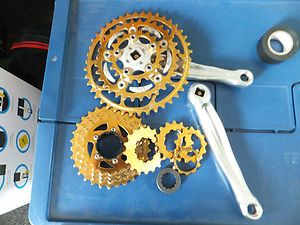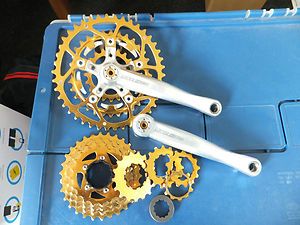 Only trouble was the now finishing kit was too blingy - blue and gold ano was never going to cut it together. To make the decision easier the Hope BB was too long for the low profile RS3's. A short wait on ebay and a plain silver Hope BB arrived in much better condition and at 109mm closer in ideal length for the RS3's.
A packaged set of Hope Suspsension and Ti-Glide hubs on Mavics together with a reasonable set of C2's and the new colour theme was Ti, Black and Gold.
An Xlite Ti bar and saddle and I was cooking with gas.
The front end dilemma
I knew this was going to be a problem.
On the plus side a 1 1/8" head tube meant a stupid amount of choice - but the disc tab on the rear meant a front disc was mandatory - and also being a 93/94 frame suspension travel was going to have to be on the fairly short side. In the end a couple of beer influenced decisions on eBay gave me the choice of a pair of 420mm a-c RC31's and a set of RC36 Pro Class 2's both in the remit of my Euro build but if Im honest the RC36's were too modern they should have been Evo III's.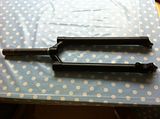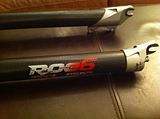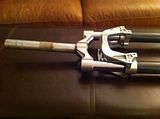 First on the frame were the RC36's - slapping just a C2 on the front I was off down the road for a test run. Hmmmm nice fork action but not massively liking the front end feel and the weight of the front end - it just didn't feel balanced.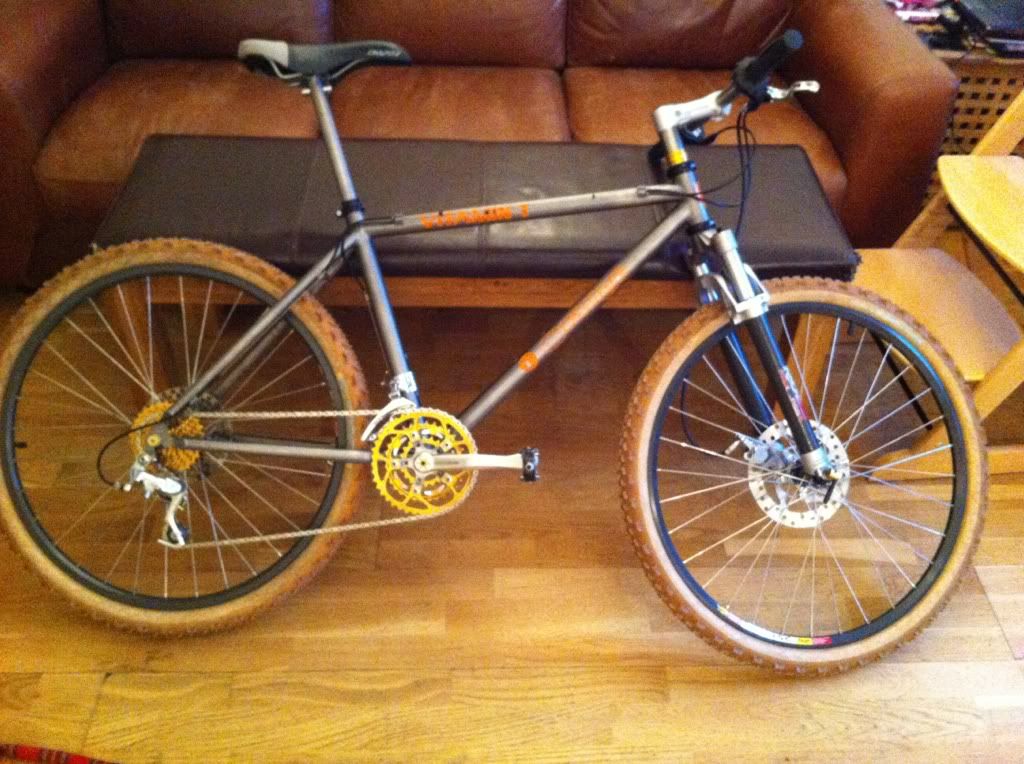 Second attempt was the RC31's a big improvement but that RC45 stem was still making things too twitchy.
Time for a new stem - I'd been on the lookout for a Ti stem but European or British ones are pretty rare - only one I had seen was a Roox one. Still a member had a Titec in the for sale section and both the colour and the shape called to me - build theme rules are meant to be broken after all! Fitted that and near steering perfection was achieved!
next post - another happy direction change.
_________________
Current Bikes -
Dekerf Team SST
, 18 Birdy Touring, 93 Orange Prestige, 17 Ribble Endurance,18 Fairlight Strael
Gone :
'00 Orange Mr XC
,
Dekerf Mountain
,
Dropbar Pace RC200 F7
,
93 Vit T
,98 Birdy Blue
WANTED : ** Orange spotty shorts **. **Softtail frame in 17-18" **