Bernard Carré – Anatomy of a Full French - end of the seventies – possibly light !
This build is a bike that wishes to pay a tribute to French know how of bikes and bike parts at a turn of history !
I call that the "swan song" of the French bike companies and I place it at the end of the seventies, where they were quite a few high end French manufacturers of bike parts but uncannily, most of them would not adapt to the changing world or competition and they disappeared or were swallowed mostly during the 80's
They are, Huret, CLB, Stronglight, Pelissier, Maillard, Vitus etc…
The bike shown here is based on a quite renowned French frame maker : Bernard Carré
Courtesy of Norris Lockley
"Bernard Carre was a legendary frame-builder, based in the town of Montreuil just on the eastern side of the Paris peripherique - the Paris inner ring-road."
"Although his work is very well known, and he was a prolific builder - what I call a two-a-day man. - as he seemed to have the ability to make frames quickly and to a well tried and tested recipe, as much of his production was destined for use by the leading French Pro riders, and it is known that he built most of Anquetil's frames in the 50s, as well as Geminiani's, Anglade's, to name but a few."
"His trade frames were workmanlike and designed and built to do a job of work, they rode well...but his personal custom frames are rarer and show more attention to detail and finish."
"He left his trade mark - his name stamped into the top-eyes - on many of his frames, but he never seemed to have down-tube transfers."
"Carre seemed to have a long working career; some say he was building in the 40s, and it appears he was still building in the late 80s even..."
Norris Lockley
The bike is built with Super Vitus 971, the top of the range of the French company at the time, very comparable to Columbus SL
(it was later follawed by SV 980 – which appeared in 1980 at the salon dy Cycle in Paris)
Its double butted with the thinnest parts at 0.6mm and the thickest at 0.9mm
This tubing is always very light – frames in the region of 1800 g and forks at 650 g for a 55
The choice of the parts is going to be French high end parts possibly light.
Here it is – not mint but decent state.
The initial fork chrome was badly damaged but I managed to source a identical Supervitus 971 fork in very good condition
Will see if the funds allow to rechrome the original fork but it was not signed ( some of the Bernard Carré ones carry a fleur de lys)
Most of the times, Bernard Carré buid frames which did not bear his name
fork is 640 g
frame is 1770 g
It has always been a mystery to me why, French parts makers did not really manage or seek to build complete groups completely in the wake of Campagnolo or Shimano.
But as Shaun often states, early on in the seventies, it was not the custom or fad to put parts from the same maker and actually, even campagnolo did not sell his nuovo record group as a whole I believe.
Its also possible that French companies had developed know how on certain parts but lacked in other areas ( for example with Mavic later in the 80's - showed that they tried to market full groups but with parts subcontracted – mavic callipers were rebranded Modolos)
So cherry picking was the French habit.
Nevertheless , in the wake of unity , I searched what was possible as " a group"
And actually one company tried to surf on the "group" wave in France: Huret
In 1977, they unveiled the Huret group.
Sorry for the "French" exercise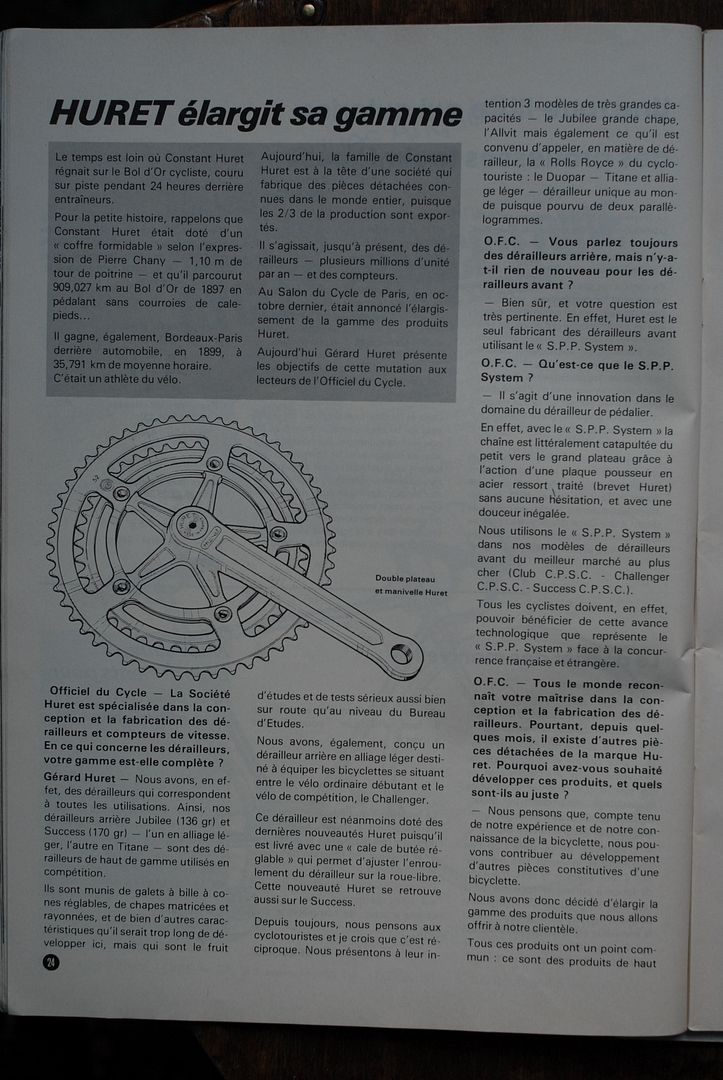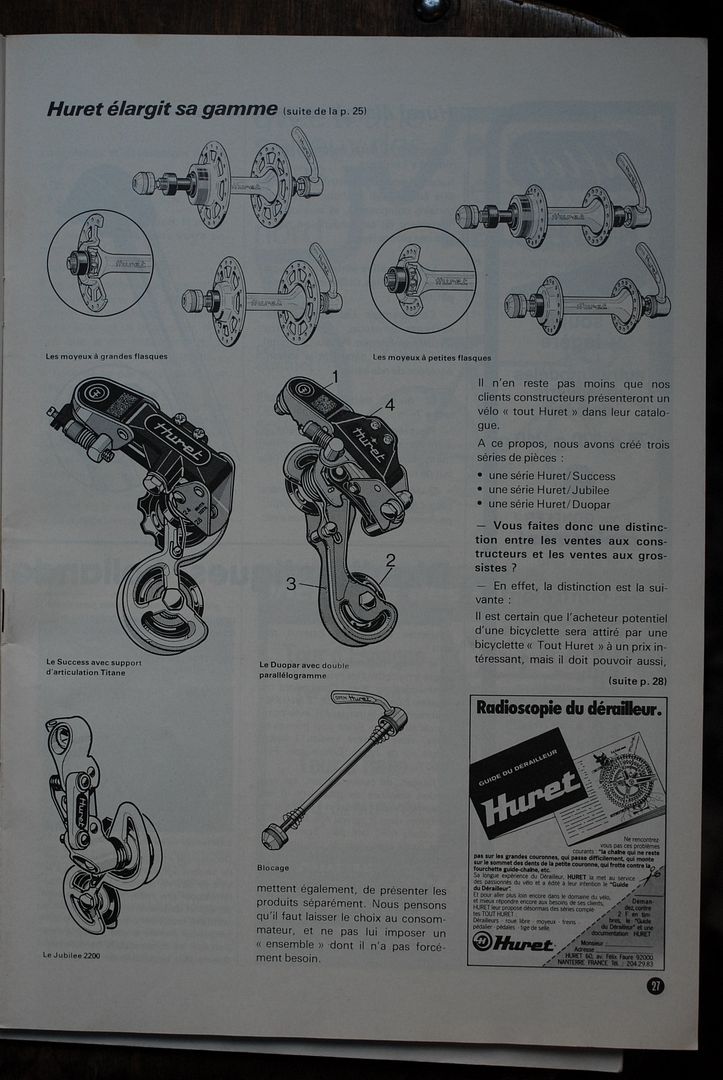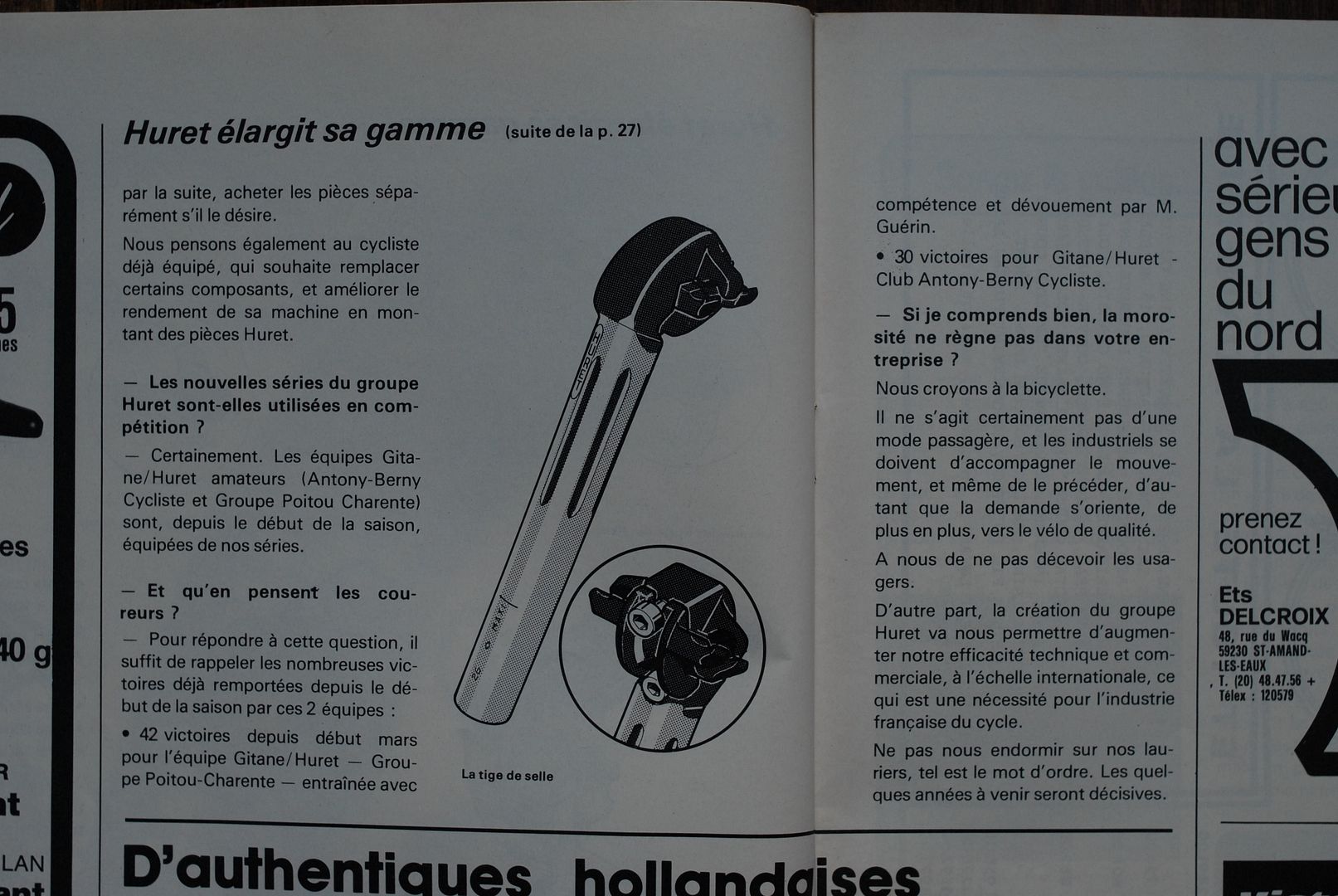 So even if quite a few parts were rebranded – the brakes are CLB professional, the crankset is a Nervar, the hubs are Alpin , the seatpost JPR , only the derailleurs are really Huret ! it was a possible solution for this full French build
By sheer luck, I actually found such a group which is very rare , in its entirety but on a damaged frame
But frankly the aesthetics and reliability of some of the parts did not please me.
I found the crankset were bulky, but I also discovered the hubs are actually not forged in one piece and sometimes known for the flanges to desolidarize from the body, so this solution was quickly forgotten, even If I find the hubs very airy
I decided to actually do as usual – cherry pick the best and better looking parts of the period
And possibly light.
1 )
CRANKSET SELECTION
The initial bike was sporting a Stronglight , but I found it too common so I looked at the competition
Here is the table after some weighing of the competitors ( driveside, left crank – total)
DURA ACE GA300/7110 397, 171, 568
TEVANO TA 409 , 173, 582
CAMPA NUOVO RECORD 416, 177, 593
plateau 51x43
DURA ACE GA200 441, 164, 605
SPECIALITES TA 5VIS 447, 161, 607
GIPIEMME CRONO SPRINT 424, 193, 617
STRONGLIGHT 105 bis 453,175, 628
HURET / NERVAR 463, 175, 638
Only one choice was left : the Tevano from Specialites TA
It is often dubbed a copy of the Campagnolo Nuovo Record but I find it better looking and it is 10 g lighter
Incidentally Tevano comes from the name of the founders of Specialites TA – the "Navet" brothers and they added an O probably to sound Italian
It appeared in 1979 so just at the limit
Here it is – sourced from another French bike
It was actually pretty expensive ( showed here at 80 gbp in 1984 on a Ron Kitching catalog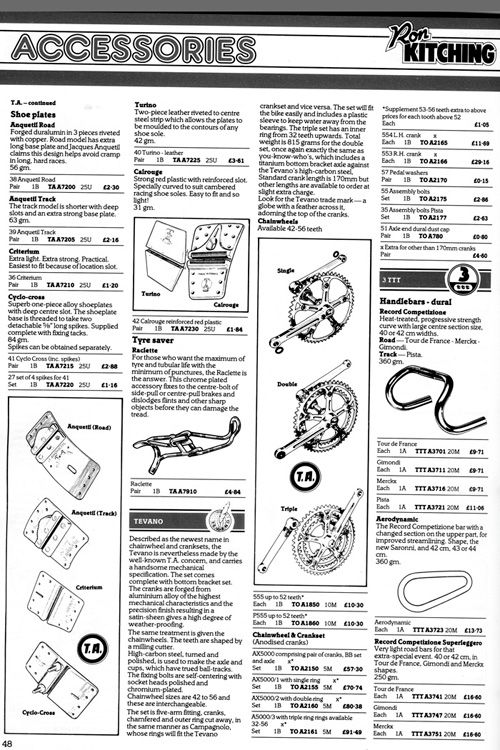 2) BRAKES SELECTION

The brakes could not be else than CLB professionnel. It is THE brakeset that was present on any lightweight french stud at that time
Here I am nice with the English speaking world
The issue with these brakes callipers , is that they do not age well as there is a sort of coating that start to make bubbles at the surface
I managed to source mint ones.
Here there are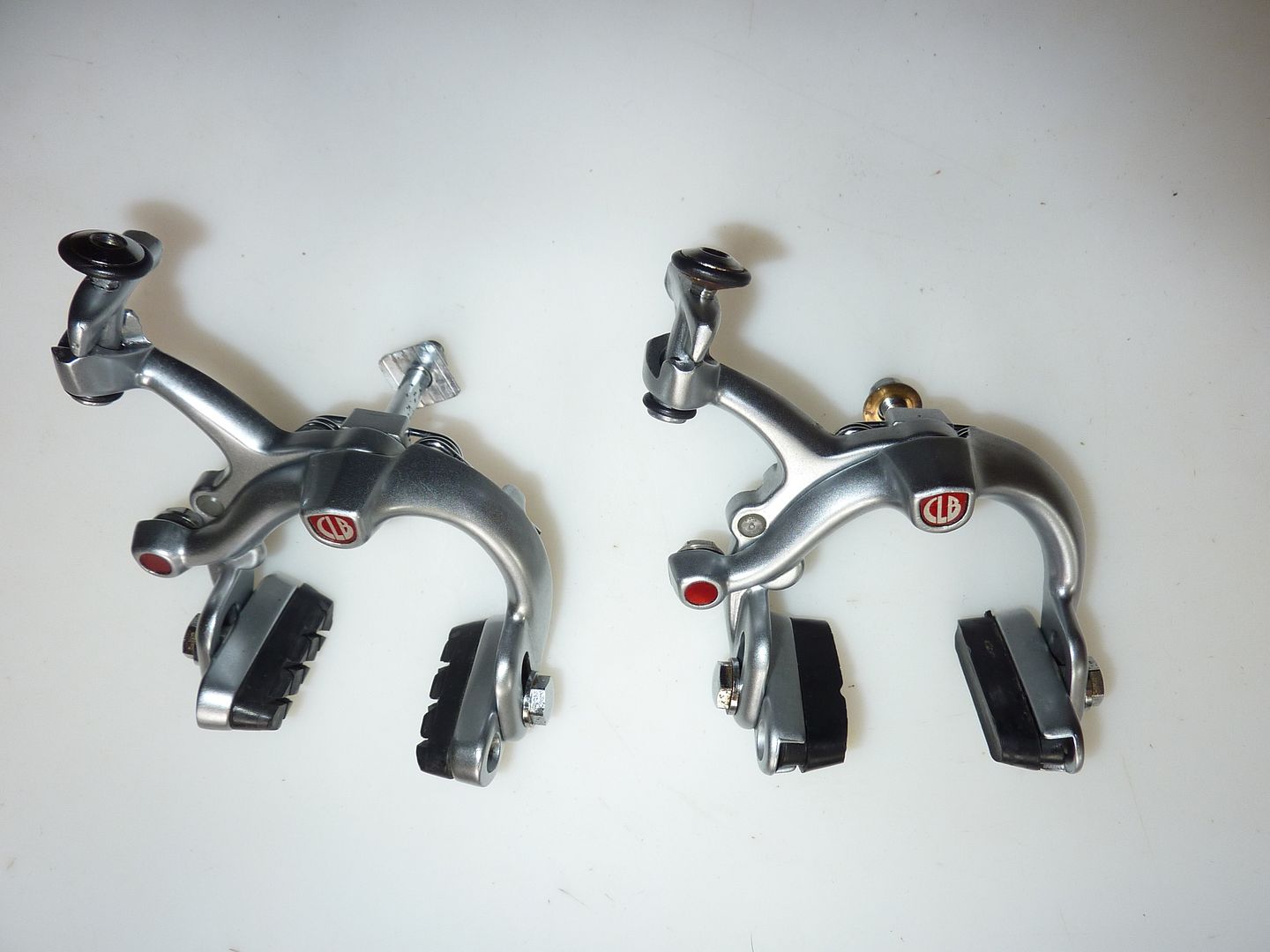 And the levers
Was also lucky to source some NOS hoods as these age also badly
The story will continue with Bottom bracket, headset , derailleurs , wheels etc….;