Purchased a 1996 mint condition Trek OCLV bike last year hoping my son would move into it from his 24" Islabike, but the 16" frame was just too much of a stretch.
Then a generous fellow offered up this little beauty and it arrived as such:
Unfortunately the Mag fork was not a Mag 20 but a first year Quadra with completely shot bushings, and the black crown was not the bolt in Bontrager specific crown, but the frame is lovely and the size is spot on, so not worth bickering about too much.
Had a bunch of parts I was hoping to use from my first build up of the Trek that are not exactly period correct, but first priority for this was a nice lightish ride for my son with perhaps a few vintage oversights in the name of rideability.
First cobbled build looked like so:
The short cranks are obviously a cheat, but I'll polish them up and try to ignore their newness. I may throw a front mech on there just for looks and as an emergency chain keep. Obviously the ceramic Mavics are a bit modern as well but they are super light and very reliably tubeless with those tan sidewall Schwalbes.
Fork was unusable due to the bushings (tons of binding) and the parallel push LX brakes also had sons of slop, so that was next to address.
A mensch sent me a functioning Mag21 for free but I need a 1" steerer crown for it, so it sits. In the meantime I scored a 1" Judy with Englunds and a super long 1" steerer.
knocking the travel down from 72 or 73mm to about 55mm: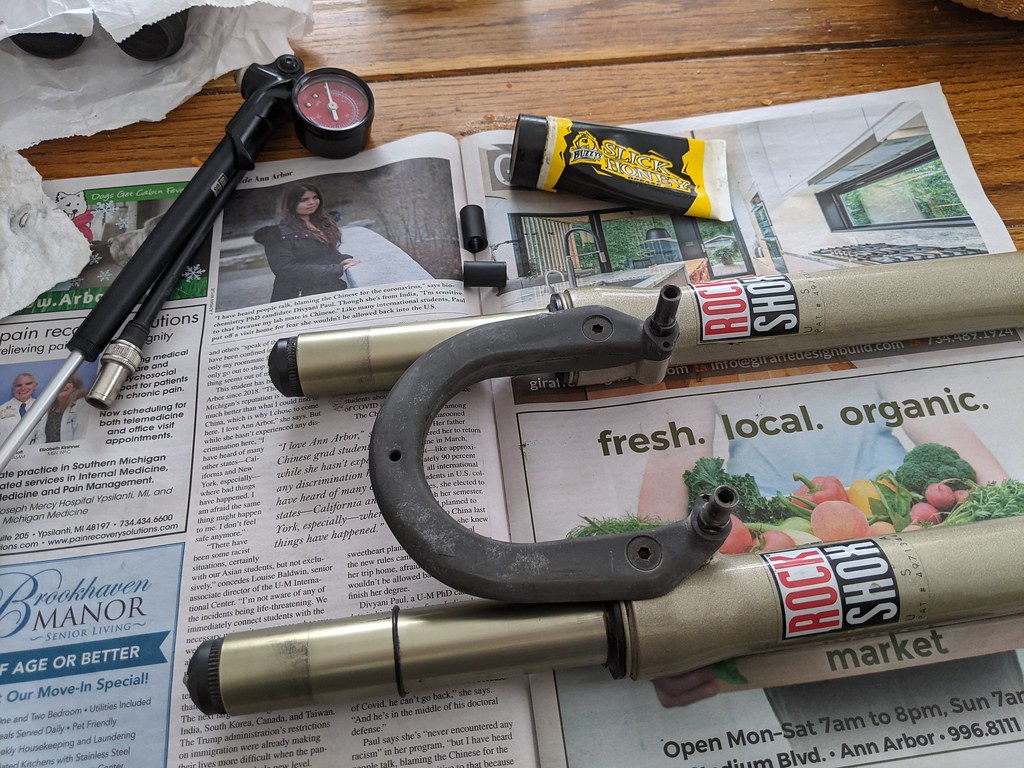 a few steerer/crown swaps later and I ended up with this nice short aluminum steerer that I didn't have to cut and even came with ti bolts
Shaved about 100 grams off the steel combo I have:
The whole fork assembled:
In the meantime I also found a nice seatpost, and saddle and here's where we are now:
Still on the lookout for an old Quadra 21R or Mag21/20 1" threadless fork crown so I can give that a try instead, but the Judy is pretty plush and smooth with those Englunds set around 50 psi for my super light son, so no emergency. There are also rebuild kits available for them so that's reassuring.