I've decided it's time to have a clearout of all the vintage tools I have which I have doubles (or triples!) of, as well as those ones which I'm sure I'll likely never use again. The majority are the basic tools, but there are a good few more specialist ones as well as some proper workshop tools.
Postage cost not included in the below prices- the majority of the tools like the flat spanners etc can be posted with Royal Mail's Large Letter service at £1.50, but bulkier ones will go with the standard parcel service at £3.
I'm looking to provide a good bit of info below on tool type and necessary measurements but please advise if you'd like more details.
FAG bottom bracket tool
For use with the older Campag cassettes. Slight wear to the notches that engage with the BB cups. This is an alloy tool so is quite beefy. £7 > £6
Shimano Dura Ace/600 EX headset tool X2
A pair of tools for the DA/600 80's headsets with the notched design as opposed to spanner flats. These are also alloy tools. These have had very little usage so condition pretty excellent. These tools are getting pretty rare now so £15.
Campagnolo headset spanners x2 and a cone spanner
The headset spanners are combi designs: both measure 32mm between the flats but at the other ends, one works as a pin spanner (needs replacement pins) and the other fits certain bottom bracket lockrings. The cone spanner is for 13/14mm between the flats. There's slight chrome loss around the jaws of one of the headset spanners- see pic. The cone spanner looks unused.
£10 for each headset spanner and £5 > £4 for the cone spanner.
Hozan cone spanner set
I'm not sure if this is a complete set. Sizes are 13/14/15/16. The jaws at the 16mm end show slight wear.
£5
Lifu cassette removal and Allez crank remover tools
The Lifu fits the standard/modern Shimano/SRAM cassette lockrings. The Allez fits standard/modern square taper cranks. It includes an 8mm allen key which works in place of the normal spanner that forces out the cranks. Both new and unused.
£5 > £4 each.
Eldi 1" x 24 fork steerer thread chaser/cutter die and holder.
This is a matching die and holder. The holder looks to be a very nice design and holds the die in place at five points. I assume it can take a 1 1/8" die. There is a backplate positioned a few cm below the die which has a 1" hole that allows the steerer to be correctly guided for exact chasing/cutting (it's removable in case you need to replace with a 1 1/8" sized one). The die's cutting teeth feel v sharp and I suspect it's seen little work in it's life. This is a real pro/workshop tool, so £40 > £37
Cyclo bottom bracket shell thread chaser/cutter
This is a thread chaser/cutter for English/BSC 68mm threaded bottom bracket shells. Marked for the left and right sides and 1.372 x 24. I'm not sure of this tool's age (do Cyclo still make them?) but the cutting teeth still feel sharp and I've used it to chase threads without a hitch. It requires some king of long bar to be inserted through its centre whilst being used/to provide the leverage for the chasing/cutting action.
£30
Cyclo crank remover
Fits and removes standard vintage and modern square taper cranks. No wear to be seen at the business end or spanner flats.
£5
Eska and TDC multi-spanners
The Eska one is a headset spanner with other functions including lockring removal/tightening. An unusual 29mm between the headset spanner jaws. The metal is a chunky gauge. Little wear showing. The TDC one caters for various nut sizes as well as for 14/15mm hub cones. Slightly more wear than the Eska but not rounded at all.
£5 > £4 each


MAFAC brake caliper tools
Here we have three MAFAC tools best suited for working on the MAFAC brakes due to the tools compact design and closed ended spanner type. It's not the complete set. There are none of the usual measurements stamped on the tools but if anyone needs to know I can check.
£5 > £4

[url=https://ibb.co/rmP1mWb]


Terry's tyre levers and Dunlop pressure gauge
This is a set of old school, steel, probably 50's, tyre levers. These levers would seem to be a bit of a classic tool now and certainly perform much better than the basic/modern equivalent steel ones which are notorious for the sharp edges/hard material causing punctures during the innertube fitting process.I've never known this to happen with a Terry's, and they're also solidly made to remove those stubborn tyres that seem welded onto the rim. Condition is very nice with virtually no wear to the business ends, and the classy ano black finish still looks smart.
And from the same era as these is the Dunlop tyre pressure gauge. I've had no experience with gauges but, when 'connecting' it to a pumped up tyre, it didn't give an air pressure reading, so quite possibly it's faulty since this seems like quite a simple mechanism with, therefore, not much to go wrong. But with an item like this the functionality probably isn't of such interest when compared to owning a classic bike tool and one in fine condition like this one is- the chrome is immaculate and there's no other damage.
£5 > £4 for the levers and £5 > £4 for the gauge.

[url=https://ibb.co/p4JJKvR]
Various freewheel removers
Here we have a selection of freewheel removers. Makes are Cyclo, Suntour, Atom and West Riding Co. Most are the older two pin type. There's also multi splined ones for Shimano. More unusual ones are the multi spline design for Maillard freewheels
(x2 examples). These are double ended and have more unusual spline patterns for the non-Maillard ends. The smallest one is for the Atom freewheels. The largest ones are for even older freewheels. The four pin (Suntour) tool is for BMX freewheels and some Japanese made ones.
£4 > £3 each still remaining
Brooks Proofide and spoke key
I think the Proofide could be 60's/70's, judging by the tin design. It's certainly one of the oldest ones I've seen yet. It still has about half it's contents, although I'm not sure what the stuff is made of/if it might have crystallised/decayed and how well it's stayed preserved over the years. The tin itself is a nice item
The spoke key came with the Proofide and I suspect is also a vintage item. No markings for nipple sizes. No wear showing.
£8 > £7 for the Proofide and £5 > £4 for the spoke key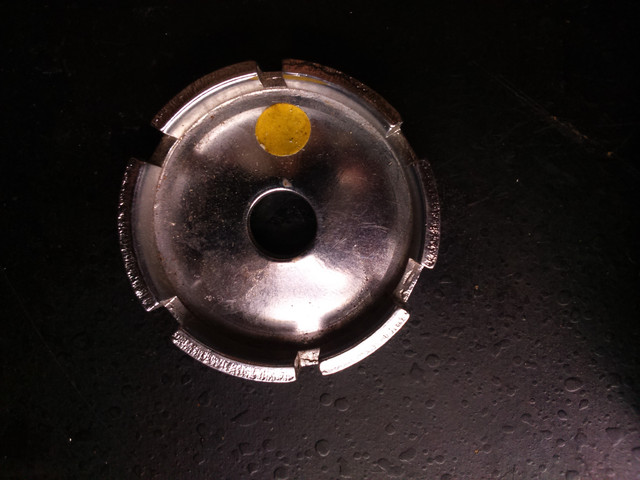 Dia Compe third hand tool
This is a brake caliper tool for helping with setup adjustment for the older single pivot designs. Instructions included. The tool is new although there's no packaging.
£3
Cyclo and Elite headset spanners and Terry's pedal spanner
Here are a a pair of multi use headset spanners. The headset ends are for 30 and 32mm top nuts, respectively. See the pics for the other ends which cater for different designs of bottom bracket lockrings. The Elite one has a device attached which allows the tool to deal with two different designs of lockring, one when it's fitted, the other when removed- clever stuff
The Terry's spanner is for the common 15mm pedal axle flats- but the important difference over this one and it's modern day equivalent is that compared to a modern design this spanner has a relatively thin gauge, which enables it to fit on the flats of the pre 70's pedals which often only gave a few mm's room on the flats, which today's heavy gauge designs can't fit. There is slight wear to the flats though, but no rounding.
£7 > £6 per headset spanner and £6 for the Terry's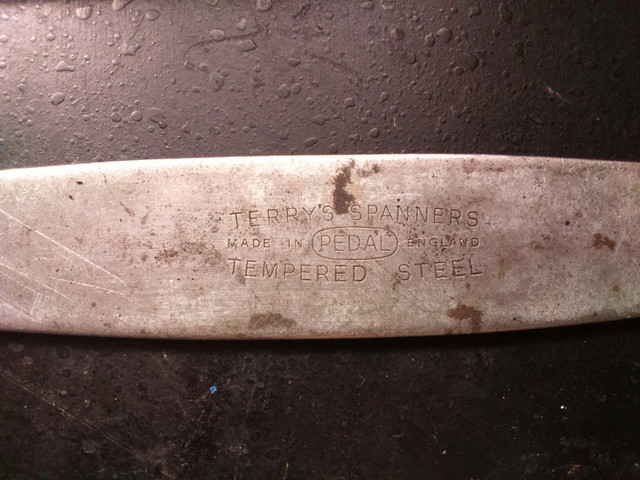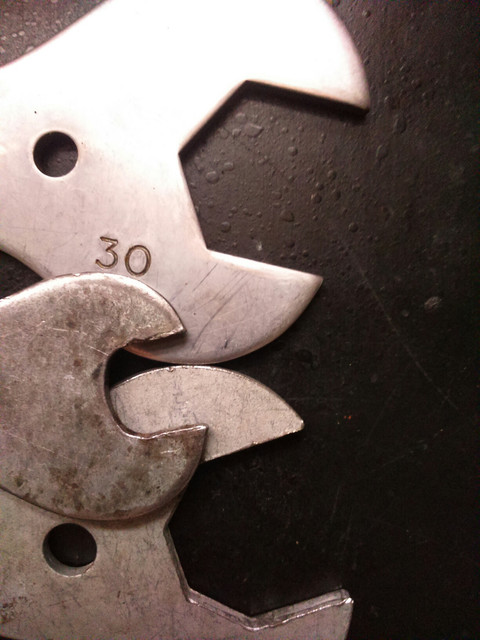 Lifu pedal spanner and chain whip
The spanner fits both 15mm and 9/16" pedal axle flats. Very beefy construction with a tough chrome finish. Excellent condition with virtually no wear to the business end. The handle does show some cuts though, but it's still solid. The chain whip is a similar quality tool with a good name chain fitted. Looks to have had v little usage and can't see wear to the ano finish.
Pedal spanner £10 > £8, chain whip £6> £5
Maillard Helicomatic freewheel remover
This is the increasingly rare Helicomatic remover for suitable Maillard cassettes and freewheels. This is the less common variant with the toothed aperture projecting outwards, as opposed to the standard tool which is flat. You'll know if this design will be what you need
No wear showing on the teeth or the equally important bottle opener end
£10 > £8
Monte Grappa tool pouch
A nice retro styled tool pouch for fitting to the loops on older saddles. Made by an Italian company who still make Brooks-type leather saddles, which unsurprisingly go well with the pouch. The pouch itself is faux leather though. The pouch is pretty new looking- the only issue is a glue stain left from after I'd removed a manufacturer logo badge from the front flap.
£5 > £4
TACX Exact wheel truing stand
Not sure exactly how vintage this is as I think they're still making them, but I know that I've seen them around and had my one for a long time and the design's become a bit of a classic. It's very adjustable and easy to use. It's for bench mounting. Everything is solid and all the bits are there with nothing seized. The plastic bits are fine with no cracks etc. There's some slight rust spots over the paint finish, but that's the only quibble.
£25 > £22