Retrobike Rider
Gold Trader
BoTY Winner
Adrian Timmis's Team Raleigh Dyna-Tech
A bit different from any of my previous projects. For a start off it's a runner and I usually start with a frame and go from there, secondly this is a bike that means something to people so I cannot f#ck around too much and finally it has a spec from yesteryear which I'm aiming to restore. All of these add their own little pressures but what a pleasure it is to own this piece of British mtbing history.
When I first purchased the bike I asked the retro bike fraternity for there help in getting the spec correct, as usual they didn't let me down:
http://www.retrobike.co.uk/forum/viewto ... 177#285177
Some original parts are missing from it's original spec and from riding for the past 3 weeks some parts are not fit for purpose. But, from having been put in touch with Adrian Timmis himself and picking his brain a little I'm slowly compiling a spec.
The spec (which I'm sure will change):
Frame:
Raleigh Dyna-Tech. XMT 100 Metal Composite Titanium Tubing. (leaving this as it is)
Fork:
Raleigh Rigid. (leaving this as it is)
Headset:
Chris King 1 1/8" Threaded Turquoise (Retrobike) ARRIVED or NOS XTR 1 1/8" Threaded (on it's way!)
Stem:
Syncros 0 degree 135mm 1 1/8" Quill Type. (to be refurbed) AT POWDER COATERS, DECALS FROM GIL_M
Handlebar:
X-Lite Titanium 525mm. (to be refurbed)
Grips:
ODI Tomac Attack Black (purchased from Billys)ARRIVED
Barends:
X-lite L-bend silver (Retrobike)ARRIVED
Bar Plugs:
X-lite Disco B.B.X. blue ano (ebay)ARRIVED
Brakes:
Shimano XTR M900 F&R. (to be refurbed)
Brake Pads:
M900 XTR (purchased)
Brake Cables:
Cantilever cable hangers:
Shimano XTR M900. (to be refurbed)
Brake Levers:
Shimano XTR M900 STI. (new ones on there way)
Shifters:
Shimano XTR M900 STI. (new ones on there way)
Front Derailleur:
Shimano XTR M900 Bottom Pull 28.6mm. (new one on its way)
Rear Derailleur:
Shimano XTR M900 (Retrobike) ARRIVED, c/w Venhill titanium mech bolt (ebay)ARRIVED
Derailleur Cables:
Cassette:
Shimano XTR M900-8 12-28t. (new one on its way)
Chain:
Sachs (wanted)
Cranks:
Shimano XTR M900 175mm (to be refurbed)
Crank Bolts:
Titanium (marked as 'upgrade') Bolt and Washer. (might replace with Middleburn self extracting ones to save the threads)
Chainrings:
Shimano SG-X 28-38-48t inner, middle and outer.
Chainring bolts:
Middleburn. (ordered from CRC, but not in stock)
Bottom Bracket:
TA Axix titanium bottom bracket 68 x 107mm (ebay)ARRIVED
Pedals:
Shimano XT SPD M737. (to be refurbed)(Reverse decals on their way from Gil_m)
Hub Skewers:
Ringle Ti Stix or Ti X-Lite in Blue (wanted)
Rims:
Weinmann Bontrager BCR-1 32h (Let down by SJS)
Hubs:
Front White Industries 32h (ebay), Rear Shimano XTR M900 32h (Retrobike).
Nipples:
Spokes:
DT Swiss Revolution (will purchase from wheel builder)
Tyres:
Continental SUPERCROSS/BAJA 26x1.9" (got 1 need another)
Tubes:
Saddle:
Bontrager Ti (Retrobike)ARRIVED
Seatpost:
USE 25.0 Ti (purchased from Sithlord) ARRIVED but might be a ttad short! (25.0-26.0 shm CRC) ARRIVED
Seatpost Binder:
Titanium sliding boss which slides over seat tube. Complete with titanium bolt. (leaving this as it is)
The Wanted List
Therefore I now have a huge wanted list. However I'm extremely lucky to have Adrian Timmis sending me his stash of retro parts from BITD. So I'll delay posting my wanted list as I should have a few bits and bobs to swap once I've received and sorted the parts.
A breakdown of the bike:
Wheels and Tyres:
I'm looking to build a brand new set of wheels for the bike. From looking at pictures of David Baker's bike the front had a White Industries hub laced to Weinmann Bontrager BCR-1 rim and the rear was a XTR hub again laced to a BCR-1 rim. I'm hoping to find some DT Swiss blue anodised nipples and use DT Swiss Revolution XC spokes. The original Team Raleigh tyres were the Continental Baja/Supercross, these are proving very hard to find but, I've located one from 'Kaiser' (ironically I sold the tyre to him some months earlier, luckily he still had it) but still need another to complete the pair, these are so rare I won't use them for anything other than pictures. I've also sourced a couple of pairs of similar Continentals which will be used for riding. Baker's bike had Ringle Ti-stix in blue so I feel that they would be a ok on this bike, failing these i'll go with the X-lite theme.
Frame and Forks:
These will be remaining just as they are. I did toy with the idea of a full re spray and new decals when I first purchased, but quite rightly my fellow retro bikers put me on the right track. Therefore it will get a t-cut and wax and that will be it. I am looking to replace the headset but I'm not sure with what. It has a Apices headset on at present but it needs replacing as it's clicking and tatty.
Controls:
The Syncros Cattleprod stem which has been skilfully tip-exed is going to be chemically cleaned and powder coated as it has seen better days. I'll then source replacement decals from gil_m.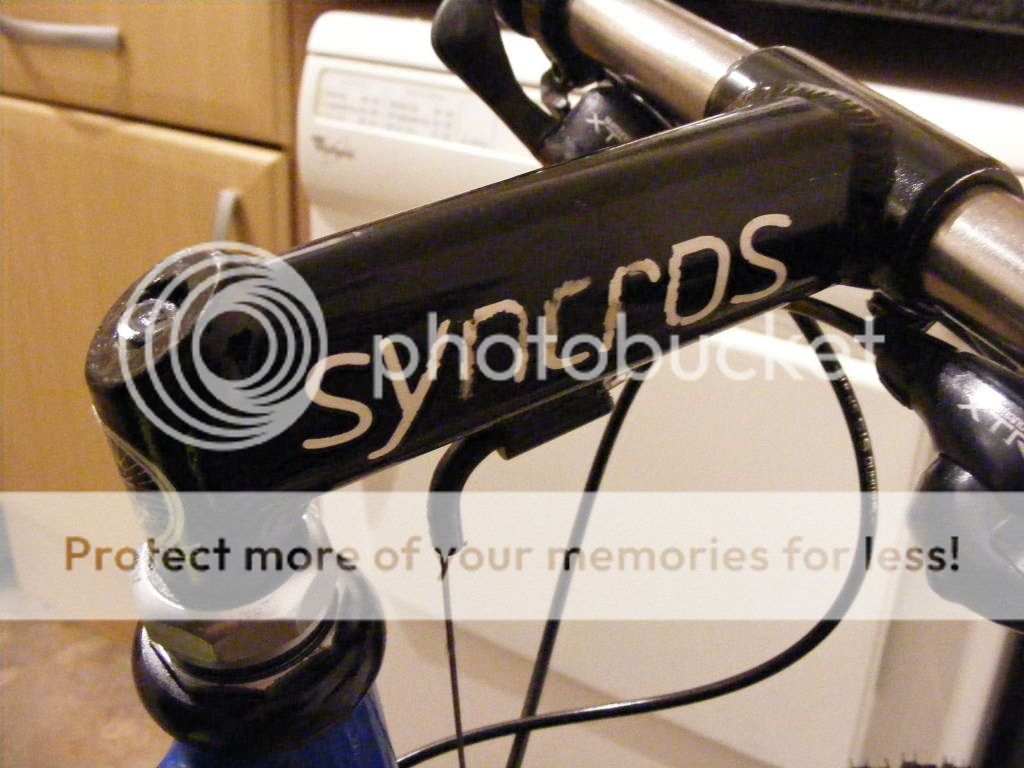 The X-Lite titanium bars are in good condition but the decals could certainly do with replacing. The bar ends were X-Lite aluminium L-bends with aluminium caps, unfortunately I've found cracks in both and so feel they require replacing for safety. ODI Tomac attacks are the order of the day after Adrian confirmed that only Baker was crazy enough to use bar tape.
The saddle was a Bontrager Ti which I've managed to locate, I've purchased one from the states and Adrian has one that he's sending, so I'll see which is best and go from there. The post at the moment is a Kalloy 26.0mm, unfortunately it keeps slipping at the seat clamp and so requires replacing. As Baker's bike had 25.0mm USE ti post shimmed to size, I'm sure I can get a way with one of these on this bike also.
Drivechain:
This should be the easy bit with Shimano XTR M900 being the groupset of choice for Adrian. I've had problems setting up the front mech with the chainset gearing. To sort this I've replaced the 48t Shimano outer ring with a 46t Middleburn, which although not correct at least it now works, Adrian is sending a new front mech so I might yet be able to go back to the original gearing. One sticking point might be finding another Sachs chain, which it is currently running. I cannot say for sure if this is original though and therefore might plump for a Shimano one. The cranks are secured to the bottom bracket by a set of Titanium bolts, I think I'll replace these with self extracting bolts in order to save the threads on the cranks. David Baker used Cooks Bros Racing cranks but i'm 99% the rest of the team used M900 units. Period Shimano XT SPD's are the contact points but sadly the drive side one is seized to the crank, might be a job for the LBS.
Brakes:
The brakes are pretty standard throughout. David Baker ran a strange set up where the back brake was deliberately poor to avoid locking it, Adrian on the other hand ran M900 throughout so I'll be sticking with this. For photo's I'll use us XTR brake blocks but as this bike is going to be ridden I'll replace these with new ones for riding and save the XTR units as these seem to be getting rare.
The future:
This bike is mine in ownership only. I've expressed to Adrian that this is his bike to use whenever he desires. My aim is have it ready in plenty of time for the Cannock Christmas ride, Adrian will be joining in the fun and be reunited with his bike, this will enable Adrian to give me some feedback on the bike and point me in a better direction with spec. Hopefully Adrian with be available to ride it at Mountain Mayhem to a finished spec also.
The Present:
The bike is stripped down completely. I've really enjoyed riding it the past few weeks but now it's down to business. I'm going to start sometime next week and get my 'wanted/swaps' list posted on the forum. Getting the wheel components will be my immediate concern and then getting them built. I'll then start cleaning and polishing whilst hunting down my wanted list. Gil_m will then get a pestering for decals as I start rebuilding.
Hope you like the project. Thanks for all your help thus far, i'm sure i'll need plenty more in the future.