I bought this with big plans in mind - nice tall headtube to help with my recovery from a broken back (14 weeks ago now) and nice low gears for the same.
The problem is - I can't make it fit! It's 2cm too short in the seat tube and same again on the top tube - so very sadly it's got to go.
Absolutely amazing, one-off frameset built to take 26" wheels, with masses of brazeons and mounts for guards and front & rear carriers. It was built for the original owner who used it for some pretty epic tours. Her name (Sue) is still on the top tube, hidden under some white insulation tape.
In terms of fit, I'm just under 5'10" and as it's set up in the pics with the seatpost past maximim it is just ok in the leg (72.5cm centre of BB to top of saddle in line with the seatpost) - I think it's more suitable up to 5'8" in reality - Sue was 5'5" and I'd say it would comfortably go smaller than that, say 5'3".
The frame is in good condition, no dents, plenty of scratches though. There is some scabbing under the top tube around the cable guides, hard to show in the pics (I tried to show the worst) - if I was keeping it, I think I'd clean this off and over-spray it - given the white panel on the top tube I was thinking I'd just rub it down, inc Sue's name (!) and over spray in white - anyway that would be up to you.
It's built with Reynolds 853, with the usual Rourke wraparound seatstays.
Spec as follows:
Chris King Sotto Vocce headset
Shimano SLX shifters, mechs, cranks, BB
Shimano hydraulic discs (not sure of the model)
Hope Pro II hubs on Mavic rims, built by Brian Rourkes
Schwalbe Marathon tyres along with 2 x Panaracer Pasela, 2 x Specialized FatBoy and 1 x Continental Avenue (that last one is brand new)
Brand new Planet X seapost,
Lots of options with different finishing kit: Also have shorter Eason stem, new Planet X OG loop bars and stem, flat Easton bars, Truvativ risers - plenty of position options there! The various photos below show the different bar setups - all of these combinations will be supplied with the bike so you can play around with position and setup to suit you
I'd prefer to keep the Brooks B17 - there's a choice of two almost new saddles - a Bombtrack (straight off a Bombtrack Audax) and an Iridium off a high end Canyon - your choice! - both are shown in the pics
I have a Tortec alloy rack that's set up to fit it which I can throw in.
Everything is running really well - rides lovely and if it was just a tad bigger, I would definitely be keeping it!
With the narrow road tyres on it, it absolutely flies along!!
Looking for £750 and will likely need posting from Cheshire, which I'm happy to do.
Price includes all the tyres, all the cockpit options and one saddle (but not the Brooks!)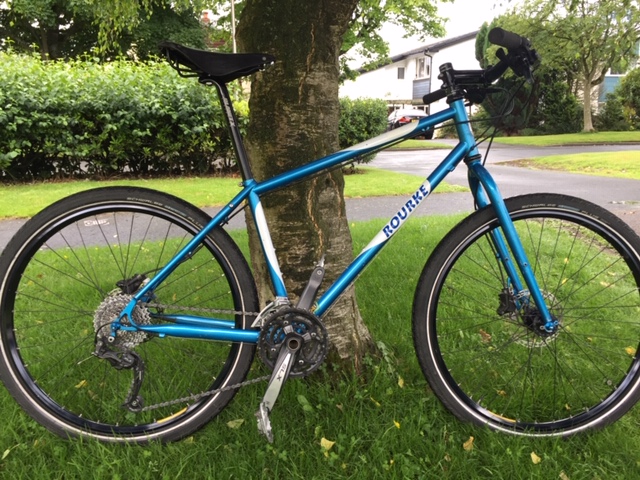 Flat bars and Planet X stem:
Flat bars, shorter stem, Iridium saddle:
That nasty scab under the top-tube:
This is definitely showing it at it's worst - as I say, if I was keeping it, I would clean this off and repaint the top tube to prevent it getting worse
Tyre clearance:
I measure the fitted Schwalbe Marathon plusses at 45mm, and the gap at the chainstays at 56mm - plenty of clearance for these but if you went much wider I think you'd be pushing it
The spare tyres that come with it are much narrower - around 30mm, so the clearances will be huge with those fitted