Moderator
Retrobike Rider
Gold Trader
Great weather and a great ride today.
A joint venture from the North West area and the North East and Yorkshire area groups saw nine riders tackle endless climbs to savour some endless views in the Yorkshire Dales.
Ride Report:
The return visit to the Dales after a snowbound epic in February, was the all of the summery contrast we'd hoped for and more.
The sun was shining and perfect fluffy clouds occasionally interrupted an otherwise clear blue sky. The hills were a fresh green after the last couple of wet weeks and the limestone clints and crags completed a idyllic splendour.
After meeting up and comparing squealing cantis in the car park we set off straight up a strenuous climb out of Settle. Tarmac soon turned to a looser surface and then we hit the open pasture. A good warm up on a warm day. We paused to line up the bikes and catch our breaths.
L to R: Jimo746's 94 Dyna-Tech Diablo, mr_ship's 96 Ibis Ti, Rich Aitch's 94 Stumpjumper, paininthe's 94 Dyna Tech MT5, Sinnett177's Cro-Mega Wildthing, drystonepaul's 93 Univega, marctwotone's Marin Team, Saltyman's Cannondale, kaya's Overbury's Pioneer.
The gradient eased off as we traversed the fields on a ribbon of singletrack, before meeting a wider track up onto the moors above Langcliffe. Eventually we reached the top and followed a rolling track along the moorland plateau.
The vista up here was stunning with clear views of the three peaks of Pen-Y-Ghent, Ingleborough and Whernside.
The track continued through water splashes, discussions about Shimano M numbers and then down lots of fun rock steps. We missed our intended turning but it didn't matter because the descent we took was a brilliant blast on a old bike.
Spinning along a section of quiet road and vintage camper vans we reach the shores of Malham Tarn. This was certainly worth another break to take in the scenery and have a paddle in the clear waters of the tarn.
The bikes were also lined up for an extensive photo shoot. I'm not really sure what all the passing tourists and day-trippers made of a bunch of blokes taking photos of their bikes instead of the picture postcard surroundings. The brightly coloured lycra didn't help.
"There's a cracking view behind you Vern..."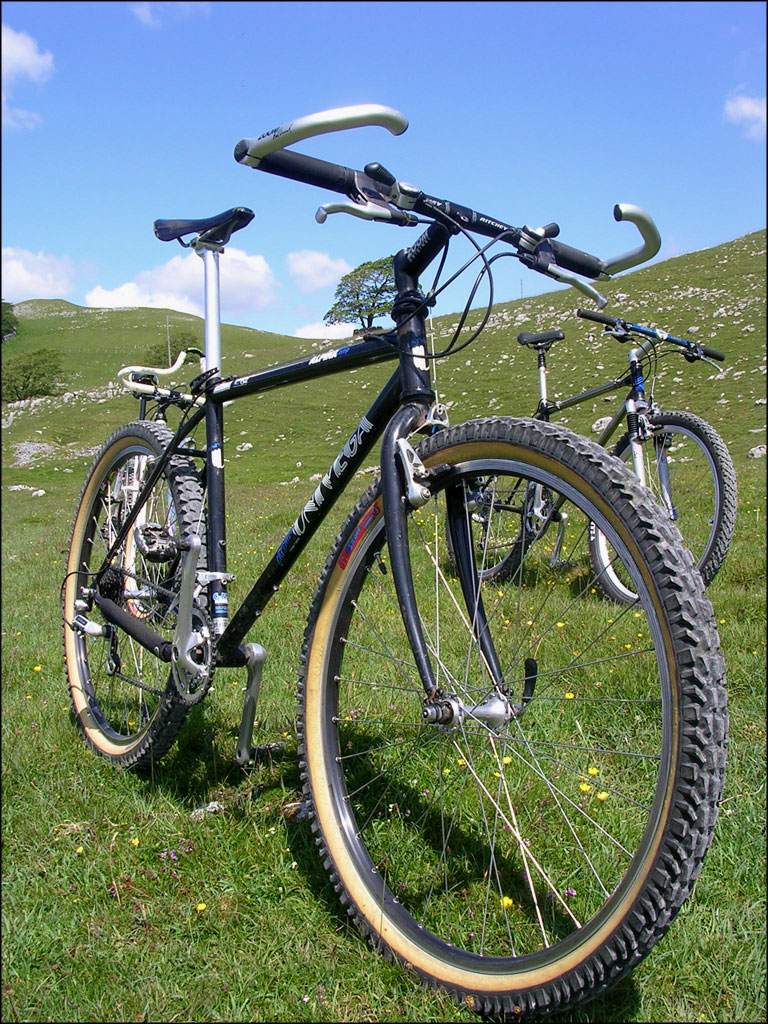 The trusty Univega takes it all in it's stride
Leaving the tarn we headed towards Malham, passed on our way by a lad on a modern Cube barging his way through us on a road section. We had to laugh when he turned back after missing his turning. We passed him on the climbs and he passed us again while we consulted our map. Then we met him again after he'd missed another turning, blaming his new Sat-Nav handlebar toy.
Sinnett departed at this point for an early return home, while the rest of us sped down the road towards the pub. Kaya straightlined and then broad-sided across the road at a sharp left hander, perfectly positioned for the gated off road track beyond. The downhill continued through an old walled lane with rocks and bumps hidden amongst the long grass. Then it was a loose rocky surface and a narrow dash between the nettles delivering us to our chosen refreshment stop.
A good hour and a half later, after filling our bellies with food and perhaps a pint of ale, it was time to climb back up what we'd descended previously.
The road climb started gently but quickly steepened past the 1 in 6 warning signs and passed a great view of Malham Cove.
The group climbs up past Malham Cove
We met the sharp bend where we'd left the road earlier and the ascent just got steeper. Onwards and upwards we made it to the start of the next long section of bridleway pausing again to cool down and rest a while.
The wall of tarmac all the way out of Malham.
The climbing didn't end with the tarmac as the track steadily took us further up onto Kirkby Fell and after a few stops to clear some cattle and check on the progress of the view behind us, we finally we reached a well earned summit. The camera could never capture what we saw but it was as perfect a summer's day as one could wish for. After feeling good about our situation for a while, we had a great descent to look forward to.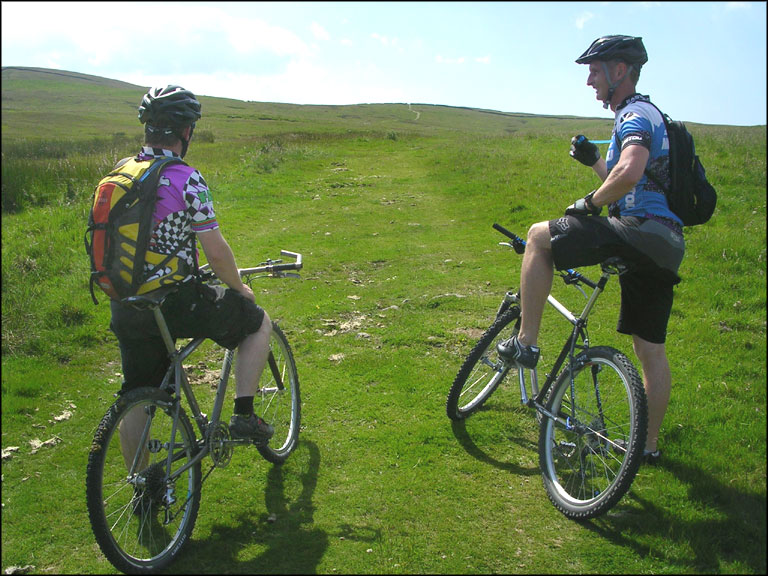 The summit is in sight.
The downhill was testing especially on fully rigid machines, with tricky rock sections which seemed to have been polished by an age of boots passing over them. The limestone would've been deadly in the wet, but luckily for us it was dry enough to seek out just a little more speed and fun.
We stopped at a gate to peel our bone shaken hands off the bars and shake them back to life. Big grins all round told a happy tale though.
Rock and roll down the Stockdale Lane.
The last session on the road was brake smokingly fast, and the smell of hot pads filled the air as we sped back down into Settle.
Regrouping at the cars we all agreed that it was a great ride and a great day.
Thanks to everyone for coming along and making it such a good 'un.
mr_ship's Ibis took a closely scrutinised Bike of the Ride. The standards were very high indeed on this ride with some exceptional machinery on show and ridden like it should be.