UPDATED 30/4 See end of thread for a few extra interesting items
5/5 UPDATE: price drops, see end of thread for details.
Here we have a selection of bike parts which all have some interesting feature or fit the general theme of the thread. Some nice bits here, but I'm also having a bit of fun selling this type of thing, so no 'serious' prices, at least I hope they're not
Dibs is fine, but PM me after.
And I also have this (
viewtopic.php?f=22&t=366819
)other sales thread here of other (more ordinary) bike bits- wheel rims, hubs etc, hubs, as well as a second thread in the MTB forum for this type of kit blah blah blah
Happy to post at cost, but would prefer collection if you're local (NW London). Postage would be Royal Mail's standard rate of £2.90, or normal 2nd class rate if it can fit in a small jiffy envelope ie wingnuts. See replys to the thread for sold/dibs status of items.
Simplex MB2600/MB2601 Silver Range thumbies.
Some people will get a shock seeing the above title that describes some Simplex kit as MTB 'thumbies', but here they are
Yes, no ones ever heard of them making anything else but road and touring stuff, but these thumbies prove they did have a fling with MB kit- they obviously thought it wouldn't take off
Anyway, these are clearly quality items, and although not indexed they do have a decent retrofriction action. They're also not just chromed steel, for the levers on them, but actually something called Zirconium, so not as heavy. I think they'll only have travel enough for seven speed gears.Might suit tourers more than MTB'ers... Condition is excellent, the chrome is very shiny and all there and there's no marks to the bodies. All threads are good and nothing's seized. Standard bar clamp size.
£12.
g
Simplex 'coke spoon' shifters
Friction braze on shifters. Levers are plastic. Can be used as coke spoons
7 speed gears max? Very good condition and all the bits look to be present.
£5
Vredestein Trimmer Cross cyclo-cross tyres
A pair of 70's or earlier cyclo-cross tyres. For 700c wheels. Possibly some of the earliest examples of this kind of tyre? They appear not to have had much use/tread shows little wear, but unfortunately tyres of this age don't age to well, and theatres a good deal of cracking to the protective rubber of the sidewalls, but despite the fact that the casework underneath seems ok it's still likely the tyres won't react well to high pressure inflation...
£7
Deda Logo stem
Seriously stubby ahead stem. Length must be around 5cm. For 1 1/8" steerers and 25.4mm clamp size. Perhaps 5 degrees upwards/downwards angle. All threads are good, the stem has a few tiny nicks but still looks good.
£6
Corima wheel transfers
These were for early/mid noughties large profile rimmed wheels. Some of the transfers have been creased from poor storage, but there's only crease marks, no cuts etc. There are a few of the smaller ones.
£5
Northwave "Time standard" cleats x2 packs and "Look/Campagnolo/Miche" cleats x2 packs
NOS packs of cleats with fixing bits. Some of the packaging shows tears but all the fixing bits seam to be kept together in smaller bags, so hopefully everything's there still.
£5 for all the Time ones together, and £5 for all of the other type.
Delta? Cleats
NOS. Includes the fixing bits packaged seperately. Damage to the main packaging. Two black rubbery things are included, hopefully there's only meant to be two...
£4
Unbranded 'tack-on' cleats
NOS. Must be some of the oldest mass-produced cleats- need to be tacked (tacks included) onto the soles of your cycling shoes, which would presumably be the wooden soled kind
£5
Campagnolo bar end shifter lever rubbers and two odd brake pads
The set is browny red in colour. The other is a mossy green. All look to have had little use with no cracks etc and still feel supple. The pads are different models but both are made from a cork/rubber compound judging from their appearance- perhaps specially designed for carbon/ceramic coated rims? One is in a holder but the holder might not be a Campag one since it doesn't quite fit. Pads unused.
£6 for the pair of rubbers, £3 for the single one, and £4 for both pads
Campagnolo left hand band-on shifter with Campag shim
An unusual left side only shifter, possibly Record. Along with equally unusual, Campag shim designed to prevent the shifter band from slipping, which apparently was quite a common problem ie this might be more of an issue for (cheaper?) frames which didn't have a braze-on 'stud' to prevent the band sliding downwards, presumably when cable pressure increased whilst in the higher ratio gears. Condition is generally excellent. I can't see any damage to the chrome on either item. Looks to have all original bolts etc. The lever looks fine, no scuffs etc.
£13 as a package
Simplex Prestige rear derailleur
A standard Simplex derailleur. This is a model which doesn't include the branding upon the faceplate (I'm pretty sure it's not one which had a sticker). And the frame attaching bolt seems unusual, seeing as its not the standard type for screwing into a bolt hole, but has an arrangement where a bolt fastens into the derailleur from its reverse side, to clamp it to the frame- maybe a Peugeot set-up? Very good condition with jockey wheels showing minimal wear. Chrome excellent.
£5
Simplex SLJ seatpost
That's right, a seat post with its own badge
The seat post is a bit of a classic and a nice design, and quite well made too. Diameter is 27.0mm. Length 195mm. Condition is only good, as there's zigzagging above the minimum insertion line, although it's quite faint. A few grazes also. One issue is that the central bolt and one of the outer saddle rail holders aren't original, but they still clamp the saddle properly.
£10
Lucas King Of The Road 'mile-o-meter' odometer
A classy looking 50's odometer. Comes with the fixing bracket (often misplaced) and spoke-attaching striker. The machine fixes to your front forks. The mechanism still works well, and I'm sure will be clocking many thousands more miles
It is calibrated for 26" wheels, and can't be set for others. Obviously well made, with a glass viewing window and brass wheel which contacts the striker. Very smart looking also, no scuffs etc.
£10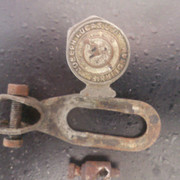 Suntour Skitter rear derailleur
A pretty basic derailleur from Suntour, but still pretty innovative, going by the clever design work which has the parallelogram spring made use of so that it can be used for tensioning the jockey wheel cage, which normally has its own spring
Very good condition with no play in the pivots. All threads are good and jockey wheels have little wear. Chrome is excellent all over, and even the red Skitter logo and round badge have no scrapes. Great model name
£8
Miller combi dynamo and rear light, plus a same era front light
This is a 50's/60's set of mis-matched dynamo and front and rear lights. Definitely British made kit, this is marked several times on the caseworks, and even the rear bulb has 'made in England' on it
The dynamo is still in full working order, and powers up the combI light. I haven't tried the front light, so can't speak for that. Chrome on the Miller set-up is excellent. The alloy part of the dynamo shows some slight scuffs. It's quick release mechanism works well and all threads are good. The front light is in slightly scruffier condition, with the paint being a bit ratty and chrome looking a bit tired/with spots on. The light port glass is uncracked though and there are no dents. It includes a detachable bracket for bolting onto the forks.
£20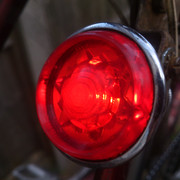 Drydex front light
Another 50's/60's light. The metal lantern type of casework might have given the impression that the light was the acetylene powered type, but this example is slightly more modern than that
Although, I should mention that the particular manufacturer here are more famous for their lamps they made for horse-drawn carriages, way back when
This one takes new fangled batteries and has a plastic (or Bakelite!) on/off button. The lamp is operational- but I should mention that the dim lighting power as seen in the pic isn't normal for the light- this is only due to the near-dead batteries I've had to use in the light. Condition of the light is only good, the paintwork shows some tarnishing and there's also a dent. Overall the condition is pleasant, and for this type of light I think the above would definately be classed as 'patina'
The light is for fork bracket mounting.
£10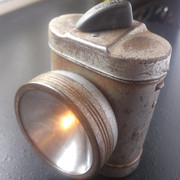 Unbranded 'gallows' seatpost
From the 50's or earlier. This is one of the older style of seatposts and I think only suits the thick walled tubing more common on pre war frames, going by the fact that the diameter of the post is 25.2mm (or it could just be a 25.4mm standard size seatpost which has been fitted/removed from a large number of frames over the years, as it does look worn
). The seatpost clamp pictured isn't included, I've just fitted it for illustration purposes. Condition is fair. Much of the paint is gone, although strangely there's no zigzagging
£7
Ventura cottered sealed bottom bracket
NOS. Don't see too many of these, especially NOS. Fitment is with a Shimano BB tool and bearings are cartridges. You still have to deal with all the grief of removing those cotter pins though
Condition is excellent, bar some marks due to my having lost the original box and stored carelessly. British threading, and axle length is 136mm. Has an asymmetric axle, so should take most double chainsets. I also have a second one of these somewhere.
£7
Ofmega Mistral rear derailleur
A typically outgoing design from this manufacturer. And apparently is technically proficient. Also light due to it's all-plastic body- but apparently (with THIS manufacturer) this doesn't come at the expense of proper safety, since it's reliably reported there have been virtually no breakages/there's a fine track record for the model. Also available in an even lighter variant (with all alloy pivot bolts etc) but unfortunately my example isn't this, since it's only the first generation version
Condition is excellent with no scrapes or anything to the plastic body, only the logo has rubbed off a tad. Jockey wheels show minimal wear and all pivots are tight, and no bolts are seized.
£20
Unbranded 'aero' water bottle with downtube mounting cage/bracket
Looks like an 80's bit of kit. Pretty well looked after, and I suspect would have been only used for time trials. No wear on the bottle or bracket and the nozzle doesn't show wear.
£5
Raleigh northroad bars
NOS. These came packaged in Raleigh packaging (which I've lost) but the manufacturer is actually NL. Have been stored well, so no marks on them. I think the clamp size is 25.4mm, but will check. Width 610mm.
£6
Unbranded drillium chainring
Very lightly used home drilled chainring. I think BCD is 144mm, but will check. Nicely polished chainring, but slightly spoilt by scuffs from the chain passing to/from the inner ring. NB the arms connecting to the crank spider are not completely rounded- they have level platforms on their ends, so will make allow for proper energy transference between the spider. Probably was a time trial ring, since it has 55 teeth.
£5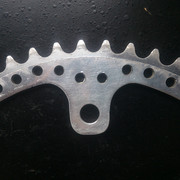 Specialites TA chainring
Another leg breakingly large size, this time 56 teeth
Excellent condition, the teeth show minimal wear and there's still quite a high polish all over, although there's slight scuffing from careless storage. I think this will only fit TA's own BCD, when in use with one of their crank adapters.
£7
Unbranded one inch pitch track cog
Not sure what chain you'd use with this... Diameter looks to be equivalent to an 18t normal cog. Condition good, just a little tarnished. The teeth are slightly polished from use. Threads good, fits onto a normal fixed hub with British threads. Can include a vintage lockring for a small charge.
£6
F. H. Grubb rear wheel wingnuts
Lovely, very 50's shaped wingnuts. Much of the chrome has worn off of the 'wings', but IMO they look better this way
Chrome around dropout contacting parts is still good. The manufacturer initials have worn a little. Threads good. Rare items. Some scoring on one of the nuts.
£15
Huret rear wheel wingnuts x2 pairs
Brass wingnuts, with a steel part used for dropout contacting purposes. One of them is marked Luxe, but looks the same as the others to my eyes
50's/60's era? Threads all good and no marks or damage, only discolouration to the steel bits.
£10 a pair
Campagnolo/Cyclo front derailleur
Yes, as you can see, this is a Campag front mech with Cyclo chain cage fitted to the rod. Works fine and the cage style is very similar to Campag's. Won't be to everyone's taste, but an interesting talking point for some... Mechanically, all's well with the shifting action being smooth with no play. Threads all good with no seized bits. Chrome is excellent and no marks or grazes on the body. 70's era? Or make 70's body and 60's chain cage
£10
Favorit rear derailleur
So, this has the manufacturer name upside down on the face plate. And I believe that they did this intentionally, judging from the fact that this model was a good selling one and all that I've seen have had this faceplate
On other mechs this might look like silly, but on this quirky design of mech it looks ok. Has a certain look to this design, certainly a striking one even if you don't like it. And the rear jockey wheel cage is nicely done and original. Condition is excellent, no scrapes etc and pivots are tight and all threads are good. Jockey wheels show minimal wear. A very nice example of a 70's derailleur.
£10
Stronglight Touring Sport chainset
A lovely and not too common 70's designed item. This with the rarer Stronglight bashguard. Has a few patches of surface corrosion to the alloy bashguard, but the rings and cranks look fine, the rings are shiny for the most part and the cranks have no scrapes and only show slight scuffing around the tapers. All threads are good and none of the chainring/bashguard bolts are seized. Tapers also good. Threading is British. BCD is a small size, so the cranks will take a granny ring, then you'll be ready for touring
Crank length is 170mm and chainring are 45/52 teeth. Chainring teeth do show some wear, maybe 20% worn, since the shiny finish has gone on them. Dustcaps are the original Stronglight ones.
£25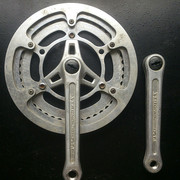 Shimano front derailleur braze on
Looking on the Velobase site, this braze on is a good match for the Dura Ace braze on frame part on there. That one looks a little less chunky though, or this could be my eyes playing tricks... A nice one if you need one of these bits.
£5
Shimano rear hub toggle indicator
I assume this is a similar sort of thing to the Sturmey Archer designs where there is something in the position of the indicator which tells you which gear you're in. Well, you'll know if you need this gizmo
£3
Shimano left hand only combi cable roller and half tunnel guide. Saw this also on Velobase, there's a Dura Ace double cable guide which has the roller/s and guides for both sides. Mine would seem to be a rarer left only version of this. Very slight spots to the chrome in one spot, but very nice condition.
£5
Shimano 1st gen Dura Ace rear derailleur
This is Shimano's first DA-named rear derailleur. My example is in very nice condition cosmetically, but mechanically not great, due to the pivots near to the frame attaching bolt being pretty shaky. So shifting might not be as exact as you like, but I've not found a problem with the (non DA) kit I've used it with. Besides this, everything's fine, no bits are seized and there's only some slight scuffs to the anodizing on the body. Jockey wheels aren't original, although they are same era Shimano ones.
One thing to mention is that this variant of this 1st gen model has a jockey wheel cage design which is clearly a quirky one in the world of rear derailleur design, and offers more than the obvious weight saving benefit. The real advantage is that the jockey wheel cage has a little gizmo attached (see pic 6) which I've discovered is a quick release that allows the top part of the inner 'cage' to move aside for quick removal of the chain/rear derailleur without the hassle of pulling the derailleur apart every time. I'm not sure if the design caught on with the component buying public though, as Shimano seem to have only used it on their EX ranges, and I haven't seen any other manufacturer attempt the feature on their own products
£25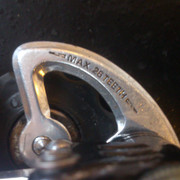 Shimano Thunderbird GTO front derailleur
A pretty distinctly styled/named 70's front derailleur from Shimano. My example is in pretty good condition, only suffering from some pitting to the chrome around the top of the mechanism and to a lesser extent around the band clamp. The chain cage is excellent. All pivots are tight and there's not much scoring inside the cage from chain contact. All threads are good with no seized bits.
£7
Huret Allivit rear derailleur
A lovely example of an early 60's French rear derailleur. The styling and cosmetic condition is pretty special/has a distinctive style, but the derailleur's best attribute is to my mind the shifting design it uses. This works by having a very spolid looking mechanism concertina directly out towards the wheel, with this mechanism then folding back again to then become largely encased inside the derailleur's body to save space and give it a cool minimalist look. And the derailleur can be entirely stripped down and reassembled, thanks to all the bits being fixed together with nuts and bolts, meaning the thing has the ability to last forever, since any bit can be repaired or replaced
The upper jockey wheel is also the better kind, with it having the cones/races bearings set-up. And chrome condition is excellent throughout, with there only being a subtle scuff to the left of the faceplate. Jockey wheels are starting to show wear, but there's lots of life in them. No parts are seized and all threads are good. No play in pivot bolts, of course...
£25
Ambrosio Gran Prix stem
A very good condition 60's stem. A typically nicely styled 60's Italian design, but the unusual thing about this stem is the finish designers have allowed a spelling mistake to slip their net: So you get Made in Jtaly instead of Made in Italy
Must be because the J isn't too dissimilar to I... Bit of a fun feature.
Clamp size is 25.4mm and length is 10cm c to c. Condition is very good, a few slight scrapes on each side and some of the chrome on the central bolt is missing. No rounded bolt heads and all threads are good. Bars not included!
£15
Ursuss quick release seatpost binder
A nice cost chunky example of a seatpost binder with the lever styling copying Campag a good bit, although going their own way by their adding a subtle wave along its length, of which I've never seen the like before.
£4
Ideale seat post bracket
A nice, well styled on of these parts, and of course a great improvement over the ubiquitous generic ones fitted to most pre 80's seatposts.
£6
Campag left only cable guide.
Does exactly what it says on the box! Chrome is excellent and has the original nut and bolt with good threads.
£5
Campagnolo fixed cog lockring
I believe it may well have Italian threads, since it's very loose when tried with British fixed cog threads, and wont fit at all with bottom bracket threads. These are also just generally rare items- my example has some damage to the slots, but these things are hard to find in any kind of condition.
£5
Cornez toeclips
Look like an XXL size, if there's such a thing. If you're having trouble finding big enough clips, then your search might have come to an end... Nice condition, although some spots of chrome loss around the ends. Would benefit from a polish. Distinctive styling. Attachment hardware included.
£5
Christophe toeclip straps
A pair of nylon toeclip straps. Blue. Very little fraying along the buckle area. Ratchets show some paint loss, but still tidy looking.
£4
Christophe D toeclips
These must be extra small sized. Chrome is excellent on one of them and the other has a scrape on one side but is otherwise excellent.no fitting hardware included.
£6
3TTT Pro stem
So, 16cm c to c. I think this is 26mm clamp size, since it's slightly loose fitting around 25.4mm bars. Condition pretty excellent, just one tiny dink along the top. Material is Columbus Thron steel.
£12
Unbranded titanium crank bolt
Just the one of these. Could be what you want if you've lost one and would rather avoid the high cost you'll pay for sets of these... Threads and Allen key recess good.
£3
Shimano 105 triple front derailleur
NOS. Pretty rare to find the triple version of this FD-1057 series derailleur. And hardly ever as NOS. But this derailleur's styling has a distinctly different look to all the other champagne coloured components in this series. I prefer this one over many of them... Box has one side ripped and is pretty tatty. Instructions included.
£12
ITM 400 pantographed stem
Ideal if you have a Graham Weigh bike... Condition very good. Just a few marks above the minimum insertion line, lots of zigzagging below, none above. There's three noticeable scrapes along the top and a few tiny scuffs along each side. Overall, still very presentable. Length 120mm and clamp size looks to be 26mm, since it's slightly loose when fitted to 25.4mm bars. All threads are good.
£13
Dia Compe quick release brake cable stop
None too common, these handy widgets. If you have centre pull brakes without a quick release built in, they can also be a god send
All threads are good/nothing's seized. Chrome along the top is noticeably worn.
£3
Mertens sprung saddle
A quality two tone saddle- nice shades of brown and cream, not too regularly seen on saddles I think. The saddle is sprung at the back and isn't overmy bouncy. Condition is fairly good, only showing some of the edging of the cover chipped off of the corners and a cut in the middle. Still very presentable. The saddle rail is the non tubular type, but I can provide an appropriate clamp For a small cost, if it's needed.
£7
Raleigh labelled Suntour V Gt rear derailleur
A Suntour private labelled rear touring derailleur. This is in lovely condition, just a slight graze showing to the bottom left of the faceplate, as well as one or two dinks in the alloy here and there. Mechanically, all's well- all pivots are tight and no threads are seized. Spring tension is still strong. The jockey wheels do now show wear though- in particular the upper one, maybe 50% wear, see pics. This is a very light touring derailleur thanks to it's all alloy construction, but it's also beefily designed so it can take the hardship of long tour rides. Max tooth count must be 35+. Perfect for an 80's Raleigh
£15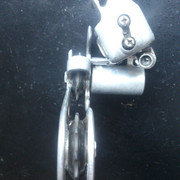 These are two unbranded items- firstly, a flint catcher. This is a standard design and has been used a fair bit with a rub mark on the 'surface' of the metal tyre contact area. Secondly, there is a nice ano coloured brake cable tie for the binding the brake cables in front of the bars together. By the look of its nut and bolt, it looks vintage to me.
Both freebie items when bought with any other item.
Campagnolo 50's cable clip
Must be one of Campag's first cable clips. Velobase has this to say: " These clips are unique in that they have the "open C" font, more detailed feathers, and short radial dashes that represent the spokes in the wheel". My example is in pretty nice condition- chrome is shiny all over, bar the rust spot to the left of the logo. The metal is a tad distorted from being removed/fitted to frames over the years, but looks fine when in place. Shame I only have the one
£5
Monitor Sheerline brake lever
This is a 40's brake lever which was part of the pretty collectable Sheerline brakeset. Think it is a left hand one. The main thing to note is that unfortunately there's not much chrome left on it and one of the bolts and the back part of the clamp might not be original, but it still feels solid and all threads are good.
IMO it has the look you rarely see even amongst pre/post war steel bike parts, certainly a distinctive one in a stripped down, finely done/lots of cut-outs type of way. It looks to be a slight variant to the model showing on the Velobase site, it has an extra cut-out to that one, and I feel mine is better looking due to that
£5
THE END