Hi all. Time for the next project.
Back in the winter I got hold of this beautiful Mino Denti frame as a complete build from an LFGSS seller.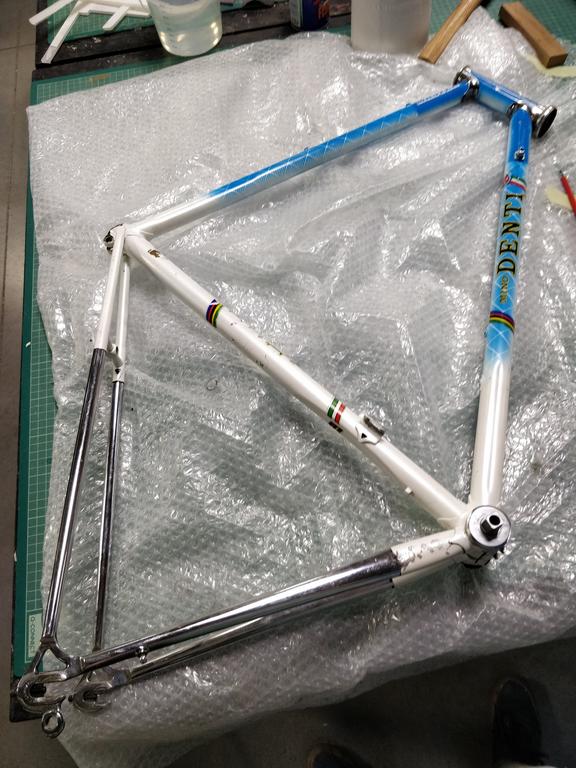 There is limited information available on Denti frames, but I've had a hankering for one for a while as they have lots of lovely features, crimped tubing, pantographed details, curved seat tubes and gussets galore! This Master (presumably Denti's answer to the Colnago Master?) has a scoop on the seat tube for tight/aero rear wheel placement, crimped tubes, a very elegant slim fork and chromed head lugs. As far as I have been able to find out this is a mid 80s frame, probably 1985-87. I know Denti was an ex-pro, turned framebuilder after a crash, and was roughly contemporary with Colnago. Anyone with more information on Mino Denti and his framebuilding work please get in touch if you know more! The bottom bracket is marked .723 if that means anything.
There were several components I wanted to change from the bike as I received it and I thought the paint and chrome needed some attention so I decided to completely strip it and see what reasonably sympathetic improvements could be made. This is going to be a longish project but I hope you enjoy the ride...
The frame is in generally pretty good condition, fork excellent with minor rust spots and grime under the crown. The paint scheme is dead 80s with a lovely pearl white base and fishnet-masked blue fade over the top. The major issues that needed sorting were the paint loss around the bottom bracket, and seat cluster, general paint chips and some rust spots on the chrome lugs. Some of the decals are original as far as I can tell, but the larger down tube and seat tube decals are definitely repros as they have been fitted over some of the paint chips!
I considered leaving the paint as is but it was just too ugly to put up with. Sorry to the original paint purists amongst us.
I have a full decal set, including the correct Columbus tubing stickers (my research leads me to believe that these frames used Columbus SL badged up 'Denti').
First job was to remove those decals that needed replacing. It was pretty time consuming as they were old and gummy, coming off in shreds rather than neatly peeling.
I left the head tube logo and the 'MASTER' text as my replacements didn't quite match the font and these were in good condition.
Then onto planning what to do with the paint damage.
After investigating the BB area further I found the paint in quite poor condition, flaking away from the bottom bracket casting with the touch of a fingertip. The main issue is the chroming includes the BB which has been keyed but clearly the paint adhesion was very poor from the factory. Some surface rust on the chrome was also hiding under the worst affected areas of the paint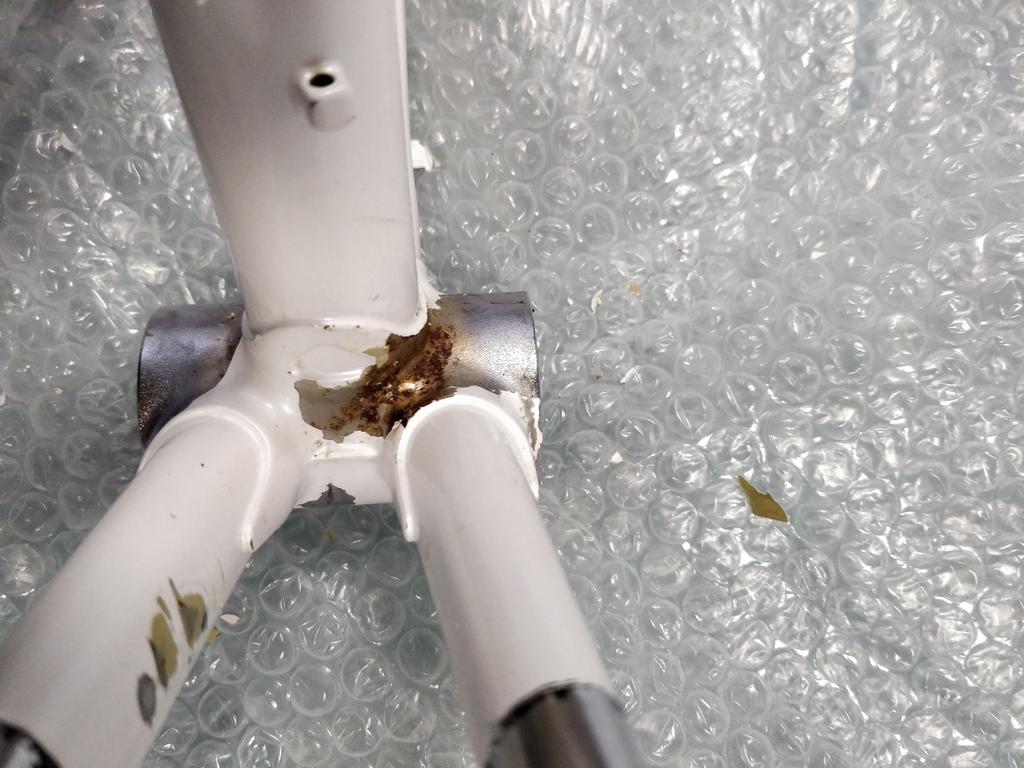 Yuck!
More soon.
Last edited: