Retrobike Rider
PoTM Winner
Kona Fan
Picked this up last week, was from a mate on the nova forum who had messaged me about it when he first got it and obviously picked up on the fact that i liked it/was impressed by it (plus he knows i like old skool mtb's)
So i had a text from him on thursday last week asking if i knew anyone that may be interested in buying it as he wanted something newer really!
A few hours later i was at his house handing over some money for it haha, originally it was a purple annodied frame, but its obviously faded over time as its pretty much pink now (lol)
The decals have been removed as they were flaking and battered, but the frame has stayed dark where they were, so refitting replacements wont be too hard (ive already ordered a set from evilbay as i really dont like it without, and ive opted for light blue/black as they should sit nicely on the colour scheme im going for, which will be anno blue)
Here's a couple of pics from when i first picked it up..
Flat end cap, so it has to be a Zaskar (my mum said lol)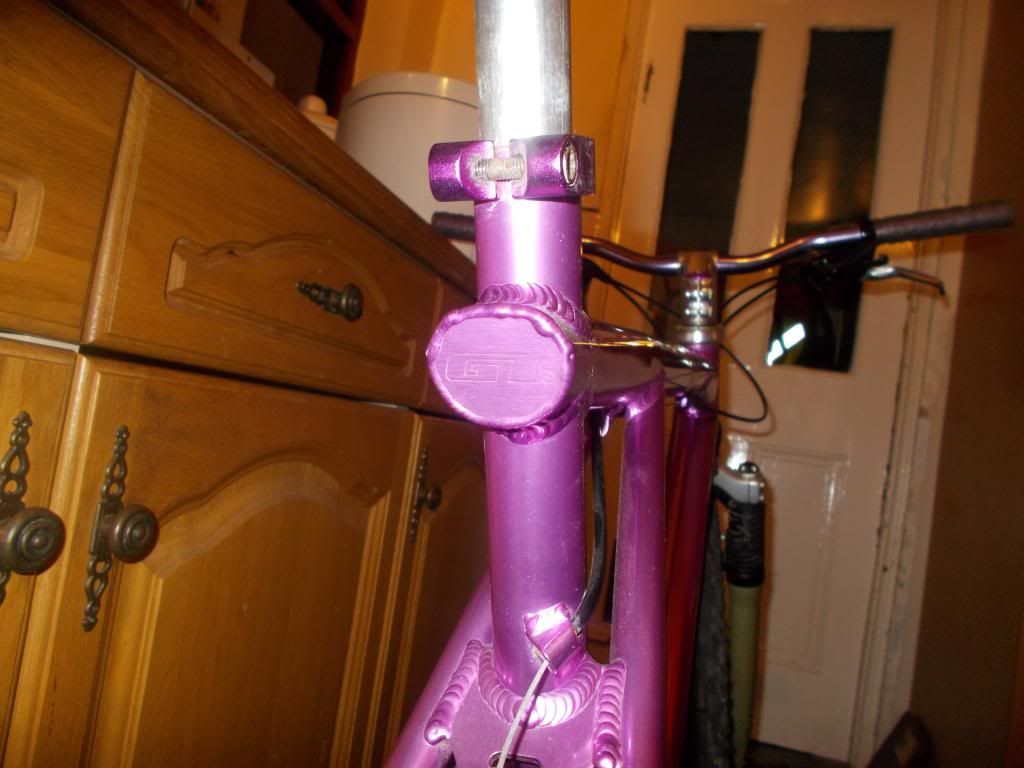 Ive re-cabled it and just swapped the horrible ten ton tyres, for a set of splashbacks and the whole bike is soooo much lighter now!!
Ive not taken a close up pic of it, but it has had a big ding on the top tube, as the original owner had an off with it, and the bar/shifter hit the tube and dented it :cry:
Its been filled over and painted in a pink laquer to disguise it a touch, most of the 'Zaskar' decal should cover it over, so thats not too bad!
Spec wise, its got full Deore LX, canti's shifters/levers, hubs, mech's and crankset, and its all in really good condition too!
The wheels are silly light so id guess at double butted spokes and it has mavic 217 rims in a kind of grey/yellow flip which looks pretty cool!
Forks are rock shox mag 21's in good order, preload seems to work and theyre nice and smooth, it has anno purple x-lite bars and an fsa headset, control tech stem and seatpost, and the post is topped with a Ti flite!
Had it almost a week now, its all in really good order mechanically, but ive not actually ridden it yet lol!
Playing with the idea of swapping to flat bars, and probably a shorter stem as its about 100 miles long, ill bung some more pics up when i get chance to take it out, and once the decals arrive.
Any comments, advice or tips will be welcomed greatly :mrgreen: