Here's one I've had for a few years.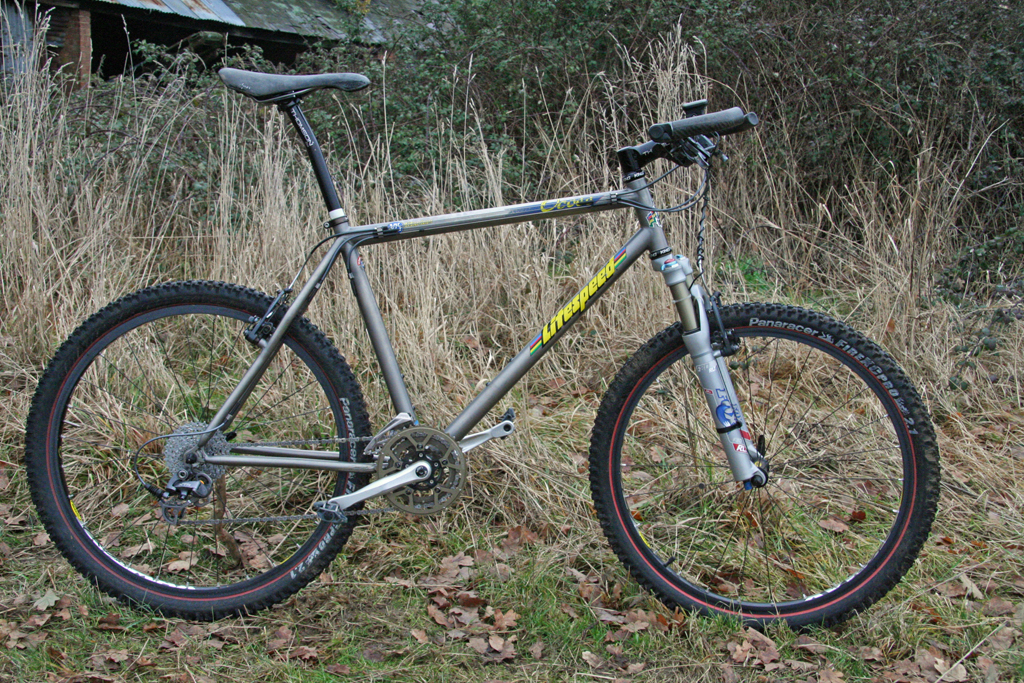 Back in 1998 I was working 'in the trade'. The shop I worked for was owned by the then GT (and Litespeed) importer, Caratti Sport. Was riding some reasonable stuff in my own GT STS-1 & Zaskar (along with the demo i-drives
). Had always wanted a Ti frame but even at trade the price was too rich. However by the end of '98 it was decided the remaining 1997 Litespeeds would be sold off. This one was stashed in the store room by yours truely until I beat the manager down in price to a suitable level, somewhere around landed cost, a substantial saving on the original retail of £1895 (or £1795, I forget) frame only.
The original spec was pretty similar to what you see here, with the exception of syncros post, kore stem,SIDs, Time ATAC, Easton CT1 and Tioga tyres. This has been my main ride ever since, stuff has worn or changed to tweak position until the bike is as it stands today.
Frame:
1997 Litespeed Ocoee
Fork:
Fox F80
Headset:
Chris King
Stem:
Thomson
Handlebar:
Easton EC70
Grips:
Bonrager foam
Barends:
titec carbon
Brakes:
XTR
Brake Levers:
XTR
Shifters:
XTR
Front Derailleur:
XTR
Rear Derailleur:
XTR
Cassette:
XT
Chain:
Dura Ace 9 speed
Chainset:
Middleburn
Bottom Bracket:
UN90
Pedals:
Time ATAC CS
Wheels:
Mavic Crossmax
Tyres:
Panaracer Fire XC Pro 2.1
Saddle:
Flite Alpes
Seatpost:
Thomson
Seatpost Binder:
Litespeed
As my main rider it's been upgraded over the years without any particular thought of keeping things 'period correct'. Guess I can just about 'get away' with the Thomson stuff. However the Fox perhaps aren't in keeping. However they totally rule over the SIDs I was running on here before so think I'll keep it as is