Splitting
most
parts from my M2...but not all.
As pretty much usual, I want the frame sold before anyything else goes.
I bought this as a standard bike back in the early summer, it was in new condition as it had been used once, then languished in a bedroom since 2000.
Obviously I have since blinged it up somewhat
Anyway...lets start with the frame.
2000 M2 Specialized Stumpjumper in classic red.
I believe these were the last of the USA built frames.
17" centre to top
15.5" centre to centre
Top tube about 22" actual and 22.75" effective.
I'm about 5'9" ish with stumps for legs....fits me fine.
Red and glossy with a few blemishes, all paint related, no dings. Little chip on rhs down-tube, two from storage on lhs down-tube.
Small scrape on rhs seat-stay. A couple of little scratches on the top-tube decals. Some very small 'chain' chips on the chain-stay.
A wee cable rub.
Overall this is a lovely frame....and all-day comfortable too.
Looking for £125 collected or £135 posted.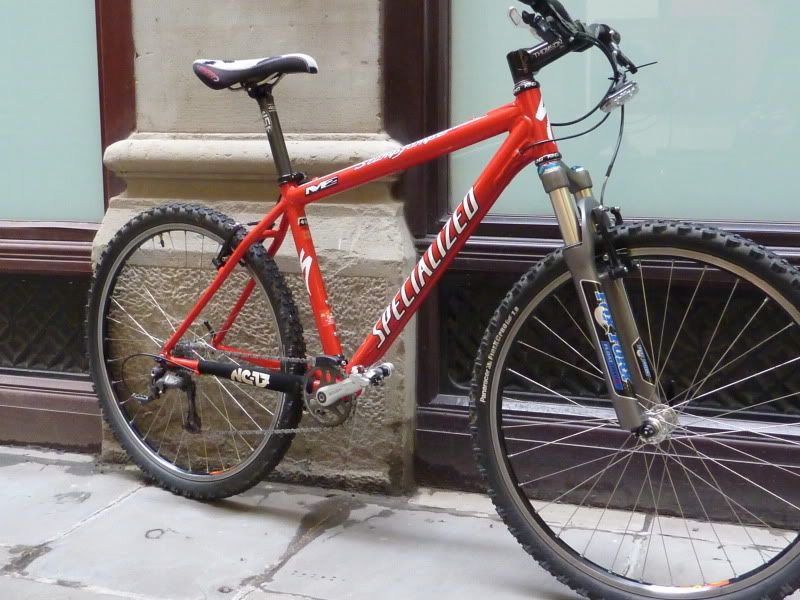 Loads of pictures here showing the 'faults' etc
http://s72.photobucket.com/albums/i166/ ... mper%20M2/
Fox Float 80 RL Forks
Not sure of the exact year.
Fully serviced by Mojo in September when they also replaced the decals and touched up any scratches (in slightly non-matching grey)
Service sheet and invoice will be included (cost £100)
V brake or ISIS disc mount.
Steerer is a tad over 185mm.
Looking for £160 UK Posted (frame to sell first remember)
more general pictures here
http://s72.photobucket.com/albums/i166/ ... mper%20M2/
Black CK headse
t....excellent condition.
£50 UK Posted (when the frame has sold)
Please save you time by not asking about anything else on the bike as yet, I have not decided what to use on my next project.
Please please please, reply here if you are interested in anything, then pm me.
Ta, Carl