Here is the latest addition to the fleet on the road side, what I believe to be an early 90s Pinarello Gavia made from Columbus TSX tubing (if anyone can confirm date and model that'd be great
). TSX is like SLX but 'one louder', from memory the difference is the splined internal butting stretches the entire length of the tube thus making for a 20g per frame saving.
Pinarello Gavia
The bike was bought from Dapanico in Italy (arrived in super quick time, thanks!) It was sold to me as a slightly tired looking Treviso as can be seen in the pics. Took a bit of a punt on it but I think it's paid off.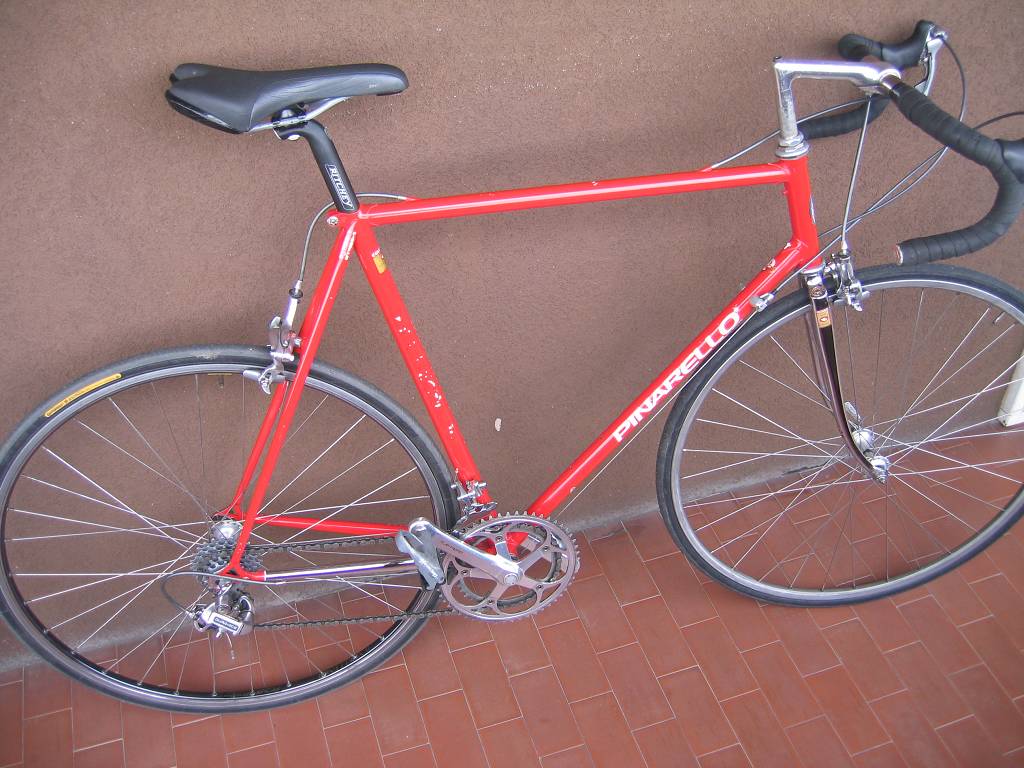 As sold with incorrect decals
This is very much an initial build with what I had around in order to put a few miles on the frame before deciding on its ultimate future. As can be seen the paint isn't in too bad a shape, sadly the decals have peeled from under the lacquer which might be hard to effectively remedy without a spray. Also the fork chrome is quite patchy in places.
Fork and headset detail
Pinarello Treviso
Groupset wise I have committed the ultimate sin – newer shimano 7700 series dura ace with STIs on an older Italian frame. I feel a bit dirty having done this but judge me as you will
That said it all works spot on and I've not got the resources to be tracking down a full C-Record/Record gruppo just now.
The remaining components feature hope hubs onto cxp33, pro race 2 tyres, grammo stem and eubios bars. Have a nice looking panto'd 1R stem which would look good but is missing parts.
Grammo stem and ergonomic eubios bars
Distinctive Gavia seatstay cluster
Not had chance to properly ride it yet, will report back when I've done a few miles. After which point I'll stick some bar tape on.