Not sure of the colour sorry – its defo a repaint but that's not to say that it wasn't an original colour to start with, I think fat would paint them however you wanted ?
Well this is my understanding of the parts I have so far, if any of the FAT gurus know any different, please chime in and add or correct info accordingly !
The frame is a 1992 Massachusetts made medium :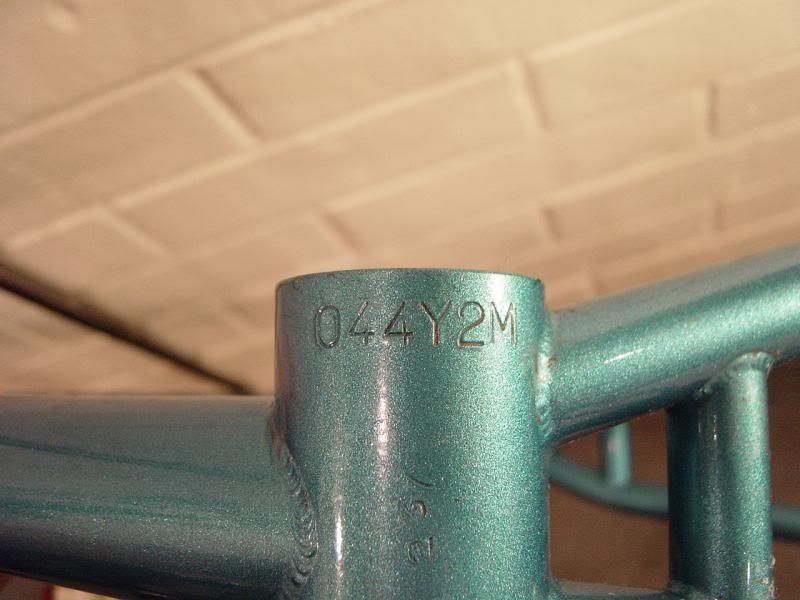 At some point it has had the seat tube replaced (rumoured to be by a UK frame builder) with a fillet brazed item.
I believe this frame to be a non suspension corrected version which would have had a 15.5" / 393.7mm (info from Rody) A to C fork.
The fork should have been a segmented 1.125" / 28.6mm diameter legged version with 1.57" / 39.9mm or 6 degrees rake (info from Rody).
The fork I have is not the original …
but it is made from titanium
To most people it will look similar but it does have differences.
The tops of the legs are angled rather then being cut square. The legs are angled at 5 degrees, although this was only checked with the iPhone – I will check with my camber gauge next time it's out
It does have the correct A to C measurement, the correct leg diameters, it's very light (698g with canti studs and 255mm steerer) and has a nice touch – the bottom of the steerer tube is blanked off to stop it filling with crud.
WD