RIGHT-HAND SHIFTER
First here's the component parts in approximate order they come off (left-to-right, top-to-bottom). Some sit tight against or in others so you may not find them all at first.
Take the spindle and fit the copper bushes and the big plastic seal. Then screw it onto the mount in the orientation shown, with the spring hole nearest the mount screw.
Fit the spring into the thumbshifter lever (it will probably be tight) and position the end hook as shown.
Slide the lever onto the spindle making sure the hook at the other end of the spring slips into the hole below. Be careful to not disturb the lower bush and seal. The red dot shows the end of the spring and its position relative to the spindle/lever.
Pop the chrome plate on top so the spring slots into it. Now the fun part... Holding the lever in a fixed position and without pressing down, use needle nose pliers against the edges in red to rotate the chrome plate ~120 degrees clockwise, then press the plate down so it slots into the lever and its inner tabs (green) slide down the grooves in the spindle (blue). While holding it down, slowly let the plate/lever rotate back anti-clockwise under the action of the spring. This is the hardest part of assembly and might take a few attempts.
EDIT: See my post on page 3 for an easier method:
viewtopic.php?p=2357482#p2357482
You can now remove the shifter from the mount, it's not in the correct orientation anyway. The friction-mode bearing race and indexing plate go on along with the smaller plastic seal. Here you can see the "hidden 8th click" is actually created by one ball bearing popping into the spring hole.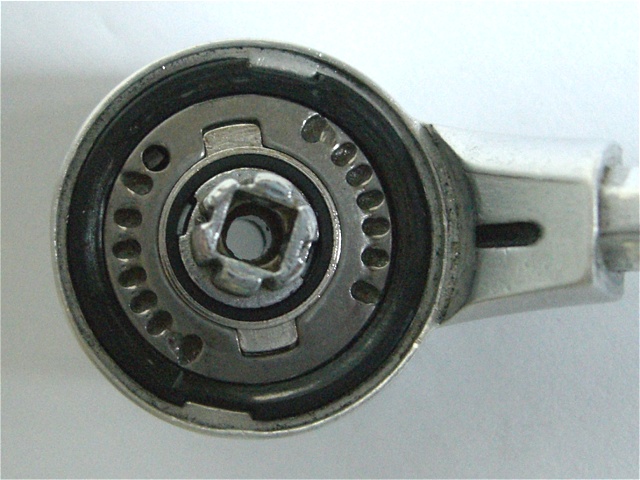 Next the bearing-locating plate, ball bearings and small metal washer go on.
Now the SIS/friction mode plate (shown in SIS position).
The winged washer goes next.
Finally the two identical Pringle-shaped plates, ribbed washer, plastic spacer (with cut-out for the SIS/friction lever) and then the nut screws on anti-clockwise, left-hand thread remember!
At this point you're wondering how much to tighten the top nut? The answer is you should tune it to the mech you're using, especially if you're using later mid 90s mechs that have much softer springs. Suntour and modern bar-end shifters let you adjust the tightness of the shifter externally but Shimano didn't give us the option on these.
Ideally you'd fit the shifter (minus top cap) back onto a bike, hook it up to a mech and adjust the top nut so the shifter holds position (in both indexed mode and friction) while being as light as possible. You'd then have to remove the main screw underneath the shifter to screw the top cap back on... A bit of a fiddle so if you've got a spare mech, cables and handlebar lying around you can tune the shifter like this: