flash wrote:
I've just found this thread, my set up's been that way for years. Very pleased with it. Kept swapping bits til it sounded great....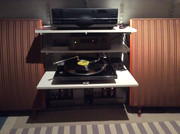 Nice system, I do love Electrostatics and they realy should be valve driven but what stopped you running a valve pre with your CD?
I'm a big valve fan myself so everything in the amplification chain is valve in my system, phono stage, pre amp, active crossover, power amps and even my CD player and tuner have valve output stages in them, so there's plenty of glowing bottles when I listen to music.
I've been pretty set with whats in mine for a good few years now but it doesn't stop me having a little swap about every now and then, although I do usually gravitate back to the same core components.
legrandfromage will probably be pleased to hear I do have a couple of completely solid state systems in the house and one of them contains some pre and post Tag as both bits are badged Audiolab.
legrandefromage wrote:
It 'sounds' ok, I'd rather find the cd transport or a working DVD32r.

The amplifier belonged to a Peter Stevens, its nice that its stayed within the family as it were.
Do you know what's wrong with the display? Its probably not a difficult fix (loose connection or the backlight spring to mind) or is it just not worth the bother to you?
_________________
COMPLETED BIKES
Abeni Europa
,
Raleigh Sirocco 1978
,
Falcon San Remo
,
Me
r
al
,
Holdsworth Autograph 1976
,
Holdsworth Competition
,
Geoffrey Butler
,
Lejeune Possibly
,
1950's Sid Mottram
,
Raleigh Record
,
Sun Super Snipe

,

Holdsworth Elan

,

a pair of Raleigh Records
, Look KG96, Ladies Falcon Westminster,
Ribble summit or other possibly
,
that became the paint your wagon special
,
Another I have no clue what it is
.
IN THE QUEUE TO BE COMPLETED
Falcon Pro

&

Falcon Majorca
, Francesco Moser, Jan Jansen, Ken James, Harry Quinn, Mercian, Raleigh Record Ace, Raleigh Sirroco 1984, Raleigh Rapide, Falcon Westminster, Falcon Black Diamond, Raleigh Record Sprint,
Navarro
, Carlton Corsair, Carlton Criterium, Sun Wasp, Claud Butler Velo Capital 1963,
Claud Butler Bucaneer 1956
, Claud Butler Majestic, Lucasa, BSA Tour de France,
Holdsworth Possibly
,
Centresport
, Another Ribble Possibly,