I could start this thread by waxing lyrical about halcyon days on blue-collar bikes, but it's all been done to death already. Suffice to say I had a 19" 1991 Marin Eldridge Grade (MEG) way back in 1992, I loved riding it, but I sold it on to buy a Stumpjumper, and have regretted it since. My original bike was the pale grey Zolatone 2000 model with the pinky-orange forks, a couple of years ago I thought I'd found a worthy replacement, a green/black splatter MEG frame/fork/stem/bar set being sold by a guy in Utah. I bought it, but when it arrived I found he had measured C-C not C-T and it was in fact a too-large 20" frame. I sold that on and forgot about early '90s Marin bikes for a while as many other machines came and went. Last week, I was standing at the service counter in the bike shop where I work in the small southern-Ontario, Canada town of Peterborough when a customer wheels in a bike to sell at our twice-yearly gear swap. The bike, which is filthy and sitting on frayed flat tires, is a 19" 1991 MEG in the neon yellow/pink splatter colourway. $75 later the bike is mine!
The bike is completely original aside from seat, tires and grips. It was in such a sorry state I didn't bother to photo' it until after I'd stripped it apart: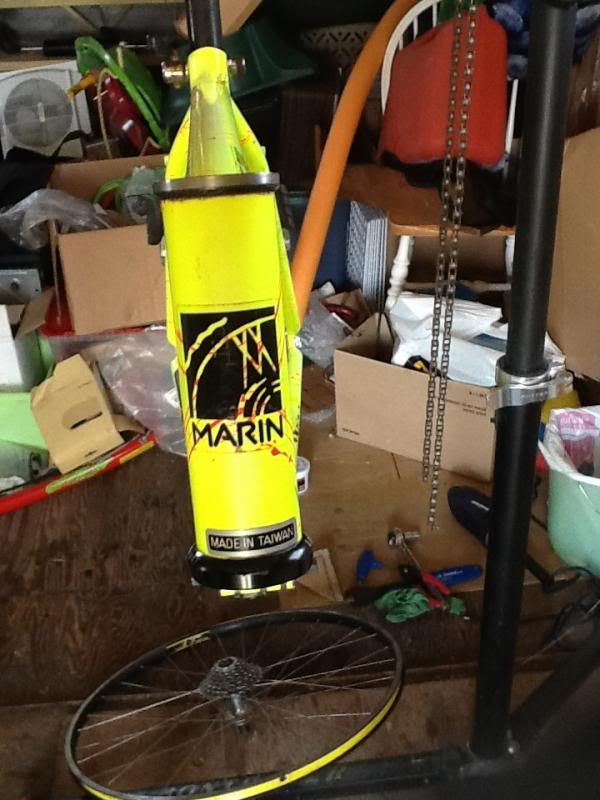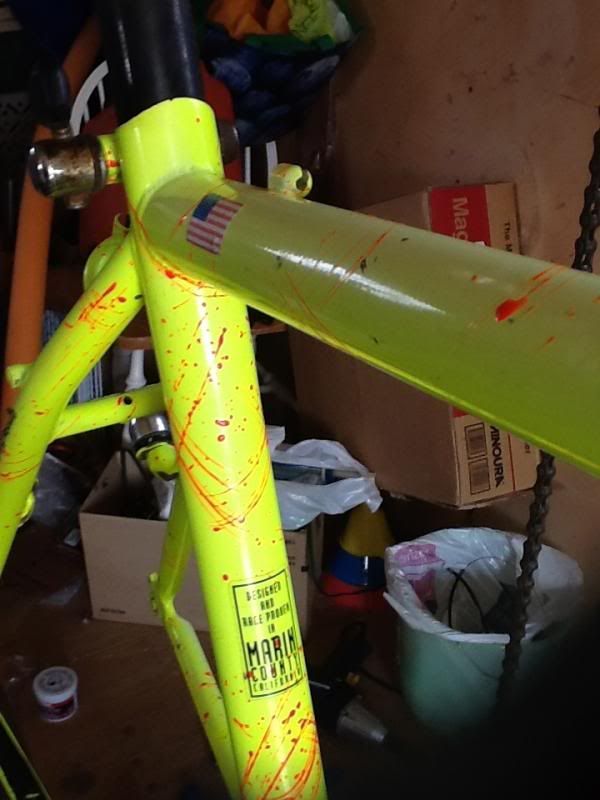 The neon yellow is faded in places, and there are plenty of paint chips, some rusty (kickstands are the devil's own creation). A couple of the decals are damaged, but all of them are present. I've considered touhing up or repainting, but I like the "patina" of the frame so I'll probably just give it a good clean and treat the rust.
Components were better:
One early quandary; do I de-gunk and re-lube the original push/push DX shifters, or do I cut the perches off the STI levers and use some brand new, horribly period incorrect, but perfectly functioning 3x7 rapidfire plus units? The bike is definitely going to be a regular rider, so I want it to work well - any input?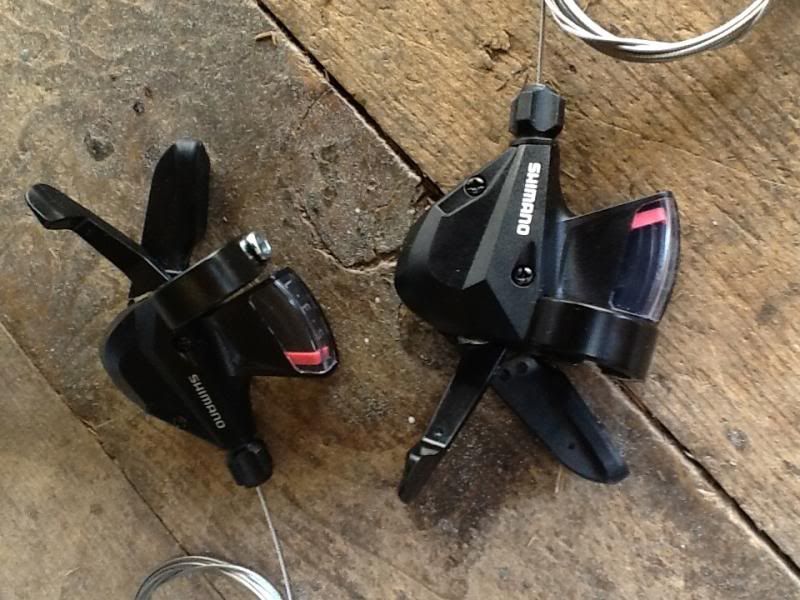 I'm going to use modern Bontrager Team Issue tires (simply for weight and grip reasons) , Ritchey foam grips (closest available to original hex foam grips) and a brand new Flite Classic 1990.
I'll post updates as the project progresses.
_________________
1986 RM Ritchey "Canapurna", 1988 Concorde Squadra PDM, 1989 Vitus/Rocky Mountain Futural CX, 1990 Kona Explosif Custom, 1993 Pro-Flex 853, 1994 Kona Hot, 1995 Specialized Stumpjumper FS, 1995 TREK Singletrack 950 (rusted out
), 1997 DMR Trailstar, 2001 Santa Cruz Chameleon, 2008 Kona Explosif