Been sorting out the bike shed over the last couple of weeks and I've decided to turn my attention to the 1989 Marin Pine Mountain that has been languishing in the shed for a year or so.
In doing a bit of internet research to see what other '89 PMs are out there I came across the original for sale thread images from retrobike.
I bought the frame/fork/stem off ChrisG back in 2013.....the stem was well and truly stuck in the forks but after a bit of heat persuasion I managed to get them apart......and then put them in the shed.
Anyway - I've dug it out and have started raiding the parts bin/retrobike's for sale pages collecting some bits with a view to building it up to go alongside the other Pine Ms in the collection.
I was initially planning on a complete paint strip and respray but after a bit of time with the g36 paint restorer it seems that the paint work isn't actually that bad.....
Images below are from the original for sale ad (hope that's OK Chris?)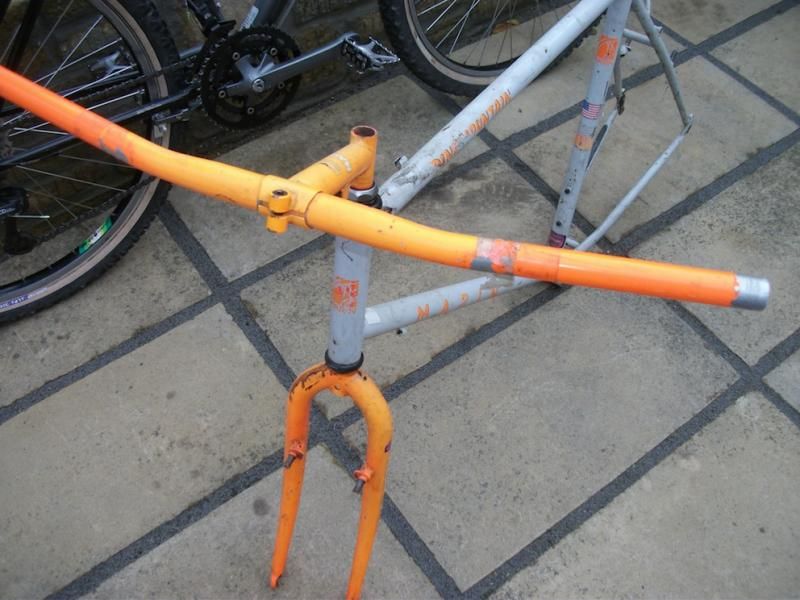 So far I've separated the fork/stem, removed the headset, paintstripped both stem and forks ready for respray and have started renovating the paintwork on the frame with the intention of touching in the chips and possibly replacing the decals.
More photos to follow as I progress.....(not forgetting I'm halfway through a Tequesta rebuild
)