Last week I felt that my small collection was missing a steel bike. As my neighbour, with whom I share a bike workshop, just bought a Yo Eddy (which in terms of handling and workmanship is probably the best steel frame you can get) I wanted something different. A quick look in the 'bay revealed a nice white Yeti Fro from the 80s. After some research here and on Yetifan and some reasuring answers from the seller (no dings, no rust, no cracks, original paint, serialnumber), I decided to have a go and got lucky.
Here are some pics, which I stole from the 'bay Website. The frameset is still on its way to me.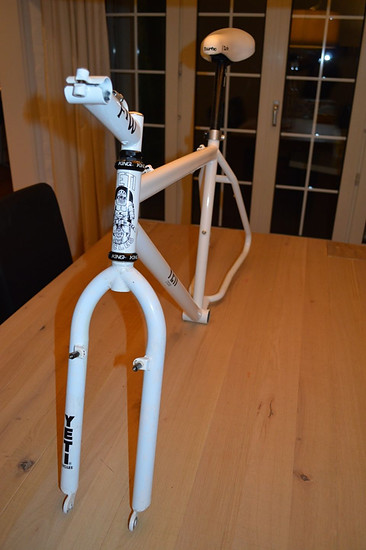 Rear dropouts are obviously Simplex, the FD is controlled by fixing the cable to the chainstay. Seat clamp not welded on, 2. Generation Yeti man on headtube. Headtube is 1" (or BMX; the seller cannot tell the difference). No gussets welded to the chainstays. Stem is FTW/Yeti, forks look to be ones before they were licensed to Answer (and sold as Accu-Trax).
According to the seller, the serial number is XR0835 (but he will check again tonight). As I have not got the frameset in person yet, I cannot check all the details.
What is quite strange is, that the prefix of the serial no. ("XR") suggests this is a very early frame while the sequential no (835) suggests this is a frame from 1989. However, most 1989 frames already have the 1 1/4 head tube; this one doesn't. alastairg's FRO with S/N 809 already has 1 1/4 Headset and the newer style dropouts.
viewtopic.php?t=49671
The frameset comes with XT seatpost, white Turbo and a black King BMX Headset (unfortunately with logos). I will use those and some XT 730/732 parts I have in stock. I have been offered a really nice Bullseye crankset but am not yet sure if I want to invest so much money.
Now some questions:
1. How can I find out if this bike has a BMX or a 1" MTB headtube? Edit: Don't worry. It's BMX. Yeti never did 1" MTB headtubes. However, 1" MTB stems could be fitted in the 2nd. Generation of Yeti forks.
2. Somewhere I read, that the serial numbers started with something like 250 or 300, and not Nr. 1. Can anybody confirm that? Edit: FTW spoke to JP. He confirmed they started with 300.
3. Are there several versions of the FTW stem (steel and alloy)?
4. Anybody here got black XT 730/732 hubs (or rear hub only, 130mm) or a pair of Bullseyes, black (non-NOS preferred) Edit: found.