You know those moments when you put in a cheeky bid on eBay, not expecting to win.......
I now am the proud owner of a 1990 GT Tequesta........in the blue/white swirly cloudy nimbus paint job.
Pic from eBay....(was listed on RB in the eBay section too)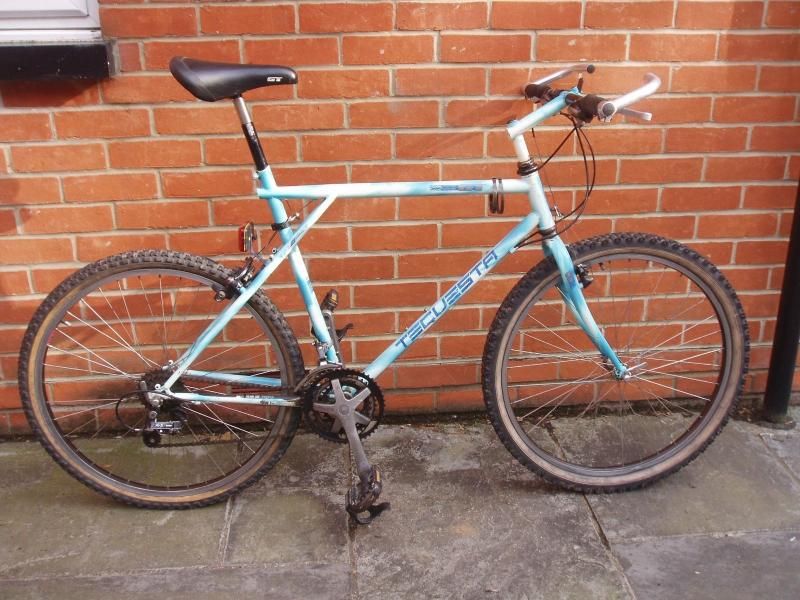 First impressions.....heavy
But I like it.....wacky paint job, pretty original condition, crazy cabling to rear u-brake & some cabling which disappears inside the top tube. And the iconic GT triple triangle frame shape.
Overall it's in fairly good nick. Needs a strip down and deep clean....then a bit of a frame polish & paint chip touch up. Plan to re-cable it too and a general service and overhaul.
Bad points:
Stuck seat post. It currently has a homemade extension piece rammed in the top of the tube too.
Bit of paint missing from chainsuck
Heavy-ish.
Cranks - look a bit heavy/naff.
Rumbly rear hub.
Will get some fresh pics pre-strip & clean in the next few days.
Never owned a GT before and don't know much about them (and the Suntour components on it) - but thought this one looked quite interesting so took a punt on it.....