Well, my build is nearly finished, but I thought, I will let you guys participate in the last - and very important - meters.
Shortly after having built my Xizang last year - the first project - I fell in love with the beauftifully brazed Psyclone frames. After having missed two occations to get my hands on one of these rare beauties, D_XY responded to my WTB. He got it from BoyBurning who got it from Rumphy who got it from ebay USA for little money. This is how it looked when Rumphy built it. Some of you might remember it: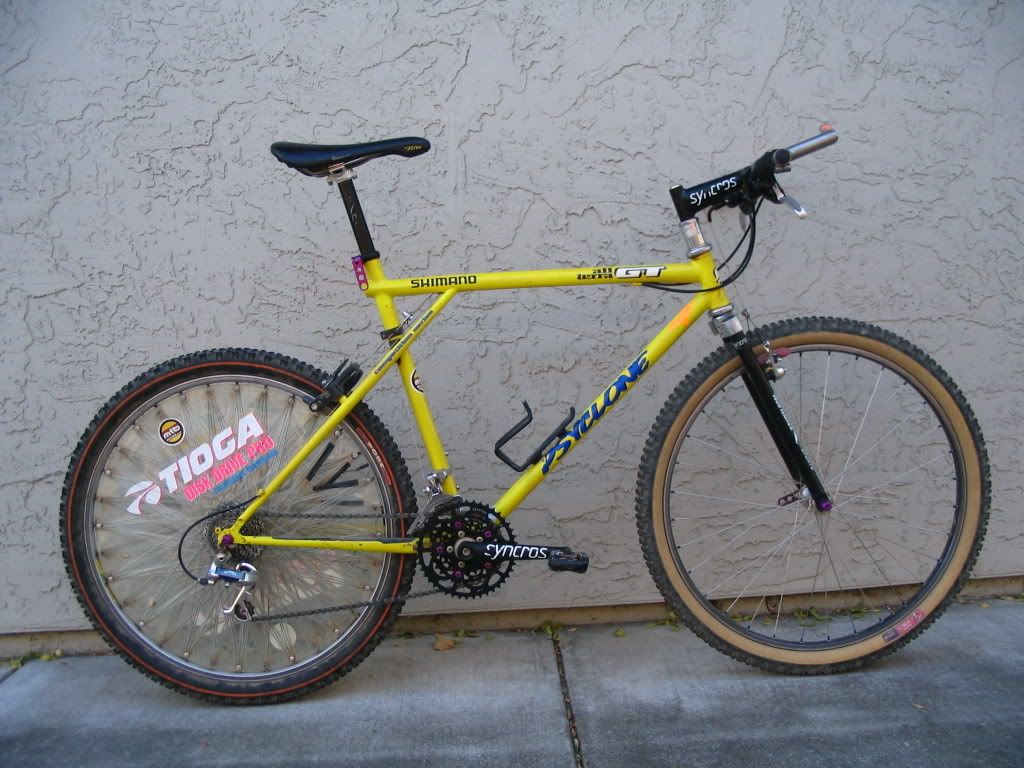 Dan (D_XY) built it up like this:
So I am the fifth owner - at least!
That might also be the reson why the frame was in a bad state:
Therefore, the frame had to be resprayed.
It took me ages to find a perfect yellow.
Currently, decals are being produced. Finding those was a nightmare as well.
I am planing to build up the frame with some turquoise Ringle stuff. I want to try something different. That is why I am also getting light blue instead of dark blue decals.
Some bad pics:
Originally, I planned to build the frame with XTR 900. But as the the frame only takes U-Brakes in the rear, I will go XT 732/735.
All parts are there, including some lovely silver cranks with black rings and a NOS Syncros bottom bracket.
Just waiting for the decals to be finished. Then there is the final decision whether to go classic (dark blue decals with black Syncros bar/seatpost) or funky (light blue decals with Ringle/Hyperlite etc.).
I have also got a NOS Chris King 2Nut Nologo in turquoise, turquoise Mojos, AntiChainsuck. But that will be too much.
I also have to decide between XT Thumbshifters/2-finger-brakes and Rapidfire Plus (ST-M095). I think, the Rapidfire-Plus-shifters fit the turquoise build better.
For comparision:
[/img]
Some details:
- 19inch
- True Temper GTX III
- Groove Tube
- replacable mech hanger
- 3D fork (1992)
- flip-flop stem (1992)
- weight after respray: 2100g