Due to injury I'm very sadly selling my Trevor Jarvis "Flying Gate" complete bike (1983, Frame no. 277). Located in North Wales although could also be picked up from Oxfordshire.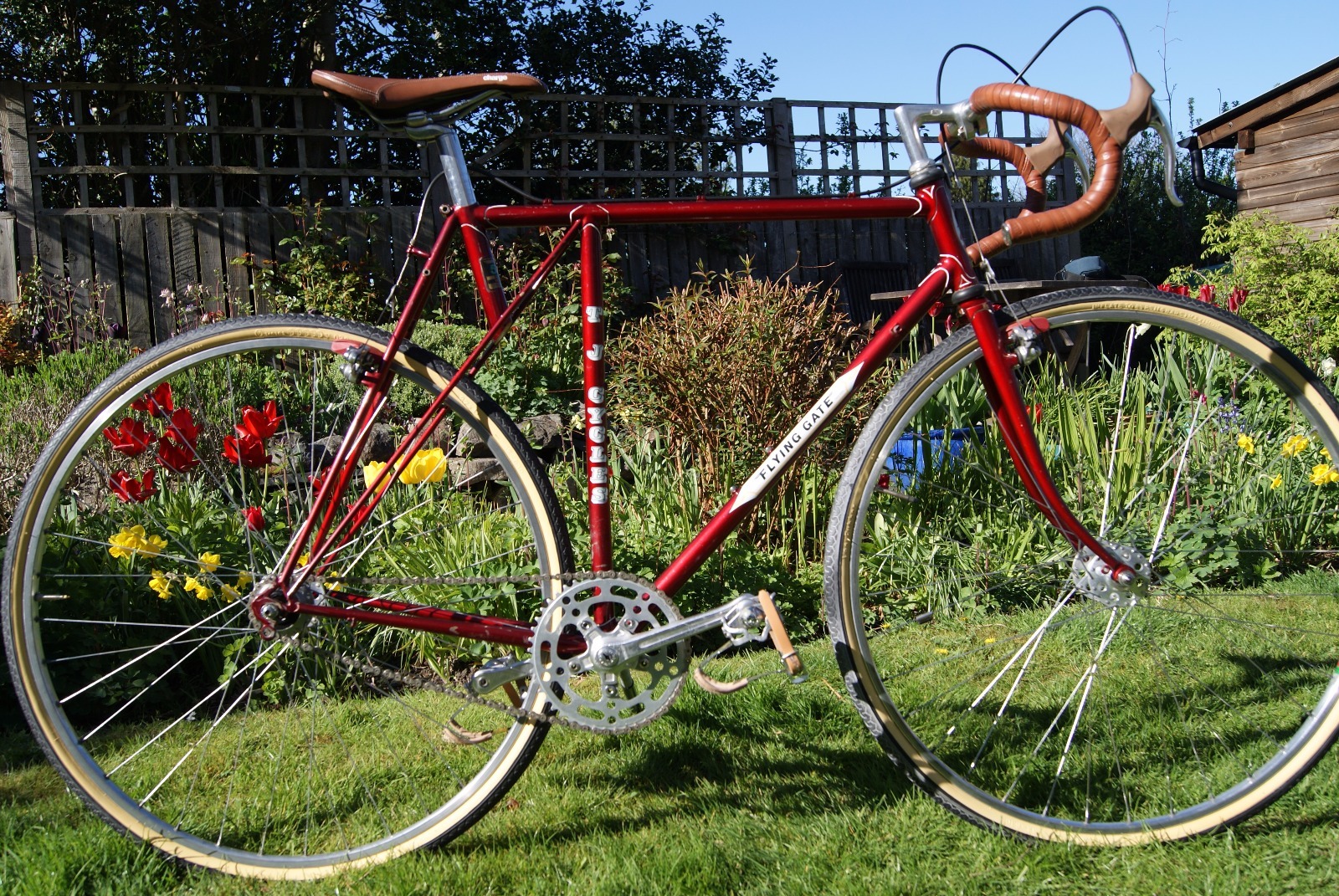 Currently set up as a singlespeed although I have the original geared parts and can re-fit if required.
Good-old-fashioned British engineering at its best. Originally designed as the 'Baines Whirlwind' in the 1930's the design was acquired by Trevor Jarvis of Burton-on-Trent who re-started frame production in 1979. The concept is around creating a very short rear axle – BB design which provides an amazingly quick ride.
Turn up at L'Eroica on this and watch those Italians shake their heads in disbelief.
Frame:
Reynolds 531 with Campag drop-outs. Re-sprayed by Trevor sometime in the late 1980's. A few chips and minor scratches, but as per photos, in overall very good condition.
22 1/2 (57cm) ctc - both effective seat-tube and top-tube.
36inch wheelbase.
73 degree head-tube and effective seat-tube angle
Forward facing drop-outs
Derailleur hanger
Cantilever bosses
Single DT boss
The rest:
Wheels - Campagnolo Nuovo Tipo Large Flange hubs and QR's on Mavic Module "E" 27 x 1 ¼
Cranks - Stronglight 9/16 x 20 170mm
Pedals - Campagnolo Gran Sport with MKS cages and Christophe leather straps
Chainring - Stronglight 46
Freewheel - Shimano SF-MX30 18t
Brakes - Shimano BR-MC70 Cantilevers (Rare - 1983-1986) and levers
Headset - Stronglight Spidel
Stem - Stronglight 90mm
Bars - SR Sakae Custom
Saddle - Charge Spoon
Geared Parts:
Stronglight 43 Chainring
Campagnolo 980 Rear and Front Mechs
Suntour Winner Pro 6 speed cassette
Simplex Retrofriction shifters.
On ebay starting at £1,050 (
http://goo.gl/ZPvOeo
) although would prefer a private sale to someone who cares!