I have a wheelset hanging in my cupboard that was the OEM fitment to my 2000/2001 Scwhwinn four banger. I replaced these with a set of Mavic Crossmax rims in an effort to modernise the bike a bit and bring it a little more up to date. Not the usual stuff of RetroBikes I know, but until someone builds a new Lawill frame, I'm just going to have to stick with this...
The hubs are American Novatec units. I'm not familiar with the brand, so I know little about them, but they are very sturdy, and completely rebuildable units hewn from aluminium. They are fitted with easily replaceable sealed bearings sat behind o-ring sealed covers, making bearing longevity measurable on a calander, and servicing a doddle. The axles are straight, and the hubs run very smoothly. The bearings were last replaced in 2011, when I replaced every sealed unit bearing on the bike. They have done very limited miles since then. The hubs are compatible with 6 bolt brake rotors.
The spokes are black, and generally speaking, unmarked, un bent, and in good order/tension. Other than that, I can't tell you great deal about them...
The rims are Alex Rims EVDS25 "Downhill". I can't tell you a great deal about these either, other than they are double walled, have new rim tapes, and are very very strong. They are a lot wider than the new rims I have on the bike, so they are probably well suited to large volume tyres. These are 25mm between the inner faces of the rim flange, compared to the Mavics 19mm. I've run them with 2.5" tyres in the past without issue. The 1.95" tyres on my new wheels look pinched in comparison.
These are also extremely stiff, something I hadn't realised until I tried a different wheelset on this bike. According to the labels on the rim, these are made from 6061-T6 Aluminium, the material of choice for alloy frame builders. They would appear to be welded rather than sleeved, and seem to be a high quality rim. I've certainly seen a lot worse from companies I am familiar with. The rims are compatible with rim vbrakes, but have never been used with such.
The freehub is in good order, has no play, and is practically unmarked from 13 years of use, which just goes to show how gentle I've been with my bike, or at least how I'm not trying hard enough...
Overall, this is a very sturdy set of wheels, that run true and have seen little use. The decals are fading a bit, but everything else looks fine. I have no idea how much they wiegh, but when I compared them to the CrossMax's I installed last night, they weren't the heavyweight lumps I thought they'd be. I fact, I was a little disappointed there wasn't a bigger difference...
Question is, do I sling these in the back of the cupboard and hope maybe I find a use for them one day? Or are they actually worth something to someone?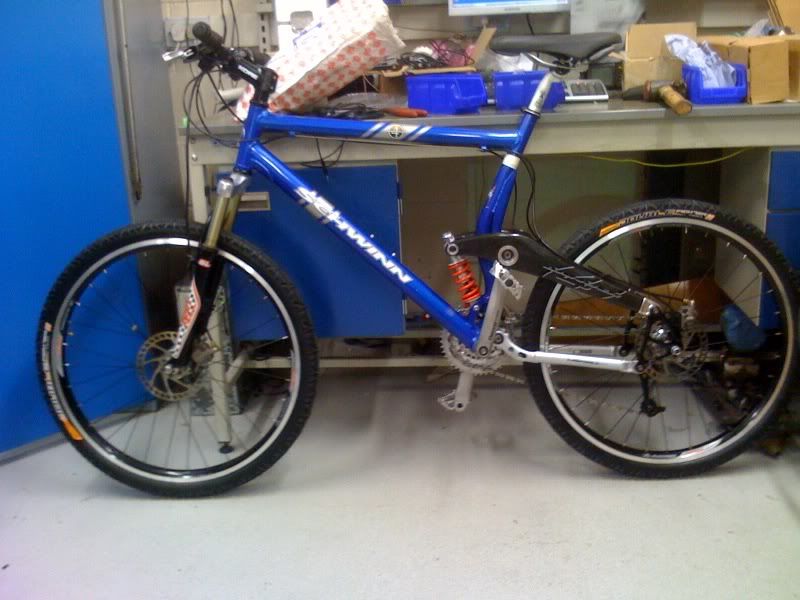 (Click for bigger pics)