The return of Frankenbike ...
I want to build this up as a bit of an experiment in finding low(ish) cost lightweight parts from here and other 2nd hand bits and bobs and see if I can get under 20lbs weight without spending lots to do so. My target is £400 and I'll keep a record of all the parts with weights in true WW style so hope may be a bit of useful reference.
It's going to be a single speed to start with as I had one a while back and liked the simplicity and was great fun on the trails and also that keeps the weight down !
but might switch to a 1x9 setup later as have an old XTR cassette and chain in the spares box.
So far we have this ....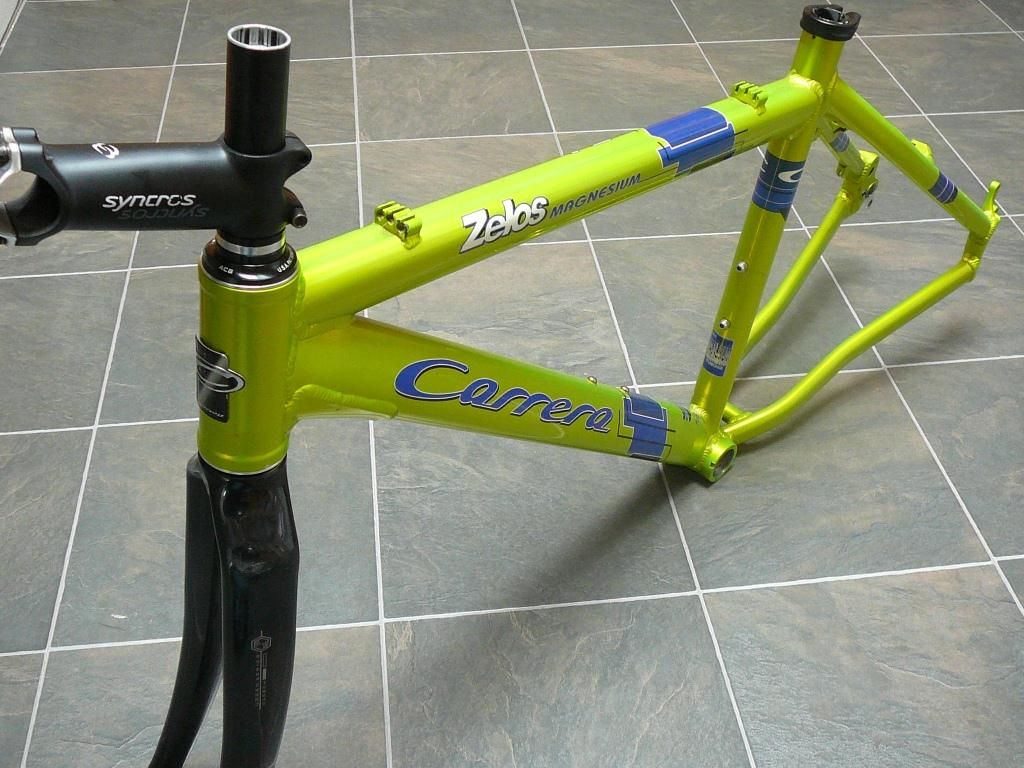 Frame .... Carrera Zelos Magnesium 18" - Halfords special but made by Merida and I rather like it, triangular section main tubes and very GREEN ! Weight inc FSA integrated headset = 1698g
Forks .... Carbon OEM - from a Marin hybrid they are about 400mm A-C so perhaps a little short but the Zelos originally came with an 80mm suspension fork and look good on it. Weight with uncut steerer = 794g
Stem .... Syncros FL 110mm - had this for a while and its pretty chunky which suits the frame but is suprisingly light. Weight = 145g
Seatclamp .... nothing special, came on the frame. Weight 29g.
Total so far = 2666g (5.88lbs)
I think wheels are going to be the tricky part. I was looking along the lines of something like XT hubs and Mavic 717 rims, are these good weight for the money ? Can't really allocate more than £100 for them so any suggestions ?

_________________
Old enough to know better but doesn't.
MTB (modern) : Cannondale RZ120 / Lefty & Niner Air 9 / RDO
MTB (retro) : Pace RC200-F2
Road : Boardman Team Carbon
Shed art : Raleigh Dynatech Diablo