Before I get underway and offer the usual disclaimer – interested in reading, an self indulgent length, about a cycling trip then please skip on. Those with a low threshold for self-indulgence should pay particular heed to this advice.
Preamble
6 years ago I was on the cusp of 40 and in time honoured fashion wanted to celebrate in a suitable manner (no, not that way, hookers appear chronologically much later in this tale). My Mate Dave had always talked about his Raid Pyrenean adventure, so, with his able logistical support, I decided to take on the major climbs in the Pyrennes, the Tormalet, Aspin, Aubisque etc. I was pretty fit from running and thought that would see me through. After 96 miles in 38C on the first days it was clear that this approach was fundamentally flawed. Over the next week climbs followed, descents were avoided (what's the point in a hire car unless you're prepared to use it?) and My Mate Dave's smiling face, as he leaned out of the window to offer what he maintains to this day were 'words of encouragement', was seared into my mind.
Moving on three years, the expensive counseling had stitched my fragile psyche back together and I was ready for the French Alps, Alpe d'Huez, Galibier, Croix de Fer and the rest. But this time My Mate Dave was riding – payback time! An enjoyable week was had cycling squares up Alpe d'Huez while looking down (metaphorically, literally and in every other way) on My Mate Dave several hairpins below. Somehow, despite sneering and gloating on my part (for which I am still proud), our friendship endured.
Fast forward to early 2012 (fast forward into the past? Does that scan?), and My Mate Dave mooted a trip to the Italian Alps to take on some of the legendary Giro climbs – the likes of the Stelvio, Gavia and the reportedly fearsome Mortirolo. I wasn't really going to say no, was I?
Being both steeped in cycling folk lore and undeniably pretentions, I knew that the key to the whole trip was
le metier
. Having booked the trip 6 months previously I had plenty of time to organise equipment, body, mind. I thus timed it like a space mission as those never go wrong (apart from Apollo 13 and then Tom Hanks saved the day. Or was it Kevin Bacon?) and before I knew what had happened I emerged from a space/time vortex and was looking down the barrel of T -60 hours with a bike in pieces, skinned knuckles and a barked shin.....
T – 60 hours
The bike choice had been so easy – the Panasonic PR-6000 that I'd grown to love over the previous 11 months, even going so far as to get some semi-confidence downhill. I did need some mountain friendly gears though so a compact was probably going to be needed. After a couple of hours I had a Campag 10 speed chainset that was failing to mesh with a JIS b/b, 8 speed Shimano cassette running off 9 speed Shimano d/t shifters. On a 6 speed rear mech with a maximum capacity of 26 teeth. As the rain swirled around under the weeping willow and darkness fell I decided to abandon what I had so far achieved and drink a beer.
T – 32 hours
Having returned from work I decided to retrace my steps to get everything together. I therefore drank a beer and looked at the shed. After finishing that (and another – beer really is immensely soothing in such circumstances), I entered the shed to discover that not only had I lost one of the cassette spacers but that also the b/b axle was too long leaving the Campag chainset so far outboard that I couldn't use any gear in any ring without considerable rub. I thought briefly of a b/b mounted chain device before abandoning, again, getting the bike ready.
T – 8 hours
This was getting serious. My Mate Dave was due any minute and we were supposed to go out for a curry in preparation for our 3 a.m. alarm call. Drastic measures were called for so I abandoned the Panasonic in favour of the Merckx Corsa Extra which had sat unridden for 15 months. Chucking it all in a bike bag with a few clothes I figured it would all work out the other end at the hands of a wise Italian artisan framebuilder. However even this craven attempt at packing had scuppered the curry and I slunk off for a few hours sleep, chastened. All I could hear in my head, as I tried to nod off, was "it's not about the bike, it's not about the bike, it's not about the bike......".
T – 0 hours
Arriving at the airport all bleary eyed, we thought that it would be a good idea to weigh the bag as we had 20 kg between us. The bag was placed on the scales and the digital readout said exactly 20 kg. My heart soared – this was going to be all right! Then I weighed myself on the said scales – 109.7 kg! The scales obviously couldn't be relied on, at all, but glancing down I had to conceded that I was chubbier than previously – but when, exactly, had I become a proper biffer? We had no time for navel gazing – to be fair I could see my navel easily enough, it was being able to look at my feet without having to crane my neck out over the shelf of my belly that was the greater concern – as we had a plane to catch.
Arriving in Milano - I was already affecting local (mis) pronounciation – rain began to fall from a leaden sky. No matter, as we were only a few hours from Bormio so it was time to crank up the stereo in the Chrysler Orlando and get inspired. As the wiper blades
swushed
away the steady downpour and Credence played on the stereo, we rounded a corner near Milano to be met by a very curious sight – standing by a field was a very glamourous and beautiful woman who would have given Violante Placido a run for her money. As sleep deprived as we were, this was clearly a 'ho. My expectations of the trip underwent what I came to understand later from My Mate Dave, a senior research physicist, is called a paradigm shift. Certainly I was not able to speak for the next half hour (which My Mate Dave later declared as one of the highlights of the trip) only being snapped out of my own thoughts by MMD declaring "cycling in Italy is a religion" to which I responded "no it isn't, it's a physical activity that can be practiced any day of the week". With that we made our way to Bormio in earnest, rain increasing in intensity as we went. Having been on the go for the best part of 12 hours without much in the way of food, we started to flag and so did something, that even now, leaves me red faced with shame – we went to McDonalds. I am happy to confirm that Ronald McDonald's quality control is absolutely superb with the burgers tasting just as shite in Italy as everywhere else. Chastened we made the last push to the hotel, unloaded the bikes, ate and slept.
Day 1 - the reality
Breakfasting late, it was mid morning before it was time to unpack the bikes and make sure that they had survived the baggage handlers. Good news was that the bikes had survived the trip. Less good news is that my last minute panic packing had not pulled it out of the bag – the rear wheel was so untrue that there was some very tidy brake rub and the tyres were much more worn, squared off really with a slight sidewall split, than they had seemed in Hereford. Given the temperature (about 5C) and relentless rain the omission of leg warmers or mitts looked very foolhardy. Oh, and I had new and untightened cleats fitted. Still, I chucked it all together in the hotel basement and had at the rear wheel with a spoke key. 30 short minutes later I had removed the wobble. Wobble singular however as the brake, while free of the original issue, was now untrue in about four places. To add to this, I had done such sound work with the spoke tension that I was able to play the wheel like a harp (a pretty good rendition of 'Orinoco Flow', even if I do say so myself. It was no good, I would have to fin that kindly artisan framebuilder and get him to work his magic.
We left the bike shop under 5 minutes after we arrived as the proprietor just didn't want to know. We stood in the bitter rain and, without speaking, sacked off the riding for the day, electing instead to drive up the Passo dello Stelvio. As the Orlando chugged upwards, the rain turned to sleet, the visibility dropped to about 10 feet and the enormity of the mountain became clear. We passed 2,000 metres and the weather was appalling but some hardy souls on bikes were climbing steadily, inexorably. At about 2,300 metres the sleet became snow and the visibility shrunk further. Still some guys climbed on, the road a slick mess. Up we continued, past the split to the Umbrail Pass and finally we reached the top of the Stelvio at 2,786m. Incredibly, cyclists were tottering around in their cleats, grinning boldly in the thick snow (it was a good 50cm thick at the side of the road). Pausing only for a quick panini, we descended in the car sombrely, chastened and spent the afternoon reading.
I'd just started 'Fallen Angel'. William Fotheringham's book on Fausto Coppi, and it was to this I turned for inspiration. And I found exactly what I was looking for. Biagio Cavanna, Fausto Coppi's blind coach, advised "no cigarettes, no women, no wine". This was hugely encouraging as I have always actively abided by one of these rules, passively by another although it being Italy, it would have been churlish to comply with the third – Meatloaf claimed "two out of three ain't bad" and I was already 50% up on that. Thinking on, I slept soundly.
Day 2 - the Stelvio
We woke to clear blue skies and bright sunshine, the mountains towering majestically over Bormio. After the damp squib of the previous day, we needed something special so, not pausing for thought, we shovelled in breakfast, slipped into lycra and set off on the 25km climb of the Stelvio. Despite the sunny skies, it was still chilly but climbing generated enough heat for short sleeves and shorts to be suitable (thankfully). Having reconned the course, I knew that I was in for a long day so settled into bottom gear and pedalled on. As always on these sorts of climbs, the gear felt ridiculously easy but I knew that the secret was to settle into a slow, steady rhythm. I initially felt ok but soon my legs started to feel wooden, a sensation that lasted for a good hour, going from balsa at first to a aromatic later (possibly cherry?). After climbing for an hour I was nowhere near the snow line and, with only my ragged breathing for company, my mind started to wander (if I'd thought about the 38 numbered hairpins I'd have given up there and then – still, it could have been worse as the North side has 10 more). I must have attained a higher state of conciousness as I remember almost nothing for about 40 minutes but when I did snap to I found myself gazing at my belly and ruminating that bibshorts are wonderfully forgiving to an expanding waistline. Then the snow line wa reached and it was impossible not to marvel at the clean, clear tarmac trimmed by 40cm of thick, crystalline, blindingly white snow – none of the grey slush that you see so often in the UK. Eventually, after just over 2 hours I reached the top, donned some extra clothes and sat on the wall, basking in the sun.
My Mate Dave appeared shortly and we contemplated the descent back to the hotel. I had been dreading this and it turned out to be everything that I had feared it would be. By the second hairpin from the top I had a death grip on the bars, by the 4th the brake levers were touching the bartape and I was touching cloth (some feat with tightly clenched buttocks – I'm sure that my arse muscles went into spasm at one point as, despite eating huge quantities, I was unable to do a No. 2 for 3 full days and even then all I managed to nip out was something the size, and colour, of a slim Panatella). I limped slowly down, reaching the hotel after about an hour of sheer hell, with wrists and elbows sore as if from a frenzied bout of self love of considerable duration (but both elbows?). My cowardice only emphasised by the amateur record of 1 hour 16. For the ascent. Still, we had knocked the bugger off, the Cima Coppi of this years Giro (the highest climb each year is named the Cima Coppi) and celebrated with a beer and far, far too much good food.
Before turning in, My Mate Dave, a senior research physicist, thought it would help to calculate how many calories we'd burned on the ascent. Armed with my weight, the height gained and the nutritional information from the back of a packet of biscotti for calibration, My Mate Dave estimated that I had used 36 calories during the climb. I must admit to disappointment as I think I've used more during an afternoon nap but you can't argue with science. This weight loss lark was looking like it might be a bit harder than I'd thought.
Day 3 - Bormio 2000
But how to follow up climbing one of the great passes with snow lining the route? I was a bit weary so we spoke to the hotel owner about some modest options. He suggested Bormio 2000, a local ski station that, as it's name suggested, was at 2,000m. Apparently it was a shallow 5% gradient so an ideal recovery ride. Well it sounded it anyway but when we reached the base at 1,200m and saw a sign saying 8 km to go I wasn't so sure. The previous nights mental mathematics had left me numerically fragile but this sounded awfully like a 10% gradient to my mind. And so it proved. After 45 minutes of grunting effort, I reached the café at the top to meet some older British chaps who were having a smashing time and told me "you must do the Gavia, the descent is amazing". I appreciated their enthusiasm but the climb had left my hamstrings singing (sounded quite like Enya, funnily enough) – bugger this for a lark, I wasn't going to last three days never mind a week. I slunk back down, pausing only to puncture at the bottom. Fitting a spare tube, I limped back to the hotel and repaired the offending rimtape with some strips of sticking plaster. Mentally, I was already in tatters so I did the only think you can do in a crisis – I took to wine. The evening is a hazy memory but I do recall opining loudly that "the Mortirolo doesn't sound so hard". After that, it's all darkness.
Day 4 - the Mortirolo
It's a holiday so why am I being shaken awake? I opened my eyes slowly to see My Mate Dave's grinning face – apparently I'd pledged to ride the Mortirolo and agreed that if he could offer vehicular support then I'd be really grateful. Oh shit, I'd given it all the lemon last night and couldn't back out now. Like a dead man walking, I headed to breakfast, pausing to speak to the cheery Dutch couple who told me "you must do the Gavia, it's amazing". Smiling weakly, I shuffled to my table and ate an apricot croissant that stuck in my dry craw. Still, the shame of not living up to my boasting was surely worse than the pain of the climb which, however bad, would only be temporary. May as well look at the climb profile on the hotel noticeboard before I left. What I read bought out a cold sweat – 12 km long and maximum gradient of 22%. However it was the narrative that really gave me palpitations "The Mortirolo is considered to be the toughest mountain one can climb in Italy and many professional cyclers consider it as the most difficult mountain to be climbed in any of the three major tours. Lucho Herrera (1991) referred to Mortirolo as being the "Queen climb of Europe" and Lance Armstrong referred to it as the hardest climb he'd ever ridden." Oh shit indeed.
Wobbling off from the hotel, I feared that I had definitely bitten off more than I could chew but hoped that my empty legs would warm up on the 16km descent to the base of the climb. Unfortunately they hadn't by the time I was about 5 km away but I was distracted from my glumness by two cyclists coming the other way who flagged me down - "do you know where the Mortirolo is?" came in unmistakedly Belgian English. Suddenly my casual arrogance flooded back and I told them that I was on my way to the Passo del Foppa (AKA the Mortirolo) and they were welcome to tag along. Tom, the younger chap, fell in alongside me and we chatted while his slightly older, enigmatic companion rode slightly ahead. Tom confided, in a whisper, that we were riding with Fons de Wolf (look him up on Wikipedia) but asked me not to make mention. Riding with a Tour de Framce stage winner, I was charged with adrenalin and set far too fast a pace at the start of the climb. By this time we were all chatting happily (ok, I was gasping out a response and, occassionally, simply grunting agreement) when Fons asked "what bottom gear do you have?". "36x28" I replied to which he responded "well, if you can't get up this with a 28 then you may as well get an electric bike". Fearing that he may be right, I switched the conversation on to our bikes – we were all on Merckx, my SLX up against Fons' aluminium Merckx and Tom's carbon Merckx – and agreed that it wasn't the bike that mattered but the legs. Then Fons dropped the "how old are you?" bombshell – I was giving away 10 years. I suggested that it's wasn't age so much as weight that counted and, looking me up and down, he agreed. Effortlessly we climbed on – ok, so it was effortful for me – but, finally, rational thinking trumped my vanity and I bade then farewell. The rest of the climb was as tough as I feared but it was also absolutely beautiful, shaded with pine trees and passing through several tiny hamlets. Best of all, in the whole climb I saw one car. In total.
I was chuffed to get to the top, even more so when I was there before My Mate Dave in the car. Knacked but satisfied, I chucked the bike in the back and we thought we'd have a look at the Gavia.
The Gavia probably is most famous for Andy Hampsten's ride through the snow in 1988 which effectively won him the Giro. His account of the day is equally epic, particularly when he mentions running his hand through his hair (this was the pre-helmet days) and a snowball rolling down his back.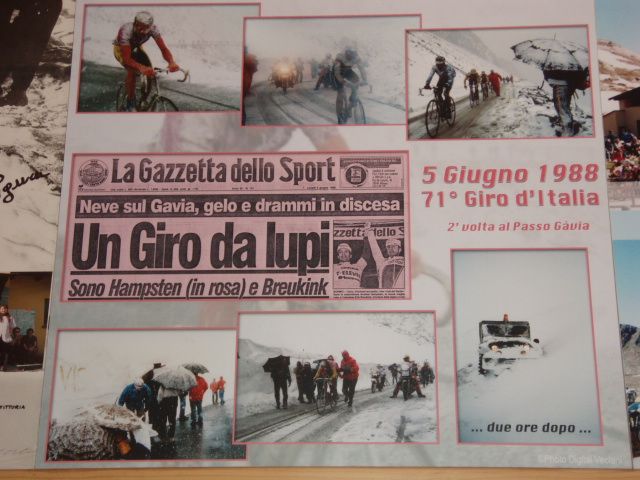 So the Gavia clearly had to be on our list and, rolling along the valley trunk road, still beaming from the Mortirolo, I was pretty sanguine about climbing it. That was before we started the ascent in the car from Ponte di Legno. The summit may be 'only' 2,621 m but the road was single lane narrow, rough and with a sheer, barrierless drop to one side. My Mate Dave was unusually quiet so I glanced across – white knuckles gripped the steering wheel and was that a bead of sweat on his upper lip? Reaching the top I realised that there was no way I could ride this climb because there was simply no way that I could descend. The rest of the day felt less like a celebration of conquering the Mortirolo and more like sadness for failure still to come.
Day 5 - the 'recovery' ride
We both decided that an easy recovery ride was needed – that'll be 1,000m of snaking, winding climb in stifling heat then. I somehow managed to avoid ejecting my insides via my saddle and instead focused on the metronomic drip, drip, drip of my sweat from the tips of the 7400 aero levers (another 'bonus' of being mittless was that there was nothing to soak up sweat – fortunately I was running white bartape that was beigeing up by the day). Feeling slightly unusual – the heat? The lack of a water bottle? Non-specific oddness? - we stopped for lunch. What followed may be a dehydrated mirage but, well inside Italy, we appeared to have stopped somewhere that only catered for German and Spanish speakers (we speak neither). Via some increasingly animated mime we made our order and received the following – 1 green leaf salad, 29 deep fried cheese balls, 1 small beer, 1 slice of dry cake. Between two. Still, looking at the photos of my sweat encrusted shorts and spittle flecked lips I reckon we were lucky to get anything at all.
Totally unrefreshed we wobbled home.
I'd continued to read the Coppi book – I was interspersing it with other books to try to keep it fresh – and that evening stumbled across reference to the Madonna del Ghisallo. I remembered this tiny shrine to cycling from the Rob Penn 'It's All About The Bike' documentary and mooted that we should go. The satnav was consulted, it was only 2 hours drive to Lake Como, an adventure for the following day was on and 'sod you' to the Gavia (AKA The Nemesis).
Day 6 - Madonna del Ghisallo
Bikes slung in the boot, satnav primed, iPod switched to shuffle (first two up – Young MC's 'Know How' and Johnny Cash's 'Hurt') we headed for Lake Como in bright sunshine. I'm often unimpressed by places that are generally raved about (without doubt unrealistic expectation) but as Lake Como came into view I was completely taken aback – the clear blue sky and warm sunshine definitely helped but there was no two ways about it, this was every bit as good as I'd been told/read. We quickly unloaded the bikes and caught the ferry across from Veranna to Bellagio. The azure water sparked and the beautiful estates with gardens right down to the lake reminded me of 'Casino Royale', Eva Green and all (I'll add that after many consecutive days riding in warm temperatures, I felt that, like Daniel Craig, my balls had been flayed by wet, knotted rope). Once in Bellagio we started on the 15-20% climb up to the Madonna del Ghisallo in 30C and it was here that My Mate Dave handed me my arse, climbing effortlessly away in the shimmering heat. As I toiled, mentally hammering myself with that wet rope, the stunning lake views were cold comfort, in fact the heat rash in my shorts was too much to endure. Stopping at a quiet, shady hairpin I crouched down and began rummaging in my bibshorts to try to alleviate the itching and restore some feeling. I finally hit the spot and closed my eyes in bliss. How many moments passed I'll never know but I was snapped out of my reverie by the highpitched whine of a Fiat 500 and opened my eyes to see the horrified faces of a lovely Italian family as the mother vainly tried to shield the eyes of her nubile teenage daughters. I can only apologise and hope that they don't track me down via my Retrobike shorts.
This was all quickly forgotten however as the tiny church of the Madonna del Ghisallo was absolutely amazing – yellow and World Champions jerseys from Indurain, Coppi, Bartali, Hinault, Merckx, Saronni, Bugno, Casartelli, Moser, Motta etc.
There were also bikes hanging high up, including Fabio Casartelli's Caloi from his fatal crash on the Portet d'Aspet in the 1995 Tour. It looked absolutely fine until I noticed the forks. A really sobering moment.
I knew that I needed to leave my mark at the church and, although there was a guestbook, somehow a written record would not be enough on it's own. Given my recent rummaging the answer appeared obvious, perhaps would give me an alibi even if I knew that the reputation of the
carbinieri
meant that I wouldn't expect a knock at the door anytime soon (face it, 'CSI Milan' isn't exactly a worldwide hit). Choosing my moment carefully, I did what I had to do and exited, blinking, into the sunshine.
After visiting the attached museum – we got a discount for having cycled there – we sat on the grass and chatted to some fit looking Dutch guys who had arrived just before us. They had also been in Bormio and told us "you must do the Gavia" - damn, would this bloody climb please stop haunting me? The day now ruined, we descended back down to the shores of Lake Como on steep, crenellated roads. My downhill skills were well in display on the tight hairpins – I was completely rigid but not in a way that would fill a middle aged man with almost youthful pride. Somehow we managed not to take the same road down that we had climbed and soon found ourselves riding through narrow, cobbled, pedestrian filled alleyways. Now in the UK we'd have got, and deserved, some well aimed volleys of abuse. But in Bellagio, there was no of that, people just neatly, moving over as we picked our way carefully down – I like to think that it was out of respect for the Corsa Extra but then I like to think many things that are patently untrue.
An almost perfect day out – the Gavia was still hovering - was completed by a gelato by the lake as we waited for the ferry. Bliss.
Day 7 - the Nemesis
It was no good. I'd delayed. I'd made poor excuses. But it looked like I was going to pay for all my cycling hubris on one narrow strip of tarmac in the Italian Alps. In 'Snatch', Alan Ford described a nemesis as "a righteous infliction of retribution manifested by an appropriate agent". I wasn't sure if 'an appropriate agent' could be inanimate but there was no doubt that the descent of the Gavia was going to sort be out properly – with only two full days left it was time to finally man up.
The climb of the Gavia, once the initial wide lower slopes were bested, was almost pleasant – tree lined, quiet and with occassional lessening of gradient allowing you to push on/catch your breath as appropriate.
All too soon, I was at the top and sitting quietly looking at the lake, trying to not think about what was to come.
It was no good, may as well get it over with. Now, I am not a big fan of using an iPod on the road. But this was desperate and, if it had worked for Gianni Bugno, I was willing to try anything. Did it help? I really don't know, but at least I am alive to tell the tale and returning to the hotel I fell asleep with nervous exhaustion in all my kit.
Waking at 5 p.m., I was berated by My Mate Dave for having had an easy day – he challenged me to ride up Bormio 2000 before dinner. I accepted the challenge before realising that in my just woken haze I'd been tricked – I'd be climbing alone. Muttering darkly, I adjusted the straps on my bibshorts and headed off, solo, for another 800m of ascent to notch up my first solid 2,000m plus day. The climb wasn't my finest moment on a bike and the descent is best glossed over. The sense that I had been tricked strengthened when, over a limoncello later that evening, My Mate Dave suggested that we should finish the trip with the way we had started – an ascent of the Stelvio (but not in car). Bugger.
Day 8 - the Stelvio II
Ok, ok, once more up the Stelvio. But my ever fragile descending confidence was completely shot – I'd gone to the well once too often and couldn't even contemplate 38 hairpins downhill. My Mate Dave had already thought I might try to use this as a flimsy excuse to stay at the hotel drinking red wine and he had a solution – he head off early, I give an hour or so start, he'd descend as I was still climbing and come back for me in the car. I couldn't find any chinks in his reasoning so had to accept. Double bugger.
After a week I should have been getting some form but it felt like the opposite - as I ground slowly up the mountain I was surely slower, much slower, than the previous Sunday. Barely being able to lift a hand in acknowledgement as My Mate Dave descended past only seemed to confirm this so I was pleasantly surprised when I got to the top in 5 minutes over 2 hours, almost exactly the same time that I'd taken before. The snow may have been gone but, sitting in warm sunshine sipping a well earned wheat beer, it was just as spectacular.
And that's about it for a really special trip, one I'd recommend to anyone. There are a couple of postscripts though, the first when we drove back to Milan, rounded a corner and again saw the beautiful working girl by the same cornfield. The temptation to use up our remaining euros in a less altruistic way than popping them in a charity bucket at the airport was strong but we had a plane to catch so, with a wistful glance in the rear view, we sped on. The second occurred when we arrived back at the airport parking in Birmingham – the same weighing scales. I was tempted to snub them – eating great food and drinking quality wine for over a week while burning up no more than 40 calories a day didn't look anything like a sound weigh loss programme – but, spurred on by a last opportunity for self-contempt, I boldly stepped aboard. And stared at the digital read out with incredulity – 100.5 kg! Ignoring My Mate Dave's comments about calibration and reliability of commercially available weigh stations I punched the air. Now, if I can only arrange not to work ever again and ride an average of 1,500m vertical ascent a day, I've got this weight management lark cracked.....