I bought this as a frameset last year as I have always had a hankering for a Tommasini and suspected it might be a special order frame for a team or something.
It has Tommasini pantographs on the fork, BB and seat lug, so definitely a Tecno Tig (the Tommasini logo on the top tube is just a bit of packing tape I put on as a joke, it has the same logo as the seat and downtubes...)
A bit of digging and if that were the case it might have been made for a Roslotto ZG rider in 1996, as Maurizio Fondriest both rode for an sponsored them that year-other notable riders being Ferrigato, Fincato, Gontchenkov, Pascal, Savoldelli, Sgnaolin, Sivakov, and Ugrumov.
That said, I've trawled the archives and can't see an image with this exact paint scheme apart from a TT bike that was ridden at the Olympics that year, so I guess it could have been something related to that too.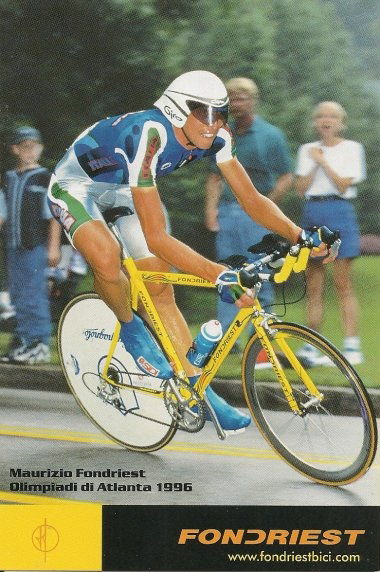 I also emailed Tommasini but apparently Irio is keeping a low profile these days because of the pandemic.
That said, maybe it's just been refinished and should be restored with Tommasini clothing again?
It's a lovely frame at any rate, and currently have a 10spd Chorus group, Record carbon cranks and Atlanta '96 wheels on it.