Having never owned a Marin in all my years I chanced upon this up for sale locally and from the initial photos, looked in surprisingly good condition and quite fancied it. A few messages where exchanged and I arranged to view it and see if it was all it was cracked up to be..... well I wasn't disappointed. A very original low use example in fantastic condition so a price was agreed and the purchase was made. The current owner had kept on top of it during his ownership but admitted to having not used it much. He had purchased it from a friend whose son had bought it new back in the day but had out grown it pretty quickly so ended up being sat under a sheet in his garage for 20 years unused......!
The current owner was making room in the garage as his son had bought a new 29er full suss and wasn't happy how much room it was taking up so the Bear Valley had to go...
I couldn't wait to get it home and give it a proper check over and see if it really was as good as it looked and wasted no time in starting to strip it down and give it a service........
So we have a 1994 15.5" (c-c) Marin Bear Valley SE with Special Edition STX groupset, original Marin saddle in great condition, original Marin Lite tyres again in great condition with no perishing of the rubber and bags of tread left and the original foam grips very much intact, finished off with Marin Lite bars, stem and seat post. So really apart from needing to sort a few cables out and the only visible wear to the frame was some worn/missing decals on the top tube and some very light cable rub it checked out really well.
On with the strip down.....
Removed the forks and on initial inspection the headset bearings were sweet as but a clean and fresh grease to keep things going nicely was the order of the day.....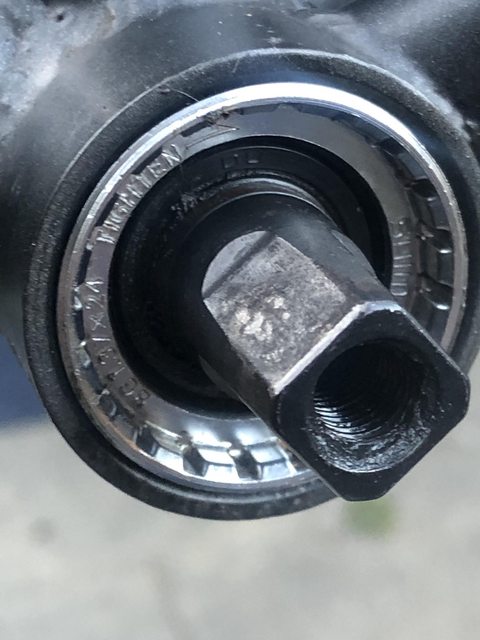 Next was to check out the hubs..... they didn't disappoint either, I mean, check out the cones..... drive side rear like new too
Again all cleaned and re-greased with the hubs now running buttery smooth.
The only thing I was a little concerned about was after taking a few measurements that the front might be a little short in terms of reach for me so the stock stem might need to go a longer stem instead. You can imagine how chuffed I was and when after a little search online I managed to find this.......
A nice NOS Marin Lite stem exactly matching the original but now in a more favourable 135mm length
Also wasn't too keen that the original Marin Lite 560mm bars had been trimmed down somewhat and were a bit too narrow for my liking and scored again online with some more Marin Lite goodness..... Another like for like match for the bars so I was happy with that, NOS 560mm Marin Lite bars
More updates to follow.......