Done a bit of work on the frame
Fitted some Junior T's they're OK but I really wanted some Boxxers, Alain yours would have been perfect but I aint got sufficient funds at the moment.
So here's what I've done today
Fitted Hope Headset and the forks. Put the forks on mainly to see what the geometry looked like. They need a little bit of work to get them up to the standard I want. The Stanchions are mint with 170mm travel. The lowers are Matt Black and don't (in my opinion) really suit the frame so I'm contemplating getting them powder coated in either gloss red or black with new decals. I can get them powder coated for £20 and decals are only a few quid extra.
The handlebars are modern, currently £14.99 on sale at CRC reduced from £49.99. They're carbon wrap not full fibre. Not ideal and not what I was really after but they will do for the moment. That Hope Headset was a real bugger to fit. My headset press just wouldn't cut it so I had to resort to tapping the last couple of mm in with a nice bit of wood and a mallet.
Top crown isn't positioned right yet. Little bit higher and reposition the spacers.
The stem is an Azonic Equalizer, not too sure of it yet and might go for a polished Shorty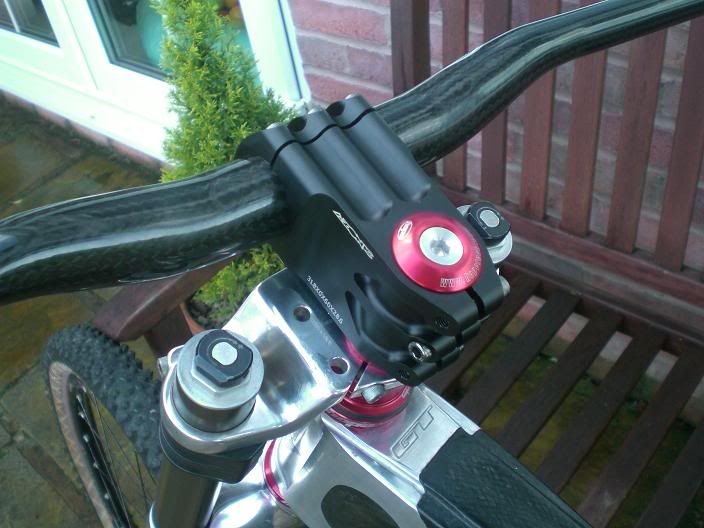 The forks really lift the front of the bike and the Lobo look like it should.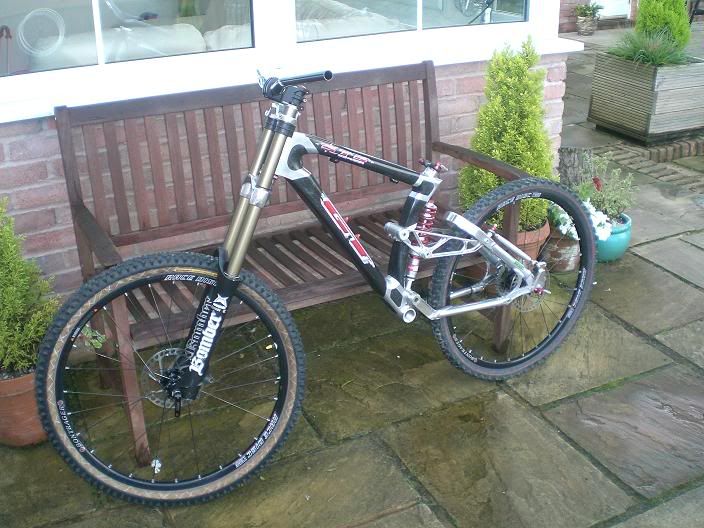 There is still a lot of work to do, my main concerns are is the bottom bracket and a Chainring for my AC Cranks. Really concerned about the axle length in order to get a correct chain line.
I've also now decided to go for a MRP Chain Device with top and bottom rollers. Haven't sourced one yet so if you've got one in good condition and at a reasonable price get in touch.
The rear mech is a M960 just arrived today here's a pic. It's used but in pretty good condition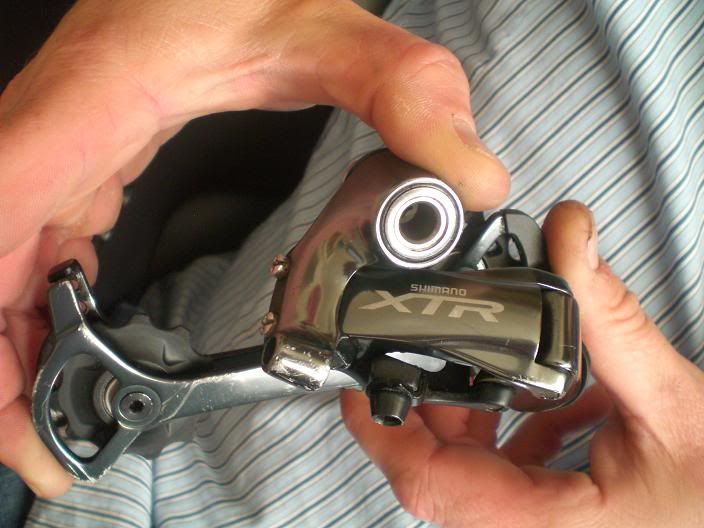 This is what I'm still trying to source and any help would be appreciated.
Shimano XTR RH Rear Shifter
Suitable Chainring 5 Bolt 110 BCD
MRP Chain Retention Device
Shimano Bottom Bracket BB-M950
I will be getting some Hope wheels , not sure what rims other than they've got to be black. Going to be running 203mm Rotors on the front and 160mm on the rear, Currently got a set of Bontrager Race Disc Tubeless on them which will do for the moment.
So that's it, bit of an update so what do you think?
Here's a pic of the Lobo alongside it's little brother my LTS-DS