OK I've procrastinated long enough. If I don't start this thread then the bike might just sit in my garage forever. If I go public then people will bug me every once and awhile to complete the project... or at least post updates.
For those not familiar with RekTek i've started an "all things RekTek" thread here.
http://www.retrobike.co.uk/forum/viewtopic.php?t=142614
Without too much fanfare here's the bike as it appeared shortly after I first bought it.
It briefly went through a purple 3DV stage in the early 90's. If I ever dig up some pictures from then I'll be sure to post them.
It then went through a rather long hibernation period after I fell in love with my Merlin.... which adopted all the purple 3DV parts... but that is for another thread.
It then was pressed into service as a daily commuter bike for my wife. She lowered the seatpost so often that the poor ole Syncros seatpost is looking pretty ragged. I'll post some pictures later.
This thread is about restoring this RekTek frame to a early 90's Syncros/Shimano be-decked glory.
This is my inspiration:
PARTS LIST - UPDATED 2012-02-27
Frame: RekTek
Year: 1989
Size: 19" according to Chris DeKerf
Fork: Syncros SVI Composite
Headset: Chris King Sotto Voce
Stem: Syncros Cattleprod 1"
Handlebar: Syncros Gorilla Shotgun Bar
Grips: Grab-On II
Barends: Syncros Steerhorns
Front Brakes: McMahon Linear Decelerators
Rear Brakes: McMahon Scissor U-Brakes
Brake Pads: Kool Stop
Brake Cables: JagWire Ripcord
Cantilever cable hangers: some cool little job that came with the decelerators
Brake Levers: Diacompe SS-5
Shifters: Shimano XT 7spd thumbies
Front Derailleur: Shimano M736 top pull
Rear Derailleur: Shimano M735 shortcage
Derailleur Cables: JagWire Ripcord
Cassette: Shimano HG90 7spd 11-28
Chain: SRAM PC-890
Cranks: Syncros Revolutions Compact
Crank Bolts: looking for some
Chainrings: Syncros
Chainring bolts:
Bottom Bracket: Shimano UN-blahblahblah (looking fro older Syncros BB ~117mm)
Pedals: Shimano XT flats (M735, M731 of some variety)
Hub Skewers: 1st generation Mavic Crossmax
Rims: 1st generation Mavic Crossmax
Hubs: 1st generation Mavic Crossmax
Nipples: 1st generation Mavic Crossmax
Spokes: 1st generation Mavic Crossmax
Tyres: Ritchey Z-Max Pro Evolution 2.1" (new reissued gum walls from Jeff at mombat)
Tubes: whatever I can find that doesn't have more than 7 patches
Saddle: Selle Italia Turbo
Seatpost: Syncros 27.0 330mm Propost (old style)
Seatpost Binder: Odyssey Ti
Weight: ? seems pretty heavy compared to my Merlin, but it looks wicked pissa.
This is the frame: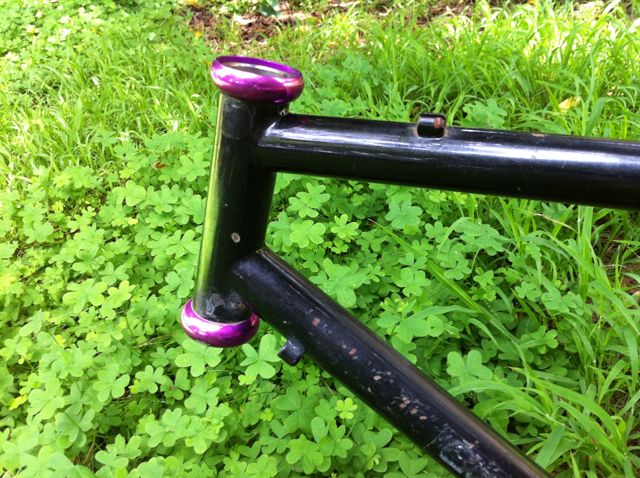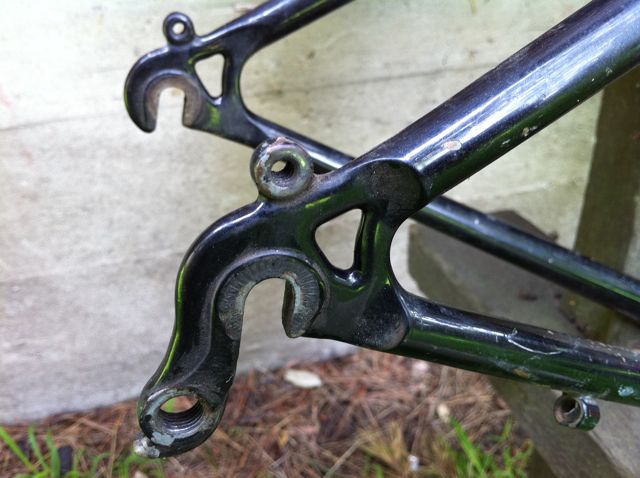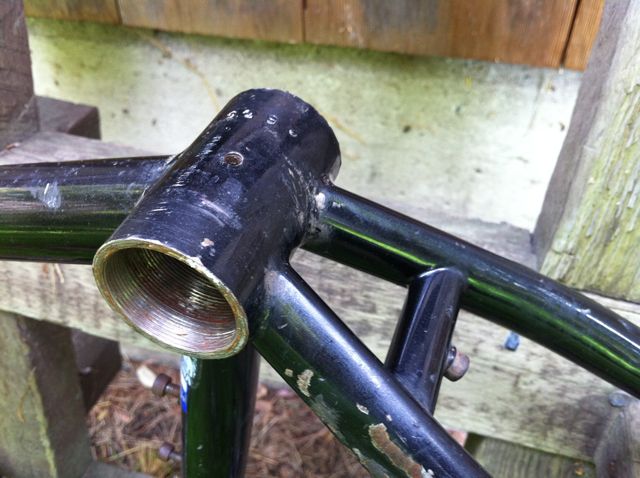 The first step will be to get it painted. Now since this frame was welded up by Chris DeKerf when he worked at Rocky Mountain back in the late 80's I thought it only fitting to send it back to Chris to have the dents filled along with a quality respray. I am thinking about having the derailleur cable guides moved from the underside of the downtube to the toptube. Chris can do these modifications, but I don't want to commit to this until I can source a Shimano XT M736 top pull derailleur.
So that's where it stands now. I wouldn't hold your breath for any updates, but at least I've begun the 12 step program and admitted I have a problem. Now you fellow junkies gotta help me complete this project.
Cheers.