Hi all,
Well managed to pick this up a few months ago. The idea being it will go out to Spain to my parents place so I don't have to keep taking bikes on the plane and make a nice winter ride before I next go out there myself. A few small changes were already planned to minimise maintanence but when the bike got here it was more used than had been described, so decided to rebuild with mainly modern parts rather than keep the bike as it was.
The day I picked it up... (excuse the b/ends)
Brakes were the wrong way round for me and the rear shock spring was for a far heavier rider than myself so I knew they'd be changed but then managed to get hold of a Lefty (new) for reasonable money so sadly mean't the Spinergy Disc wheels are now in the loft for the time being.... Anyway, mainly stripped down with Lefty and new wheels:
A selection of parts to go on (sorry, not much retro excitement here):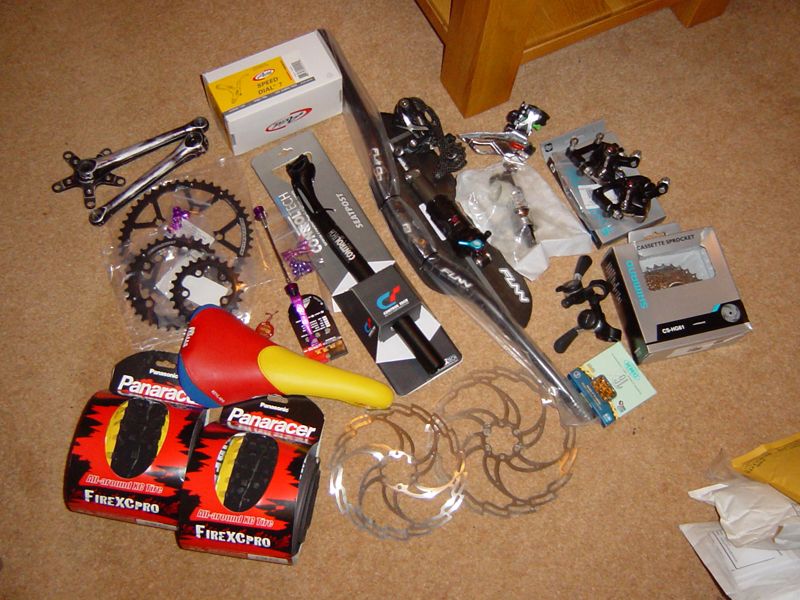 And as it stands as of today:
Should be built in a week or so once I've finished repainting the Topline cranks (black) and got cables sorted. Will post spec once finished also.
Thanks for looking.
Alex.
_________________
1998 Klein Mantra Race
viewtopic.php?t=113556
1994 Mtn Cycle San Andreas
viewtopic.php?p=987093#987093
2000 Cannondale Raven 2
viewtopic.php?p=940782#940782
1992 FUNK Pro-Comp
viewtopic.php?p=1145594#1145594
2005 Turner 5 Spot
viewtopic.php?t=162815
2012 Titus El Guapo V3
viewtopic.php?t=