So the story continues ...
To upgrade my 1996 Cinder Cone, I had bought a 1995 Rock Shox Quadra 21R fork of the eBay. This fork was still in a very good condition, the lacquer is in an almost perfect condition and the micro-cellular urethane, MCU, suspension parts are also still in good condition. The fork had a threaded steerer tube and came with a black no-name threaded headset in good condition.
Unfortunately the steerer tube was too short, so it kept unemployed in the shed.
When I got the 1997 Cinder Cone I took the Quadra fork out of the box again and measured the steerer tube and the frame. It was a match!
If only I had an other quill stem laying around...
I also bought a Rock Shox Judy XC with an unthreaded steerer tube with sufficient length to fit on my 18" Cinder Cone. This fork however needed restoration. When I restored the fork, using an new damper with spring kit, I could mount the fork. This meant that my Project 2 had to give way for the Judy and that I had an unoccupied quill stem. The Judy must be mounted with an a-head set and stem.
So, I had the fork, I had a nice black headset and I had a quill stem. So the Quadra was mounted on the frame. That is nice. The colour of the fork matches the pretty bad chipped blue colour of the frame. I also mounted the seatpost and saddle from my other Cinder Cone. The saddle is a Vetta TT Transferse limited edition in blue with a heart and barbed wire embroidered, really cool. The saddle even has a yellow tip. The match was perfect.
I took the bike out on a ride during a snow storm and took a picture.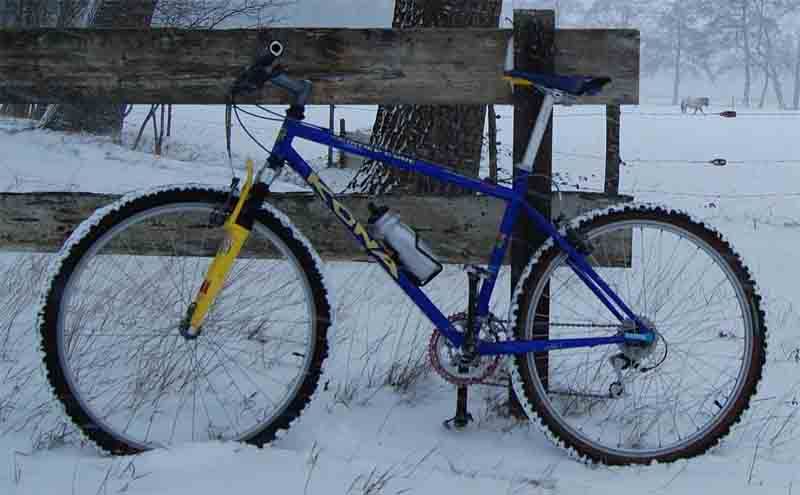 The wheels are not the proper ones, but was ridable.
In the mean time I have mounted the black Bontrager wheels and a black Kona post and black Flite saddle I bought here from user mayco. After that I mounted the short Onza bar ends I bought here from user locketirol. Thanks guys! I also acquired and mounted a matching XTR front and rear derailleur. The bike looks really cool in blue and black with touches of gray. It is a bit stealthy. I couldn't take any pictures of it yet, the weather wasn't that good lately.
When the son comes shining through I will take some pictures and post them.
Now I have a nice "new" bike, but I have another dilemma. I think the original blue with yellow decals suit the bike well and the yellow Quadra fork is a really nice match. But I my girlfriend wants the bike to have a nice light blue colour. The example of how the bike eventually might look is this photo.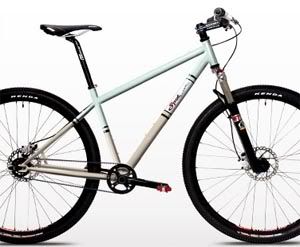 The problem is that the yellow Quadra will not math the light blue I think and I don't want to respray the fork. So back to the rigid gunmetal gray Project 2 perhaps?
The specs so far are:
Frame: Kona Cinder Cone, 1997
Fork: Rock Shox Quadra 21R, 1995
Headset: unknown, black threaded
Stem: Kona Velocity, 1996
Handlebar: Kona Race Light, 1996
Grips: Lizard Skins, aprox. 1997
Barends: Onza Short, 199?
Brakes: Shimano XTR BR-M951, 1999
Brake Pads: Shimano XTR
Brake Cables: Shimano XTR
Cantilever cable hangers: none
Brake Levers: Shimano XTR BL-M950, 1999
Shifters: Shimano XTR ST-M952 Rappidfire, 1999
Front Derailleur: Shimano XTR FD-M952 28,6mm top pull, 1999
Rear Derailleur: Shimano XTR RD-M952 long cage, 1999
Derailleur Cables: unbranded
Cassette: SRAM 9 Speed Powerglide
Chain: SRAM
Cranks: Shimano Deore LX FC-M563, 1996
Crank Bolts: unknown
Chainrings: Stronglight and other
Chainring bolts: unknown
Bottom Bracket: Shimano LP-26, 1997
Pedals: Ritchey Logic SPD, silver, 1999?
Hub Skewers: CODA, 199?
Rims: Bontrager Superstock wheelset, 199?
Hubs:
Nipples:
Spokes:
Tyres: CORDO CRD-Rocker
Tubes: unknown
Saddle: Sella Italia Flite, 199?
Seatpost: Kona Thumbs, black (by Tahoma?), year unknown
Seatpost Binder: Kona, 1997
Weight: unknown, but not very light
I will keep you updated on the build.
Aaldert