So, my zesty definately arrived, but i've been using my pahoe' for a lot of commuting and a bit of local stuff. Also it's been awesome to ride in the snow!
Changed a few bits here and there. saddle, stem, now fully 9 speed. am definately keeping the old girl now, been loving riding her sweet ass around.
The new riding postion with the lower & longer stem suits my gangly frame a lot better than the original upright position.
Frame: 1998.5 Kona Pahoehoe, Taper-Butted Easton Elite 7005 - 19"
Fork: Marzocchi MX Comp 2006.
Headset: Hope (Gunsmoke)
Stem: Thomson Elite X4 110mm 0deg
Handlebar: FSA Gravity
Grips: Sunline Logo
Brakes: Shimano LX V-Brakes from c'01
Brake Levers: Avid SD 1.9L (original to bike)
Brake Cables - Avid Flak Jacket
Shifters: Shimano XT M770
Front Derailleur: Shimano SLX
Rear Derailleur: Shimano SLX
Cassette: Shimano XT M770 9-Speed
Chain: Shimano XT HG93
Cranks: Shimano SLX
Chainrings: SLX
Chainring bolts: SLX
Bottom Bracket: Shimano SLX
Pedals: Shimano DX MX30
Front Wheel
Hub Skewer: Outland
Rims: Mavic X221
Hubs: Kona "Javva The Hub" (original to bike)
Nipples: Tweakable
Spokes: DT
Rear Wheel
Hub Skewer: Shimano M505
Rims: Shimano M505
Hubs: Shimano M505
Nipples: Shimano M505
Spokes: Shimano M505
Tyres: Maxxis Advantage 2.35
Saddle: Charge Spoon Titanium (Brown)
Seatpost: Blackspire Freeride
Seatpost Binder: Hope Gunsmoke QR
Chainstay Protector - Section of ridiculously old Ritchey tyre from BITD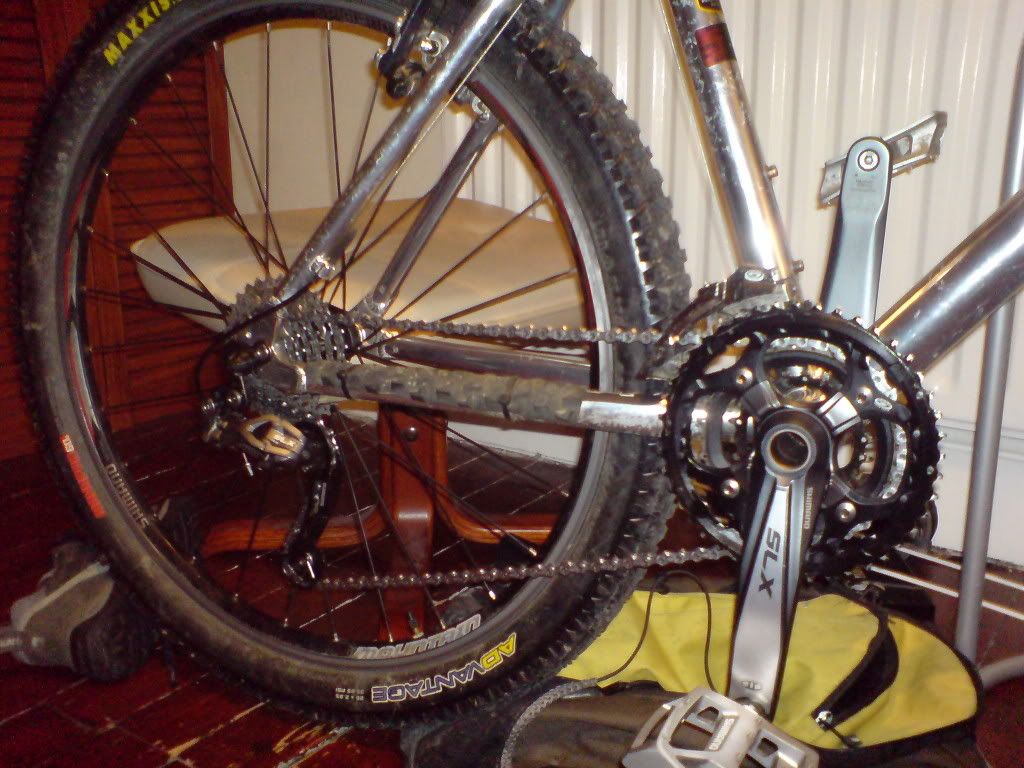 The below pics are from a very muddy local ride i did with a mate last weds.
They also show the light i got recently from this website. Just like a lupine tesla 4, but £50 instead of £275! I'm sure there's been many forum debates on these, but i'll see how it goes!