This is the second Kwak that I've bought. I went on a find-one mission after finding a review of one quite by chance in a motorbike magazine, strange I know!
http://www.retrobike.co.uk/forum/viewtopic.php?t=118539
I got a green one in 19"
http://www.retrobike.co.uk/forum/viewtopic.php?t=118605
which turned out to be a bit of a problem child and I'm still not sure if it is a keeper. If I can bring myself to get rid then I'll look slightly less obsessive! But the one I really wanted which was in "Metaldust black" eluded me. Then I found this one last year in 17".
I had my second Retrobike ride on it yesterday, for the Kinder Scout ride, here is a picture curtesy of Marc Two Tone
.
This is a 1995 model, as it's got that years slightly different STX rear gear changer.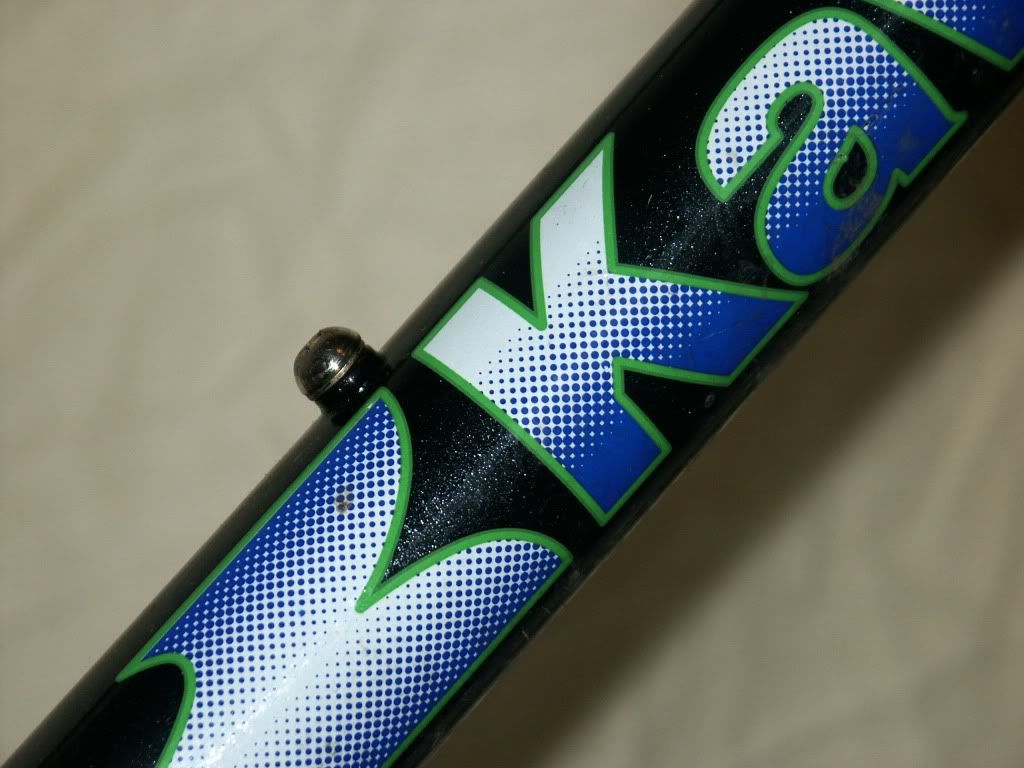 Tange plain gauge tubing and Tom Ritchey dropouts were standard, a world away from the Bicycle Shaped Objects that Kawasaki has licenced their name to these days.
Spec sheet for your perusal, [Brackets are for changes I've made]:
SPECS
Frame: Tange plain gauge Chromalloy steel, Ritchey dropouts, gear cable routing via top tube and seat tube/ seat stay.
Fork: RST 400 elastomer suspension fork.
Headset: Dia-Compe 1, 1/8th"
Stem: Kawasaki branded one bolt [hidden] aheadset style, possibly rebranded Zoom item [Now a shorter two bolt Saracen jobby]
Handlebar: Aluminium
Grips: SRAM gripshift 300i 32 tooth cog.
Brakes: Shimano STX RC cantilever.
Brake Pads: Shimano M system [Fibrax cartridge blocks, black compound].
Brake Cables: Not known
Cantilever cable hangers: cast aluminium fork brace/ cantilever mount [front]
"Marin Afterburner" style crescent tube above seat stay brace [rear]
Brake Levers: Dia-Compe SS4
Shifters: SRAM Gripshifters
Front Derailleur: Shimano STX
Rear Derailleur: Shimano STX
Derailleur Cables: routed via top tube and seat tube/ seat stay [Fibrax Pro-Performace sealed kit].
Cassette: 7 speed Shimano
Chain:Not known
Cranks: Shimano STX
Crank Bolts: Allenhead
Chainrings: Shimano STX
Chainring bolts: Allenhead
Bottom Bracket: Sealed unit
Pedals: Steel and resin, missing their original toe clips.
Hub Skewers: Sovos [Front], Shimano [Back]
Rims: Araya VP20
Hubs: Sovos [Front],
Shimano STX Parallax [Rear]
Nipples:
Spokes: 36, look like stainless
Tyres: Maxxis Cobra rear, Maxxis Viper front [Thought to be original].
Tubes:26" Shraeder
Saddle: "Kawasaki" branded cover, Velo base [Now a more ergonomic modern Kawasaki jobby, probably from a BSO though].
Seatpost: Aluminium microadjustable Kalloy.
Seatpost Binder: Rubber sheathed Q.R wire skewer
Weight: ?