Hi,
I have only ever had one bike at a time, and while at Uni and for 10 years in total, this was an old '96 Marin Palisades Trail that I got from my Uncle, who used it to sway to and from the pub.... I used to have a real retro one when I was at school, the 1991 grey and bright yellow one….Tange…. So sweet.
Anyway, the Marin being slate/matte grey, was slowly upgraded over time for that stealthy look, with suitable coloured componentry, such as XTR hubs/ceramic x517s and DT black spokes, XTR M950 V's, XT drive and a set of Kona P2's / Marz Z2 Atom's, until a) someone pulled out on me and cracked the head tube (didn't realise at the time, DOH!!!), and b) I got into jumping and rode a Specialized cruiser that I built into a dirt/jump bike before the fashion for 24" DMR type MTB's took off.
Anyway, having hankered for a steel Kona all my life, I found a 2000 Hahanna frame only, locally for a tenner, and replaced all the bits from the Marin. All I needed to change was a shim for the front mech, a bolt on cable outer stop to change from top to bottom pull, and a seat post. The frame was a bit of an experiment, and turned out to be about half an inch too short in the top tube, so I plumped for a Thomson Elite Layback which worked perfectly. Lovely!
Then I got the "high end" bug, and began looking for an Explosif, or Kilauea frame of retro stature, but, due to impending nuptials and the inevitable "You spend too much on….. bikes/cars/games/gadgets" (insert whichever is applicable at the time here;-) We all know the score….) this route was well out, so jumped at the chance of a local 2001 Kilauea frame with really sexy Ritchey Logic dropouts, that perfectly matched the colours of my old Marin (flat, matte grey/black), with sexy silver graphics.
So, with the encyclopaedic knowledge of certain members on here (Anthony, Fluffy Chicken, Pipmeister, hats off to you gents), I was assured of its pedigree (and rarity actually Kona stopped making high end steelies around then, then reintroduced the Kilauea as a Double butted lightweight steel to fill a gap after the Explosif and Cindercone went "exotic"). Frame was purchased for £59 and collected, then built up with all the bits from my Marin/Hahanna.
She is now riding with the XTR/517's, XTR V's, XT mechs and cassette and Deore MT60 Biopace, grey DX spd's, and Continetal slicks that I was running back in 1998 (so SHOULD REALLY qualify as retro…..) and the only new part I have bought is a matching Thomson Elite 130mm stem that I treated myself to.
Randomly, the only original part from the Marin from 1997 are the 6061 bars that I will also replace one day soon for some lighter ones, but I quite like that I still ride with them. I would also like to upgrade the cranks for some M950 5 arms (don't like the 4 arm ones, they don't look right IMO), and I will need a new headset soon, so may get a silver Chris King.
The eagle eyed among you may notice the rear brake ISNT an XTR. It IS actually an AVID 1.9 or something (only temporary that one)
SO,
Hope you like the bike. I love it!
She's fast (the commute Sprint regularly shows up the Graphic Designers of Manchester on their stupid fixie's, and several lycra race snakes too), she's stealthy, and above all, every part of her has a story, and I know her inside and out. Bikes should evolve with the rider I reckon, and this one certainly has!
Nearing completion!
Original build having bought the Kilauea frame from ebay for peanuts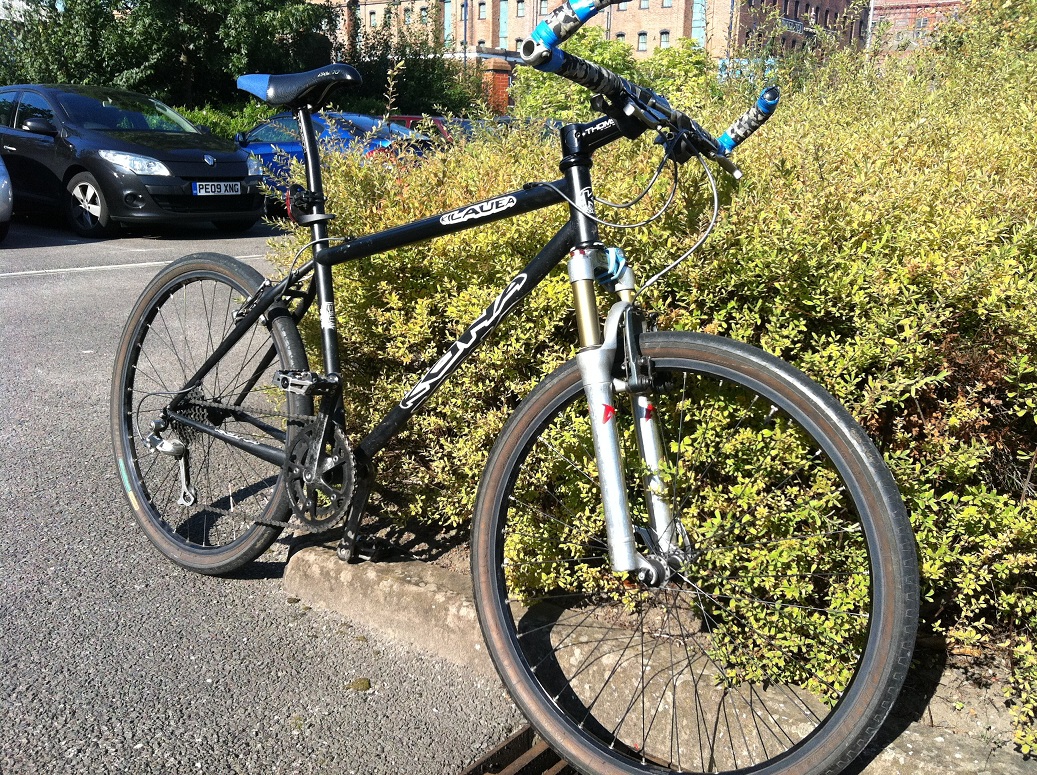 Original foray into steel ownership - Hahannah frame for £10 off ebay, all parts donated over from the Marin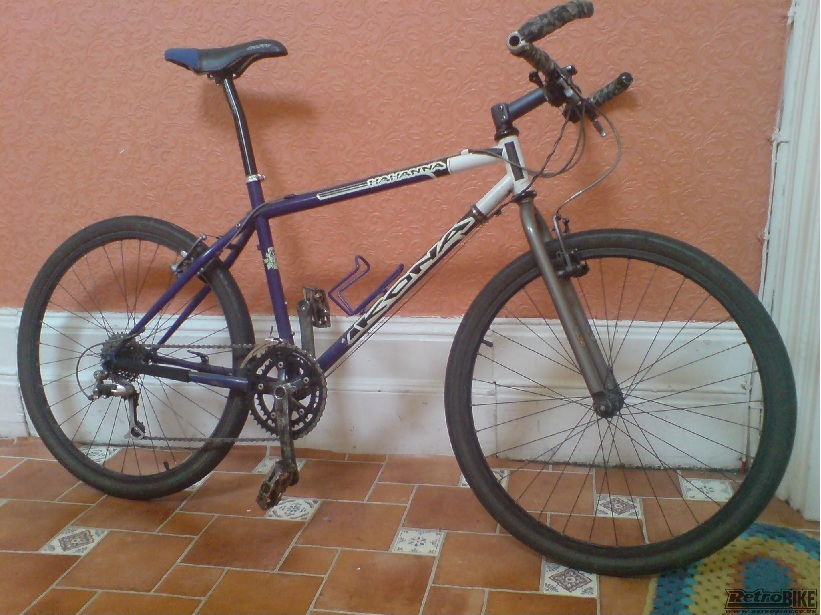 And for good measure.... My 24" BMX jump bike thing - now underused due to pain and fear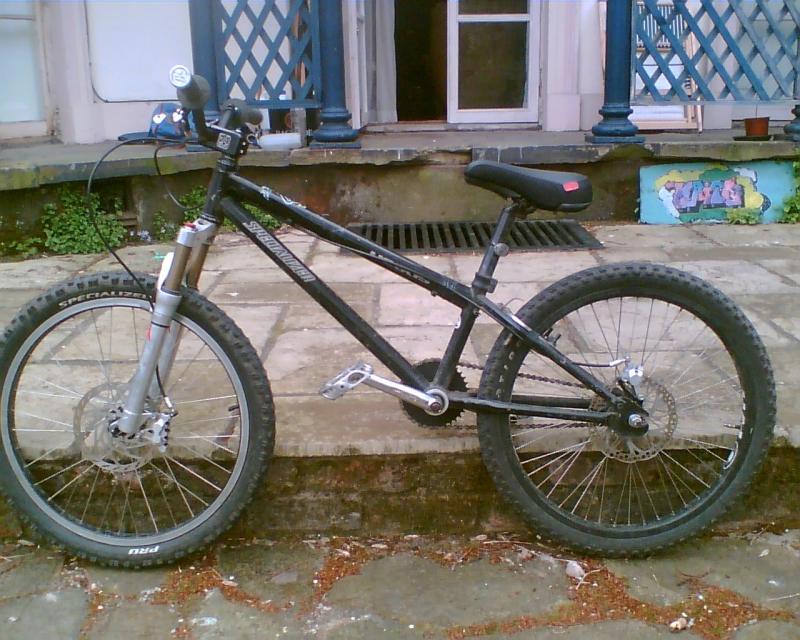 [/url]
Current SPec as of Feb 2012
Frame
: 2001 Kona Kilauea
Fork
: 2001 Marzocchi Z2 Atom Race
Fork
: 1998(?) Kona P2
Headset
:FSA Something
Stem
: Thompson Elite
Handlebar
: Easton EA70
Grips
: Tape
Barends
: Onza (maybe... cant remember)
Brakes
: XTR M951
Brake Pads
: XTR Ceramics
Brake Cables
: XTR Grey
Brake Levers
: XTR M950
Shifters
: XT M740
Front Derailleur
: XT M739
Rear Derailleur
: XTR M952
Derailleur Cables
: XTR Grey
Cassette
: M950 Titanium
Chain
: SRAM PC890
Cranks
: XTR M950
Crank Bolts
: XTR M950
Chainrings
: XTR M951
Bottom Bracket
: Shimano 105
Pedals
:
Hub Skewers
: XTR M950
Rims
: Mavic X517 Ceramic
Hubs
: XTR M950
Nipples
: DT
Spokes
: DT Double Butted (Black)
Tyres
: Continental Avenue Semi Slick
Saddle
: X-Lite
Seatpost
: Thompson Elite Layback
Seatpost Binder
: Kona