Had this built for me when I was 15(?) Its been round Europe as far as the Pyrenees and even Northern Portugal.
I wanted to get a road bike back on the road to get some miles in my legs, maybe to work and back (30 mile each way) as I've entered some long, hard mountain bike events (Isle of Mann end to end & the 24 hour Mountain Mayhem)
Looked at the old training/Crit bike, but it looked a bit to racey. Looked at the old winter bike, on fixed gear, front brake only, heavy frame, and that looked like insanity! So the old Tourer was pulled out of the pile and has been serviced (well i say serviced, I adjusted the front brake cable and fitted new tyres and tubes) it all seems to work (maybe last used 1992/3) and had a quick 10 minute ride on it.
No excuses to not do some road miles now.
Specs
531C frame and forks
Blackburn racks & mudgaurds
Campag shifters
SPDs
Stronglight cranks
Royce (I'm guessing) BB
Deore rear mech, 105 front mech
Cinelli bars and stem (stem feels long!)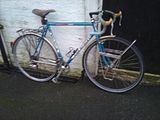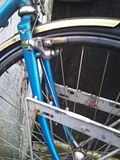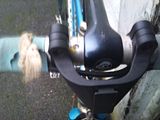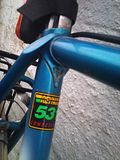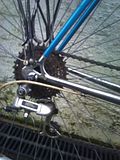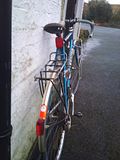 _________________
I used to be quite good in 1993 ....
'93 Al Carter Carbon (Rebadged Giant Cadex) XTR - For XC Racing 23lbs - In pieces needs: BB, shorter stem; brakes and forks robbing from AA
'94 Kona AA RC35 Magura LX/DX - For General use - 28lbs - working, occasional use
'97? Sintesi Hale Bopp - with all modern parts - broken, needs wheel, mech
1990 531C custom tourer - TRUE Retro and was getting plenty of use 50-150miles/week commuting
viewtopic.php?t=135744&highlight=