RetroBike Build Number 2
This time it's a Saracen EStay sourced on RB from "MikeC"
- Cheers Mike!
- I nicked one of your for sale pics, hope you don't mind!
I got some very useful background on these from "dendy"
Who's already done a rather fetching build of one these which you can see
here
it's a Saracen Race Elite
Apparently they are built up from left over '92 Kili framesets and a grab bag of whatever came to hand
Mine's also red and has a hotch-potch of bits (just like dendy's), from the very good (DX hubs) to the not so good, a fair bit of Altus
Here's the bike at Chez hydorah along with a couple of other strays I rounded up that day
I was going to go for full DX, but I notice DX thumbies have steel mounts which puts me off somewhat
Also I guess STIs would be correct for this, got offered a NOS condition set, but they were a little out reach for my meagre pockets
But I did pick up two sets of faulty XT STIs ST-M091 and ST-M092 both of which I have somehow managed to rebuild to full working order!
Here's some open STI surgery (ST-M091):
It is worse than it looks... Here's the offender a stuck upshift ratchet pawl: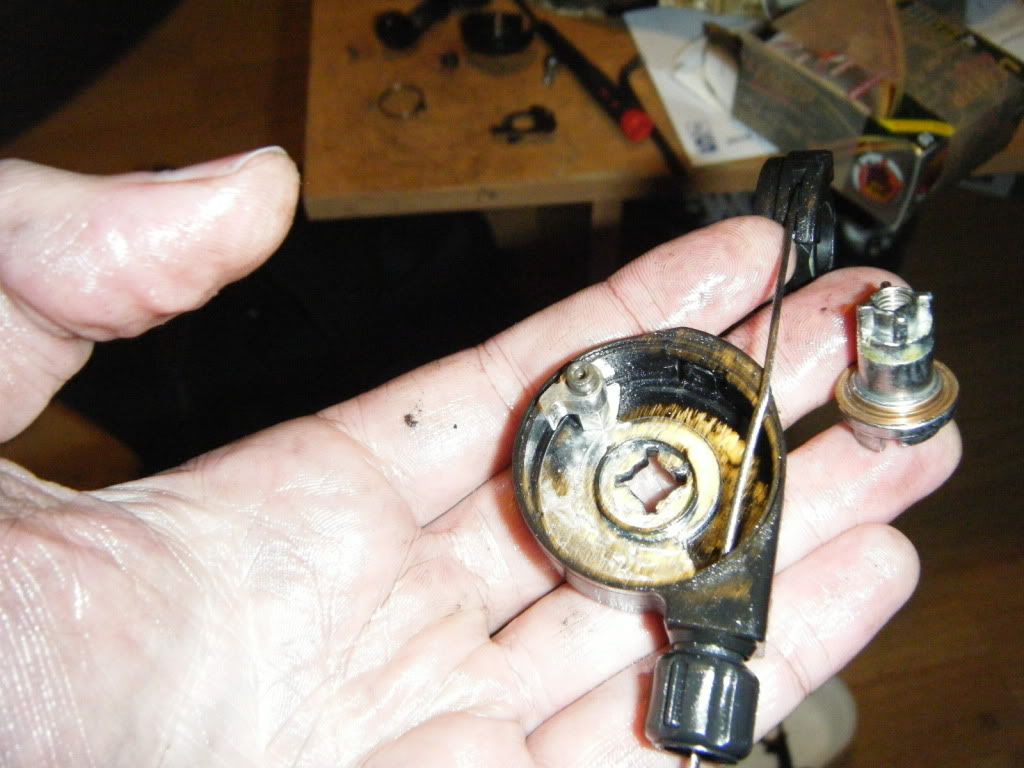 It's the little bit left inside the shifter housing
- That's it for now as I'm waiting for F+R DX mechs from "GT-Steve" which I beleive started their journey to me this very day!
_________________
'89 Specialized Stumpjumper Team
- '8? Klein Mountain Klein (WiP) - '89 Puegeot Scorpion 531 -
'90 Look Mi80
- '91 Britsh Eagle something or other XT
- '92 Specilaized Hardrock -
'93 Saracen Race Elite
- '93 Specialized Stumpjumper (stolen!) - '94 GT Zaskar LE Frame sold on RB - '95 Univega Alpina 508 XT - '97 Cannonadale Super V 1000 Freeride - '97 Cannondale M900